Art For A Play Room
The best art for a kids space is something that isn't too precious. When we were finishing our basement playroom I looked for posters and decor that is fun, but can hold up to the tornado that is 4 boys running wild on a space. Because it is a temporary art (I have hopes of changing it out whenever I feel the whim) it has to be inexpensive.
This $6 phases of the moon poster was found while on a weekend away. I knew I wanted to avoid the traditional black or white picture frame. Instantly I dreamed of the old school maps that would will down from the wall and wanted to make a simple wood frame inspired by those vintage maps. Here is how I made a simple vintage poster frame for $5.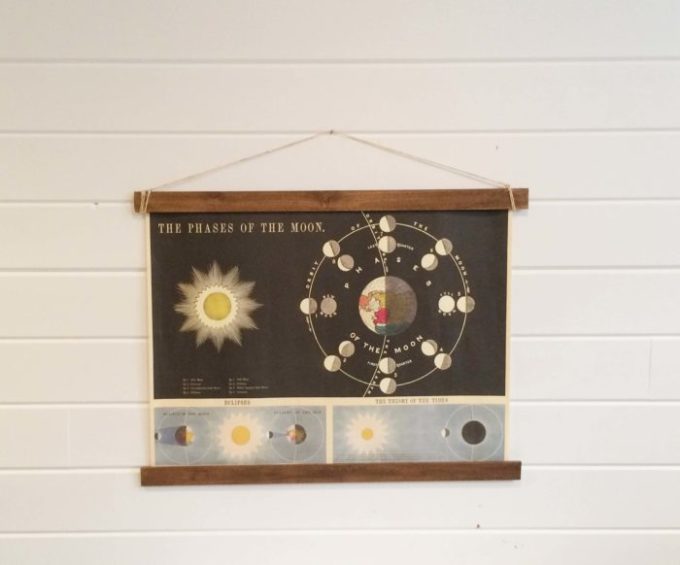 Here are the materials you will need:
Wooden slat
stain
string
tape
Saw of your choice
Each of these items can be found at your local hardware or craft store. The wood slats I used are 3′ long and 1/4″ thick. You can find them in the trim section with the dowels. Another option is a very inexpensive 1″ x 2″ wood slat (it was a couple dollars).
Make Your Own Vintage Poster Frame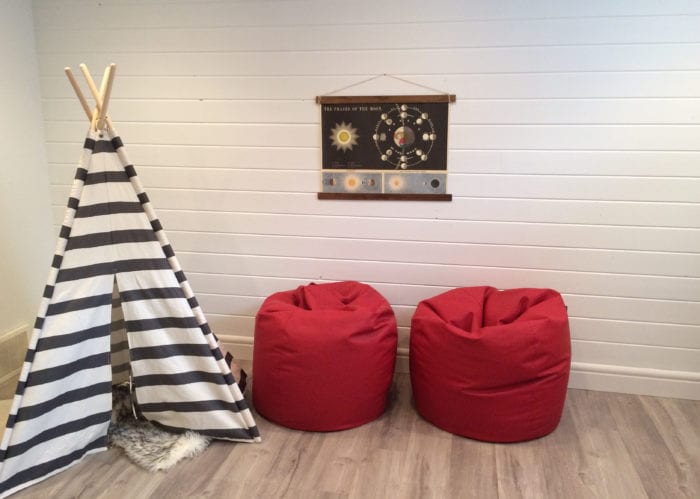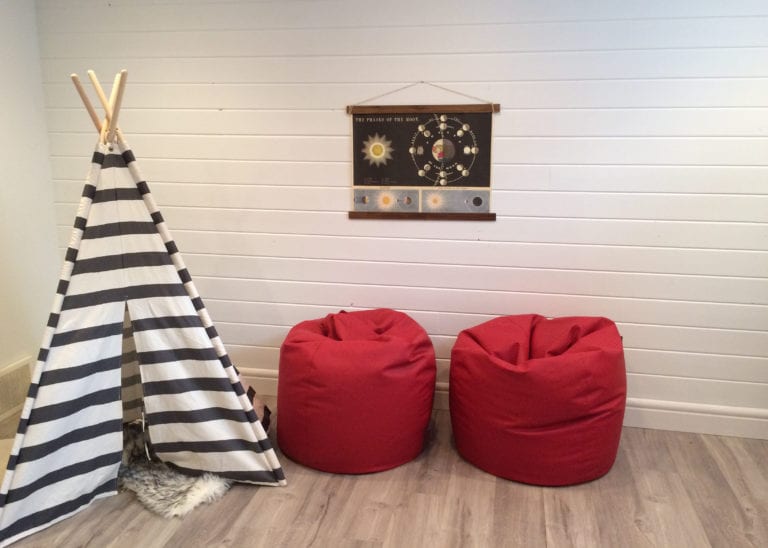 Step 1 – Cut the wood pieces to desired length. I eyeballed the length to overhang the print a bit and used the compound mitre saw. You can use a hand saw, the slat is really thin, or have the guys at the lumber store cut it for you when you buy it (have your measurements ready).
Step 2 – Stain the board / dowel. I used Minwax stain in the color Dark Walnut. Brush the stain on with a paper towel or brush and rub off any excess with a paper towel. Let the boards dry for a few minutes.
Step 3 – Attach the poster to the frame on both the top and the bottom. I used clear tape but you could use staples or magnets if you wanted something more sturdy.
Step 4 – Cut some twine and wrap it around the wood slat and tie into a knot on each end.
Step 5 – Hang your vintage inspired art on your wall.
Pricing – the print was $6 and I made the frame for $3, the only item I had to purchase was the wood pieces. The stain, rope and tape I already had on hand. My total cost was $9 but if you needed to buy all new suppllies the entire project would likely cost $20 but you would have enough materials to make many many more. This project is pretty cheap and I love the look of the wood stain with all the painted white wood and light grey wood tones we have in here.
Happy Creating!