OUR BRIGHT BASEMENT PLAY ROOM
There is a huge part of our house that we haven't really used to its full potential. Rather than being a family space to play, explore, and spend time together it has been used as a carpeted storage space. What is the space? The basement family room and playroom.
Having a home that the entire family will enjoy using is worth the effort and expense to update it.
Are you ready to see the basement playroom in our house? Knowing we have 4 wild boys, you should be warned that it has had quite the transformation. Mostly cosmetic, but a basement playroom that feels bright and inviting makes it function well for the entire family. So while the changes are not structural, the difference they make in how we use are home are tremendous. Having a home that the entire family will enjoy using is worth the effort and expense to update it.
The basement in our home has transformed gradually over the last 5 years, but the most visual changes have been in the last 6 months. We removed the carpet and tile flooring (my first time using a jack hammer was awesome) catch our demolition details here. We learned how to install vinyl plank floors ourselves, with the kids 'helping' as well. We added character and detail to the basement with real wood shiplap walls, which we painted white.
THE BASEMENT PLAY ROOM

The wider half of the room is furnished as little as possible. We wanted it to be a place the boys can run, jump, spread out with a puzzle or setup a table for Lego. The boys have lots of toys but when they are all out they tend to get spread all over the place and not played with. We organized them into boxes and have them in the storage room. Every few days or weeks (depending on our moods and the weather) we bring out a new box to explore.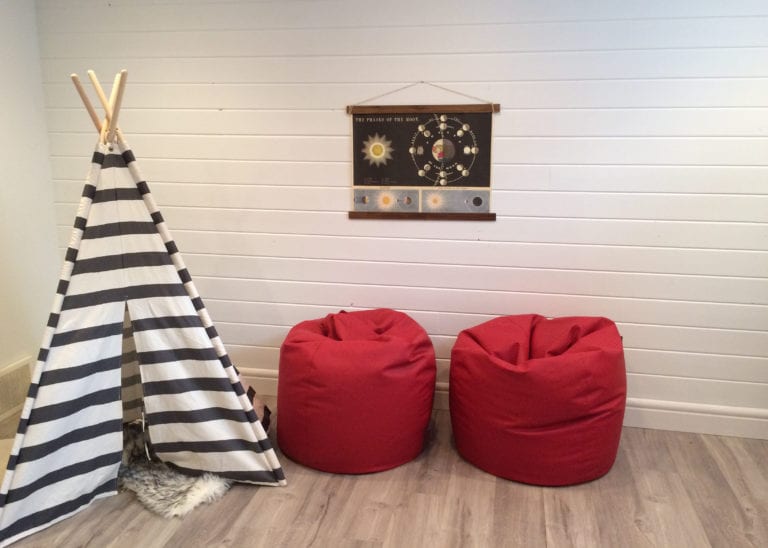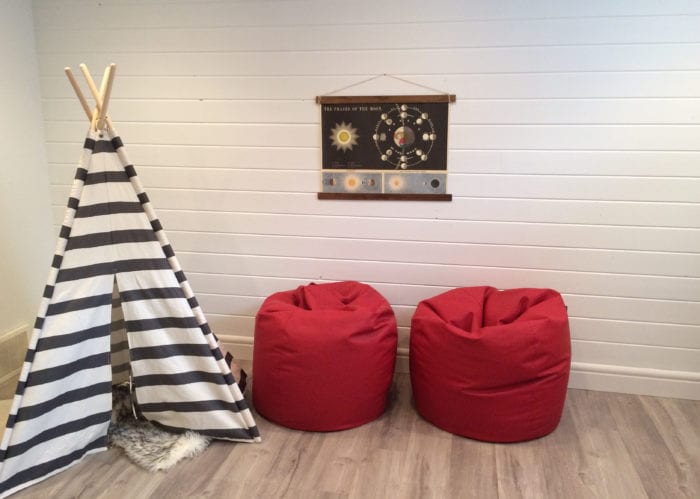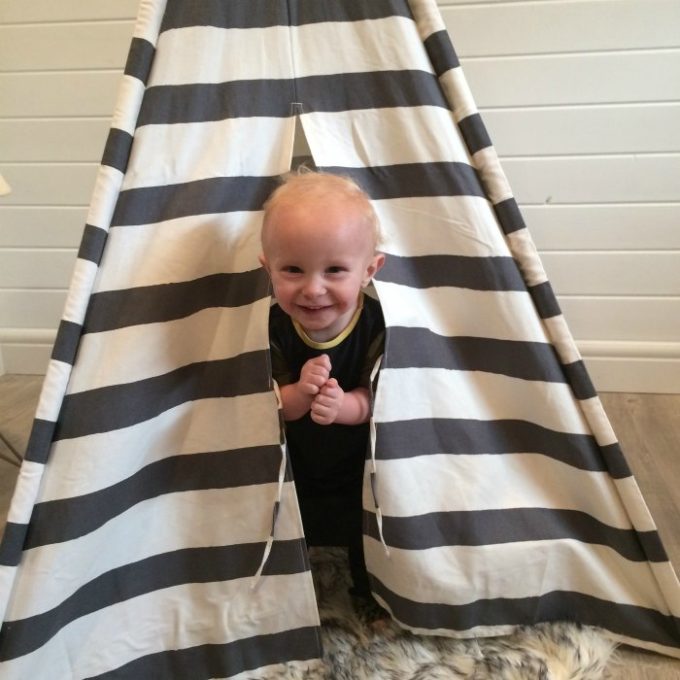 The striped teepee was meant for my youngest boy to play with, but all 4 boys love to play in it. This is the favorite hiding place, reading nook, or quiet place to be for all of them. The most adorable thing is watching the older boys play peek-a-boo with the baby by opening the flaps. It's just too cute.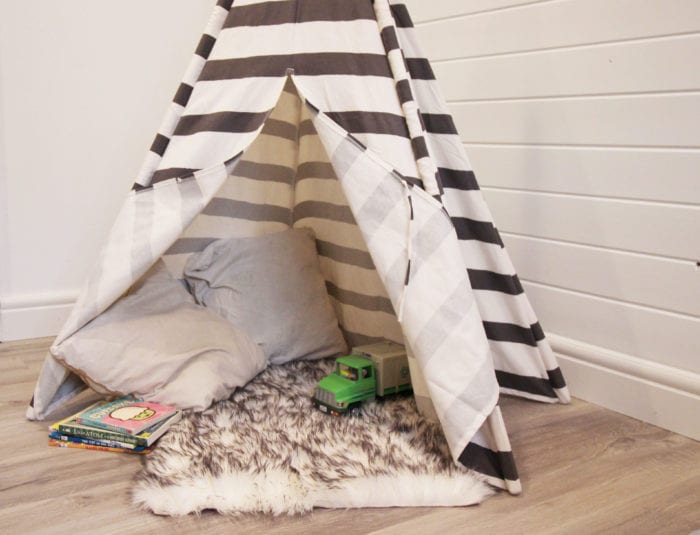 I am a big reader, and I have saved my favorite books from my childhood to share with my kids. Sadly, lots of them are super girly (babysitters club, Nancy Drew, American Girl) and are completely wasted on my boys but I really hope they will love to read as much as I do. This little space has a support beam right behind it, which makes it an awkward space to use. Luckily these white shelves are really narrow, so its the perfect place for a little reading nook.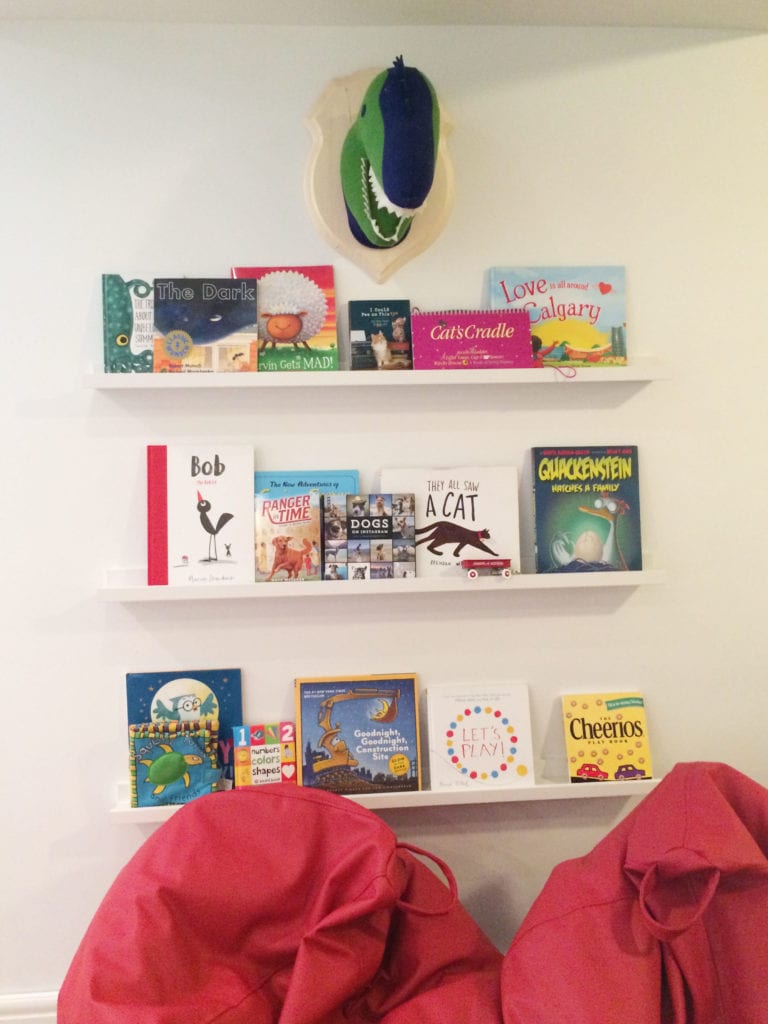 The red bean bag chairs are my kids favorite part of the whole room. They are made of leather and really heavy-duty and are available at Lazy Life Paris. Perfect for my sweet and gentle niece to read a book in, as well as my wild and rambunctious boys who like to jump from the couch onto the bean bags. Funny story – my son Boston (who is 5 years old) was so excited when these were delivered to the house. When I said they were bean bags he asked "how are we going to fit them in the microwave?" Sweet kid, he just figured out how to work the microwave and his job is to warm bean bags for me to put on my shoulders.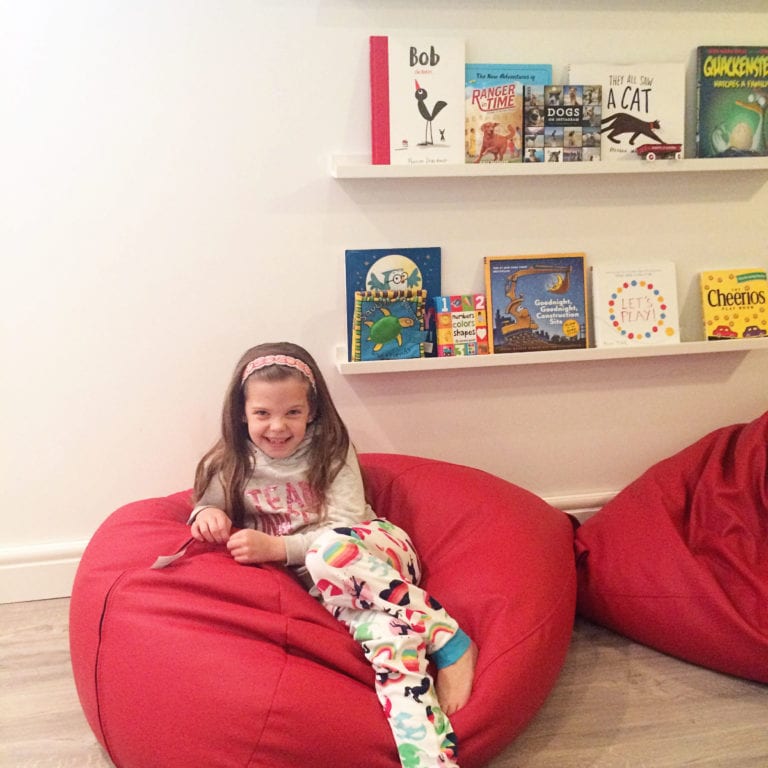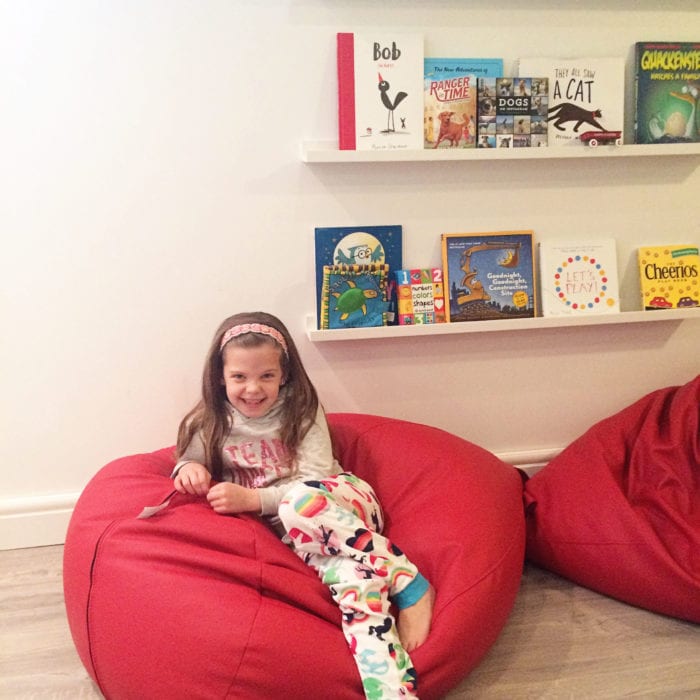 THE FAMILY ROOM
The other side of the room is where the only TV in our house lives. This section is more narrow, which works with the TV being a bit closer to the leather sofa. The kallax bookshelf stores a ton of toys, DVD's, and cute things from the boys' rooms. We don't have a lot of side tables because I am trying to keep food out of here. Its just easier to keep clean without popcorn kernels everywhere.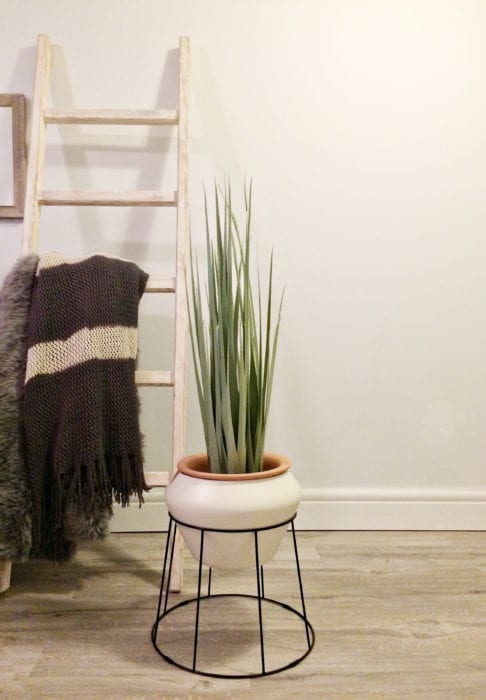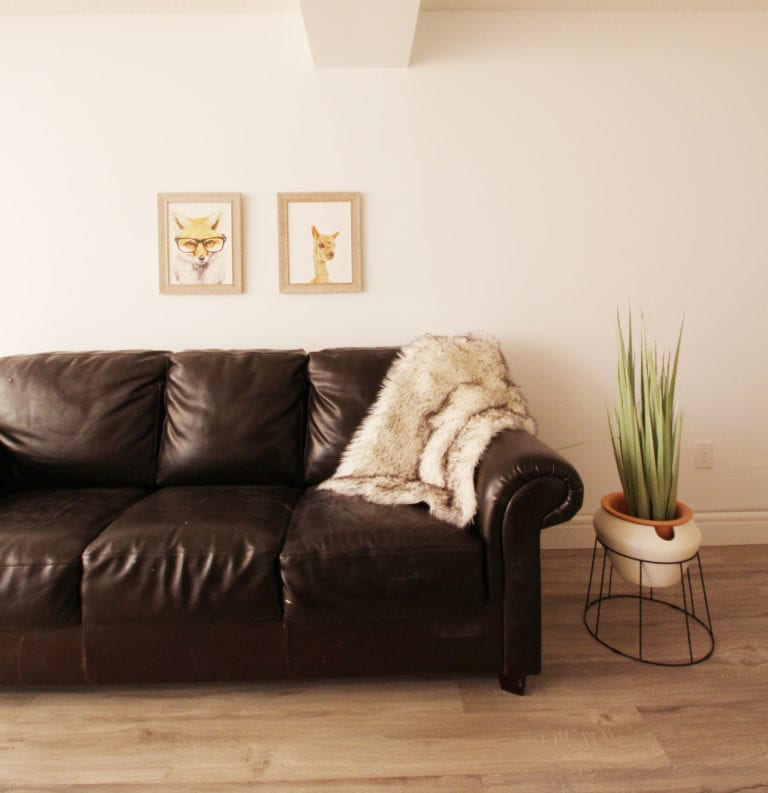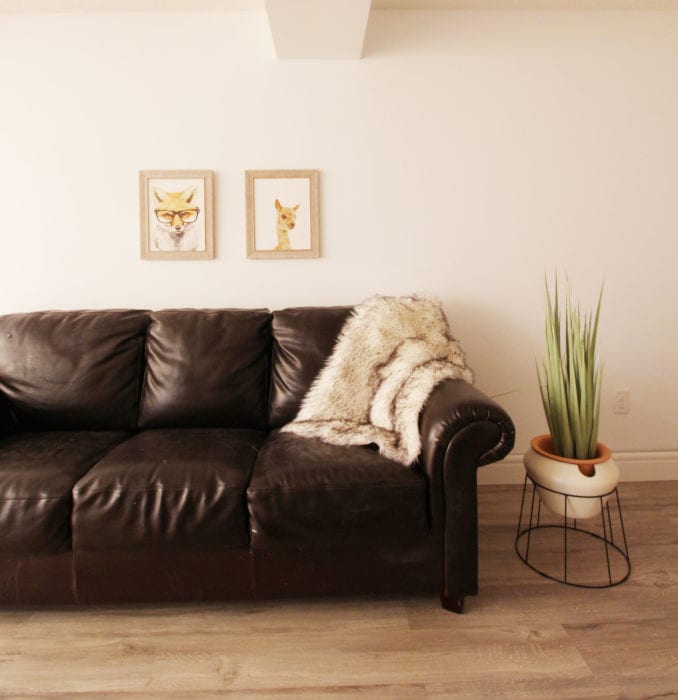 I am not sure what art I want to have down here. I "borrowed" these animal prints from the twins the twins bedroom, and they seem a bit small for the space. I really wish I had the giant clock I made last year, but it went to the Calgary Home And Design Show to be auctioned off. I really want to re-make that project for this space.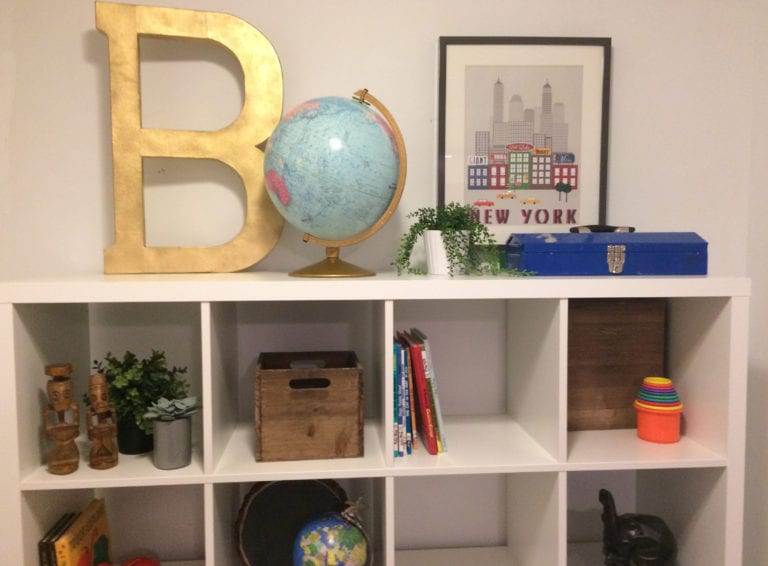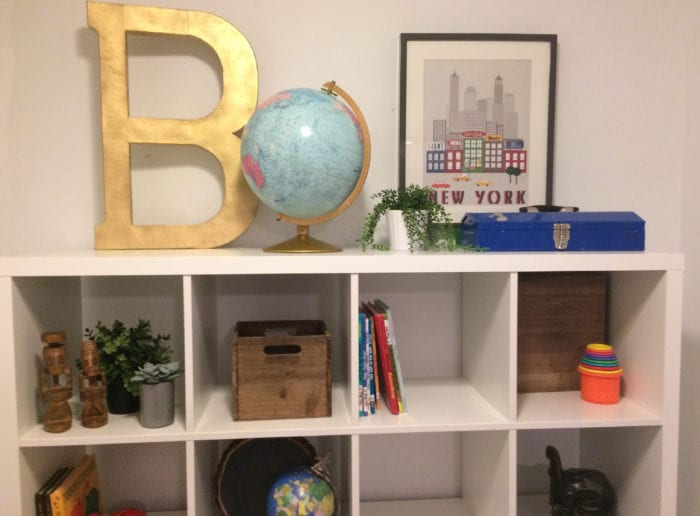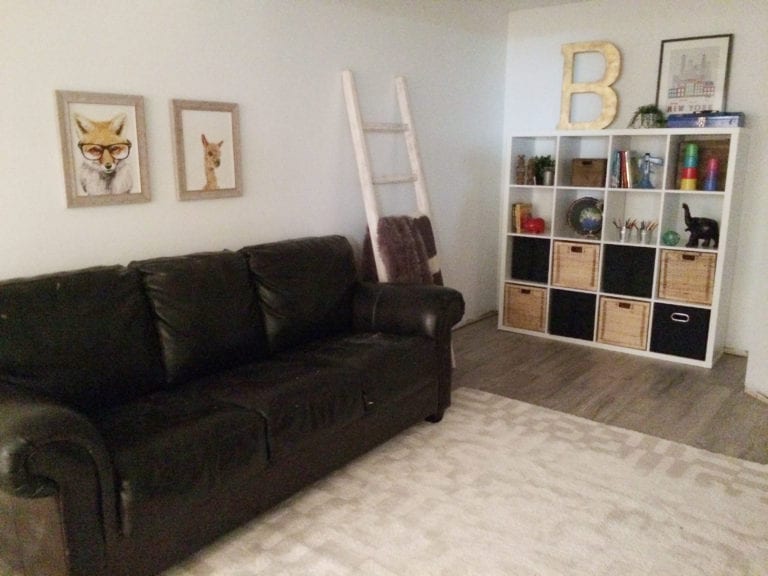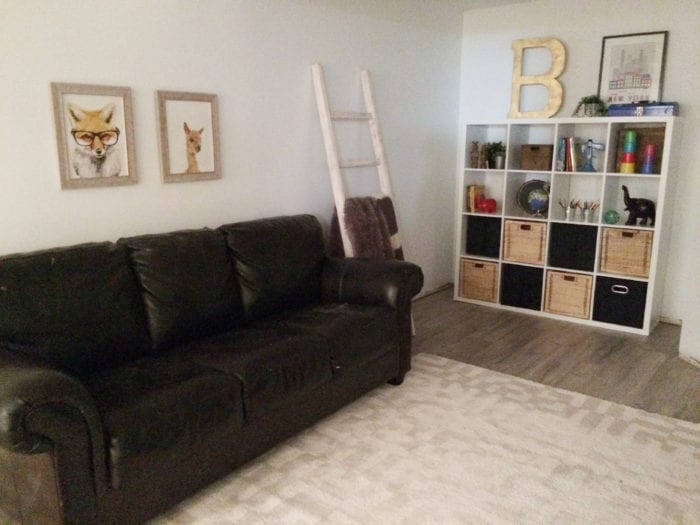 This blanket ladder I got as unfinished for my birthday. I love it to store some throw blankets on, they look so great and organized, rather than in a pile on the floor. Voila!
SOURCE LIST
(if I missed anything let me know)
Wall Paint Color- Jojo Whitewash from Para Paints.
Flooring – Vinyl Plank Floors by Allure Flooring via Home Depot Canada
Baseboards – Metrie Fashion Forward Scene II 5 1/2″ MDF Baseboard
Casings – Metrie Fashion Forward Scene II 4 1/4″ MDF Casing
Shiplap – Metrie 5 1/2″ Knotty Pine T&G Paneling [Craftsman Pine 1 x 6 x 8′]
Kids Tent – Hobby lobby (similar)
Bean Bag Chairs -Lazy Life Paris
Kids Picnic Table – Canadian Tire (similar option), painted in Fusion Mineral Paint