This fall we had a great big bedroom switcheroo. While pregnant with Hayes I had a really hard time figuring out who to put in which room. I started with Jett in his own room, and the twins sleeping in the striped bedroom in a twin bed, sleeping feet to feet. The bed has a trundle underneath, but it was too big of a pain to pull out every night, when they ended up sleeping side by side anyways.
I bought blue bunk beds from a friend (literally) while driving Hayes home from the hospital. I figured Jett would sleep on the top bunk and the twins could share the bottom bunk so all three in one room. Maybe a few months down the road when the baby slept better through the night I could move one into the other room to share with Hayes.
Well, that didn't go over well. Jett cannot share a room. Not that he doesn't want to share but more like his sleep needs are totally different than the twins. He is used to dead quiet and darkness to sleep. The twins have a noise machine that projects images onto the ceiling. I often hear them singing each other to sleep when the timer ends on the noise machine. The entire night was spent with the little boys talking to each other and Jett yelling at them to be quiet. Nobody got any sleep.
So, we moved the boys into their own room, Jett had his own room, we moved all the clothes around. Then I changed my mind. I didn't like the bunk beds in the little room, so I moved them into the bigger bedroom. So, the final bedroom arrangement ended with Jett in his own bed, in the smaller room. The bunk beds were in the bigger room with the striped walls. Hayes has a crib in there with the twins, and also a sleeper in my room. I still don't know where he will end up. Maybe in a year or so when he needs a big bed we will just need a new house. Now that I have the room arragements made I just to make them look cute and put together.
I love love love my striped wall still. The problem? I bought striped bedding specifically for the bunk beds.
This kids bedding is from a company called Beddys. Its like a hybrid of a minky blanket, duvet, and fitted sheet with a sleeping bag. So the entire blanket and sheet fits over the mattress, and there are zippers up each side. Making the top bunk bed has never been easier. If you have bunk beds, you know what a miracle this is. The boys can zip their beds and have them made all by themselves, really quickly. I am in love with these beds, and was willing to change my favorite feature wall to keep the bedding in here, so I began painting over stripes with a navy blue wall in the twins room. You may recall the room was finished with paint but I didn't add any decorations or accessories.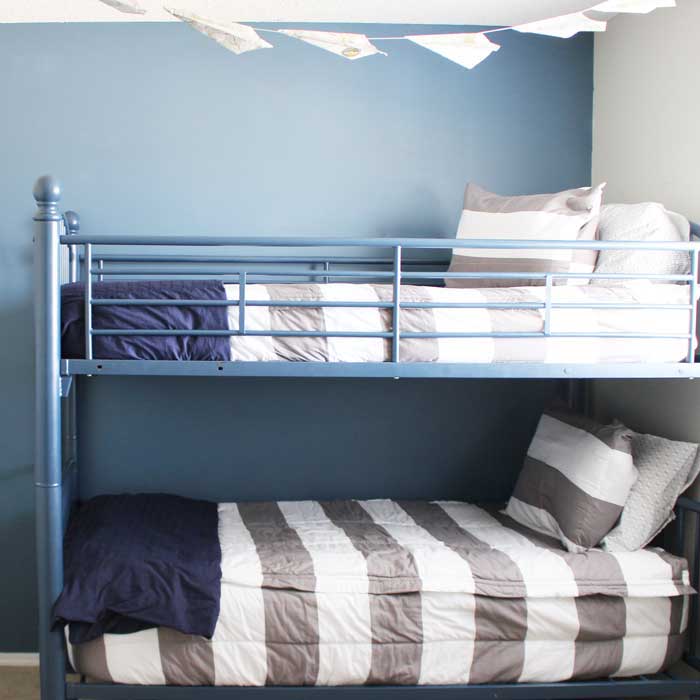 Well, this is what the room looks like as of today. I debated what kind of pillows to add to the beddys bedding, how much color or pattern I wanted there to be. I added a solid teal pillow with pom pom trim to one bed, and a bold aztec patterned pillow to another. We will see which one grows on me more, but for now I like it. The wall beside (or behind) the bunk beds felt like it needed something visually, but I didn't want anything that the kids could knock over in their sleep. I moved the airplanes from across the room and strung them into a paper airplane banner. Perfect accent wall for a boys room!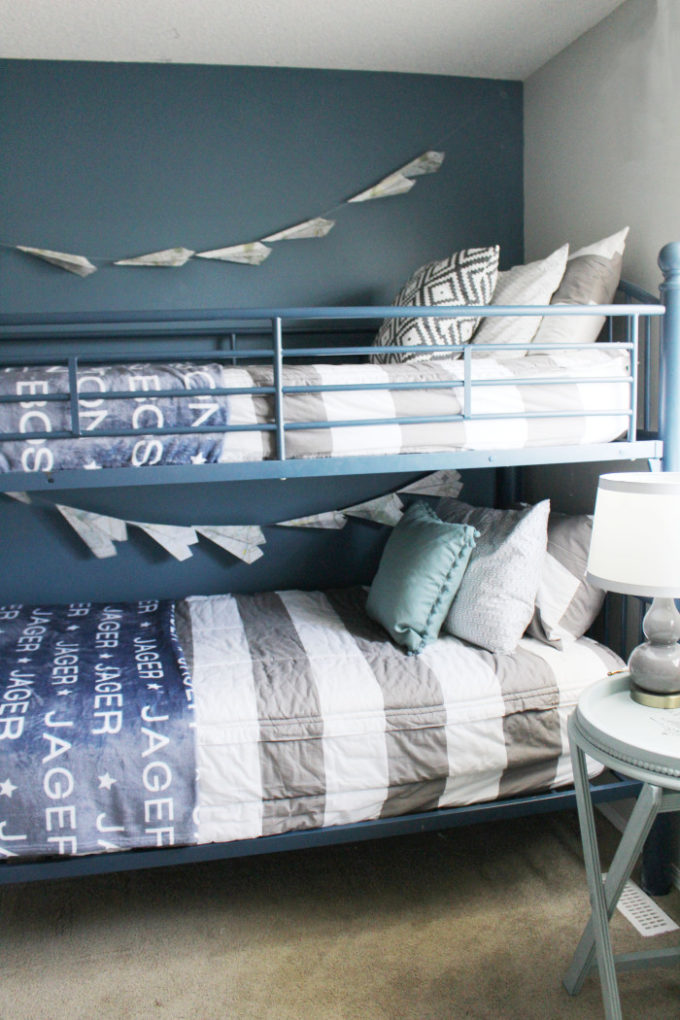 I wanted a blanket for each boy to have at the end of their bed to snuggle with while reading, making forts without taking apart the beds. I couldn't find anything that worked with their room, so I decided to make my own. I have made lots of cool custom projects using photos on Shutterfly, but instead of using a photo I created my own graphic and used that as a photo in a custom design. My boys are learning their letters and to write their names, so they are really excited about names and monogram everything. The design I made is their names written out in a brick pattern spaced out with little stars. Of course their names have different amounts of letters, so I changed the font size and spacing in order to make them look similar if they were ever placed side by side. As you can see, that wouldn't ever happen, but I wanted to be sure they could look consistent. The boys LOVE the plush blankets and call them their super special blankeys.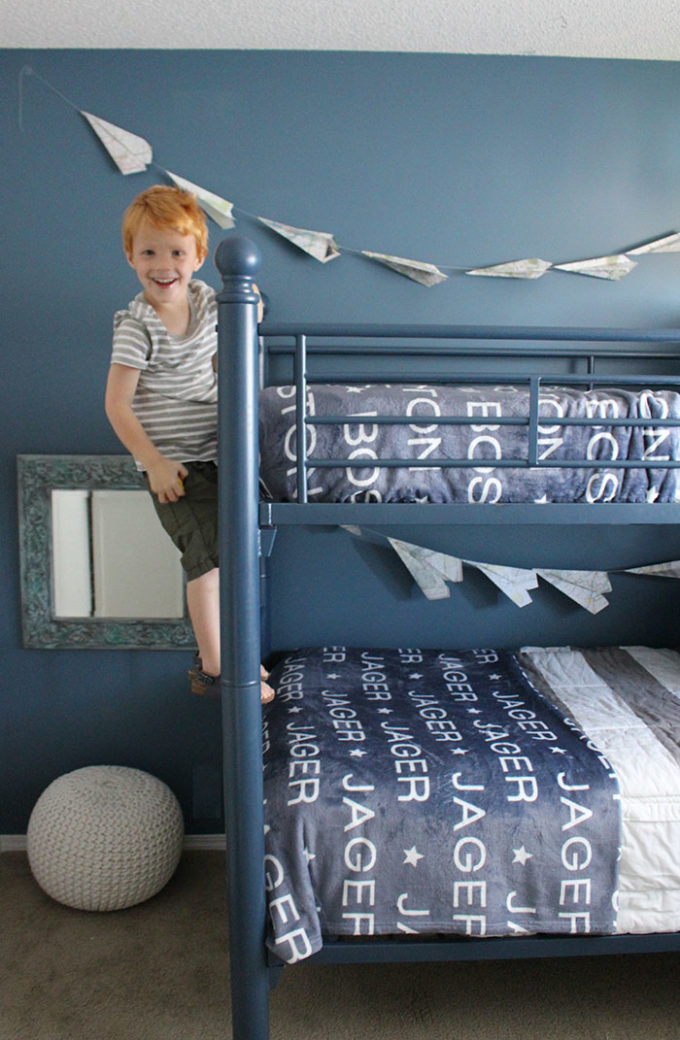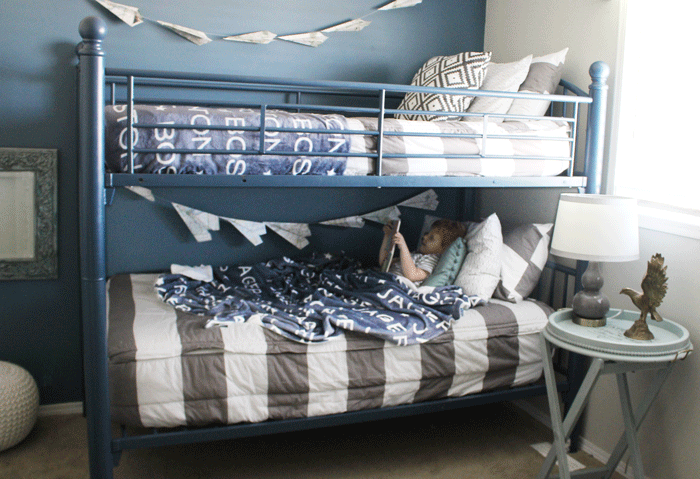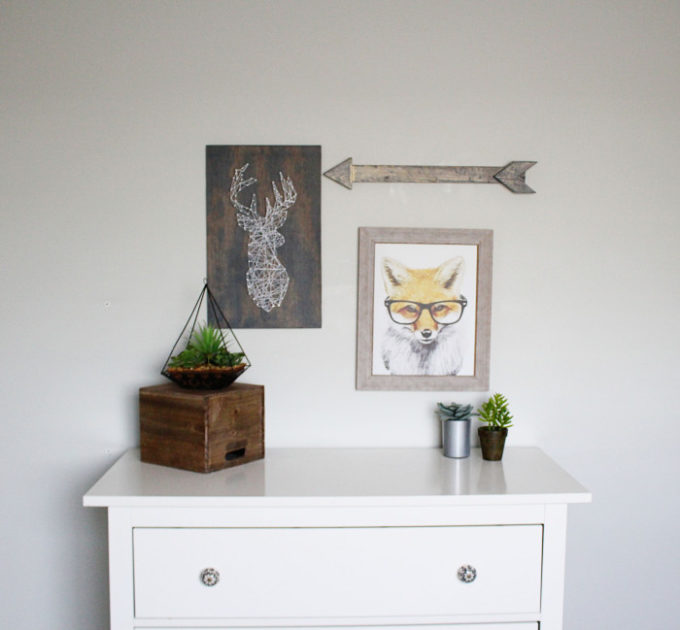 This string art was a project I made with some girlfriends last christmas. The arrow I made in a class at Snap Conference this year. The fox print was an online buy and ordered framed from Shutterfly. They now have framed prints available and I love this distressed wood frame. It just makes the room for me! I bought this geometric plant holder, but I think I am going to replace it with the DIY gold himelli plant holder I made last week. I want to make 100 of them and place them all over my house.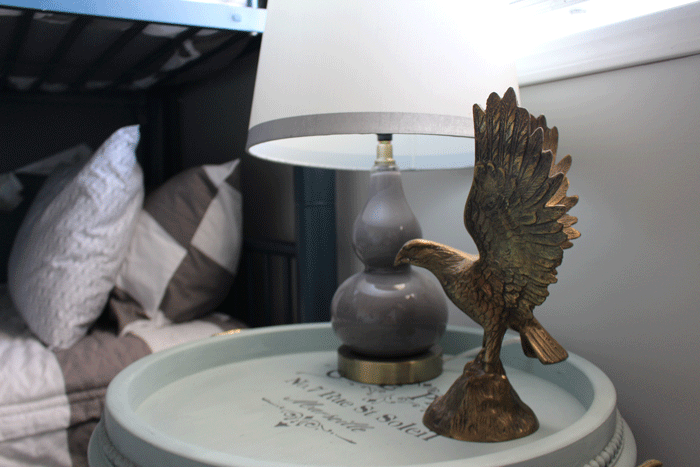 This lamp and shade were bought at Target Canada when they were clearing everything out. RIP my little slice of heaven. The eagle is vintage, it was my dads.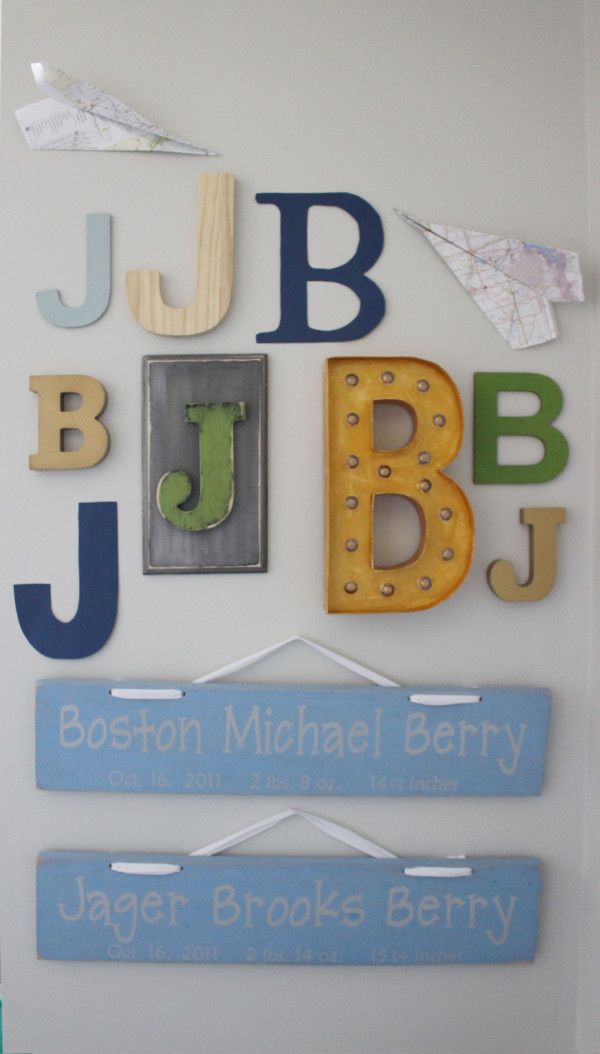 And because we can't pass a monogram letter without bringing it home, we have a small wall with out collection. The marquis letter is from Heidi Swapp's collection (you can find it at michaels) and the name boards were a gift from their NICU nurse. I can't believe they only weighed 2 pounds and change. My little guys are getting so big!
The only thing left to update us is the window pelmet. I may just take it down all together, but we will see. Other than that I am calling this room DONE!