4 Ways To Create Kid-Friendly Family Room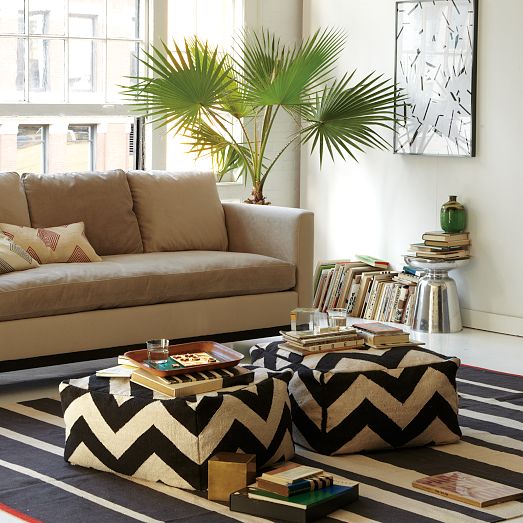 Do you remember your mothers formal living room? It had white carpet with visible vacuum lines and a while floral couch that nobody ever sat in. The kids were never allowed to go into it and it was really only meant for the guests.
Living with kids requires a family room that works for the entire family, especially the kids. Finding the decor balance between day-home style decor and white crystal palace for the parents is often difficult. It needs to look sophisticated where grownups will want to hang out, as well as withstand the tornado of juice, toys, lego pieces, and crayons that children bring along with them.
A family room that works for the entire family can be possible with a few simple ideas to incorporate into your homes design….. Create a space the whole family will love by using inviting colors, smart furniture choices, and easy organization solutions. Get inspired by these family room ideas that combine style, comfort, and function.
Stay Safe, Hide Spills
If you have tile floors, hardwood, or even wall to wall carpet, rugs are a great addition to any room. An inexpensive rug provides a soft landing for infants to lay on, crawlers, and children learning to walk. Patterned rugs go a long way to help hide stains as well as adding pattern to the room.
Strong Furniture
Slipcovered sofas can be easily removed and washed, erasing the stress of minor spills. A lot of manufacturers will sell additional covers so you can replace it down the road for a fraction of the price of replacing the entire sofa. Darker colors will hide stains better however white can be bleached. Leather and outdoor fabrics are a durable option as well. Consider a sofa with attached pillows or a bench cushion
Smart Storage
Baskets and bins are your best friends. A coffee table with a lower shelf is a great place to hold baskets of toys, we well as a coffee table with drawers. Open shelves can become attractive storage with fabric covered bins or wicker baskets. If you are worried about smaller kids getting hurt, an upholstered ottoman or round coffee table is a great choice. Most importantly, make sure is kept at a low height so children can help with the clean up.
Safely Away
Accessorize out of children's reach – Anything within 4 feet of the floor is no place for anything sentimental. Storage with doors on the bottom work great to keep toys and books together. Candle sticks, picture frames, and heirloom items can sit safely in shelves above.
I promise that living with kids can be both stylish and fun. Don't put off having a home you love for a future day when the kids are out of the house. Its not worth enduring to the end, enjoy what you have now!
*This article was also featured in Calgary's Child – be sure to check it out in print along with some additional tips and tricks!