Whether you are looking for a last-minute gift idea or want to buy something for yourself (hey, its time to use those gift cards you got for presents!) here are some great gift ideas for the designer / artistic person / home design fan in your life. Or you!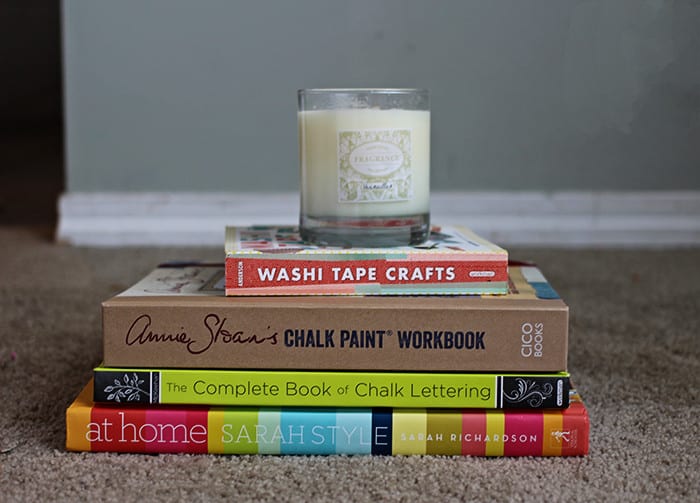 Annie Sloan Home Fragrance Collection – This candle scent is called Versailles and it smells just as elegant and lovely at the palace it is named for. The quality is exactly what you would expect from the great Annie Sloan.
Washi Tape Crafts by Amy Anderson. I love washi tape because it can be used for so many things. The only limit is your imagination, which sometimes can be limited! This book has simple and fun projects with clear photographs and step-by-step instructions. I love that the book comes with 10 beautiful rolls of washi tape so you can create your own project right away! You will also learn techniques such as precision tearing, wrapping, and weaving and how to make shapes, bows, and flowers.
Annie Sloan Chalk Paint Workbook – It's no secret that I love to use Chalk Paint for my diy furniture projects (see my painted piano). This creative journal functions as inspiration, sketch book, and idea organizer. There are 6 sections of the book each with its own style. Bohemian and vintage, rustic country, french elegant, traditional Swedish, modern retro and warehouse, and coastal. Each section has a divider with a pocket to tuck in pictures, paint samples, and materials you want to include. I love the idea of an organized work book that can allow you to keep track of ideas for future projects, allowing you to step outside your comfort box. Bonus, it's not on a screen (as great as pinterest is) making it easy to have at your side while working on a project. $27.95 available at bookstores, amazon, and Annie Sloan stockists.
The Complete Book Of Chalk Lettering – I am obsessed with all things calligraphy and hand lettering. When my SIL Katie painted a chalk wall in her kitchen she had a friend come draw a chalk lettering piece of art. It was stunning. When she later listed her home, she updated it with a drawing of a house with the words Home Sweet Home. What an amazing talent to have. I wanted to learn how to do that, even in very simple form. The Complete Book Of Chalk Lettering has lessons in lettering styles and teaches how to draw banners, borders, and details like flowers.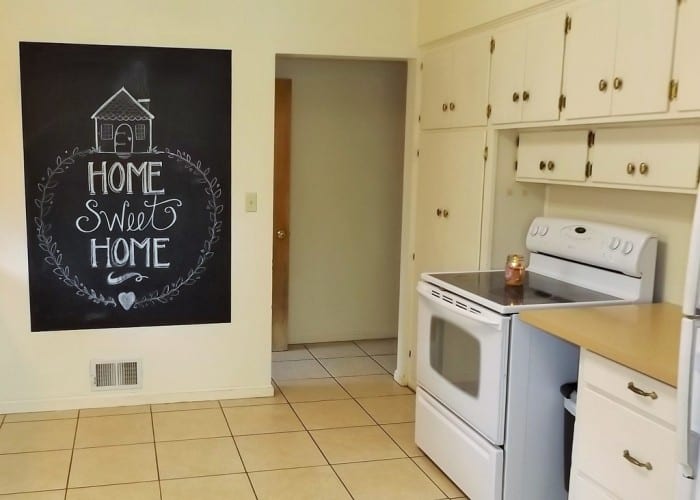 I have been practicing with these multi colored chalk markers too – the texture feels really smooth and the look is more crisp. Better yet, they won't smudge!
At Home Sarah Style – Every home goes through several stages before you get it right. Also, style evolves over time. I love Sarah Richardson's design style, but what I love the most about this book is that it shows her house over the years with all its color schemes, furniture choices, and changes. I love seeing the living room change from a bold and blank kid free space, to a patterned busy patterns to a family friendly tv room with kids running around. Not only does it make me feel better about making changes in my home, it brings to life the real story of design and style evolving as we get older or our circumstances change. For design fans, or just Sarah fans, this book is a must have to read cover to cover and skim through looking at all the pretty pictures.
Apartment Therapy: Complete and Happy Home – a basic how to on design that takes you through the lessons on where to start as well as how to determine your own personal style. I think my favorite part of the entire book is when they take the same room and the same furniture and rearrange it many different ways. Its a great experiment to see how the location of furniture can change the way a room functions and feels.
What similar books have you enjoyed? I would love to know what I should add to my list. Every few months I like to stock up on a few new books, so let me know what I should grab next.