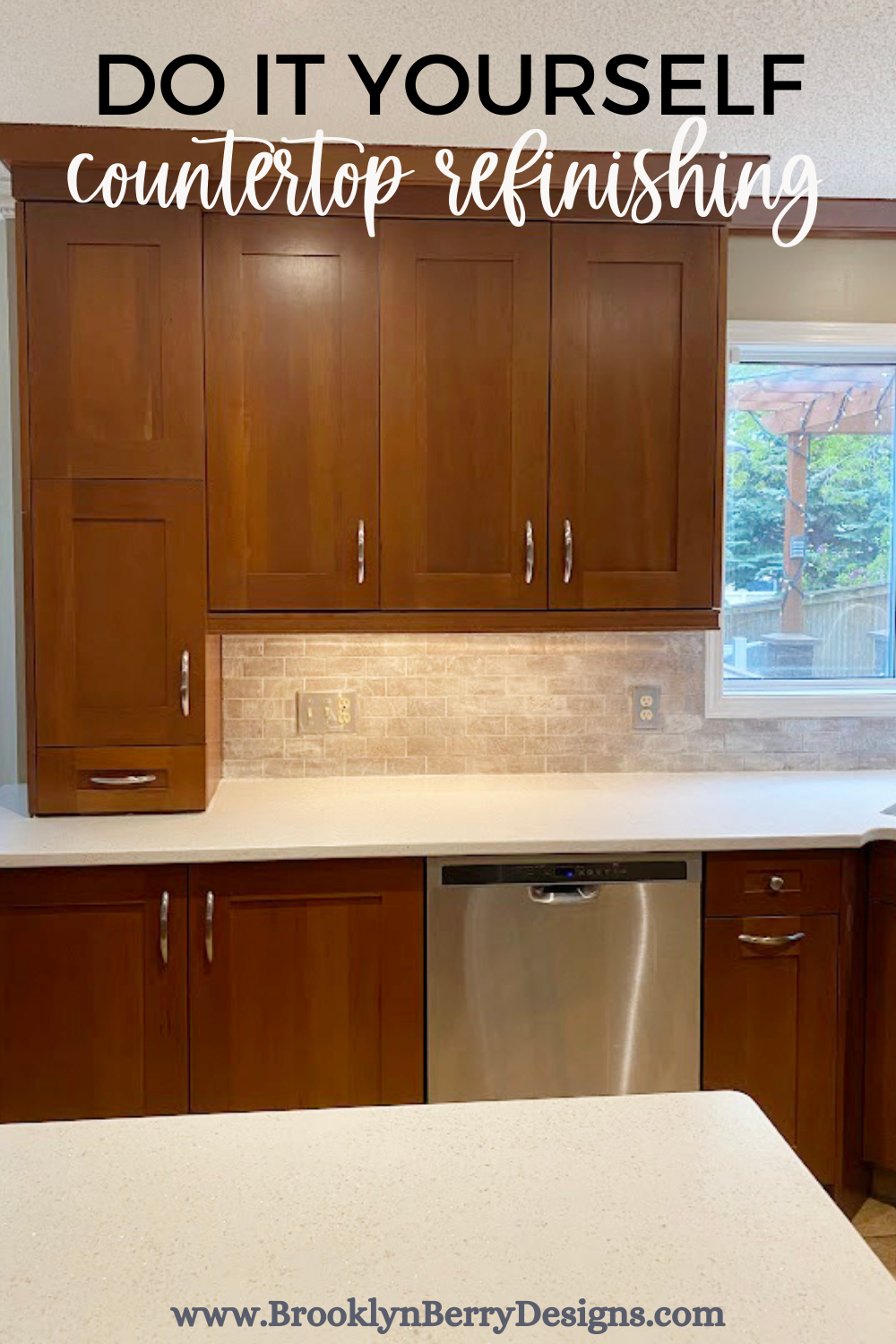 If you are looking to update the look of your kitchen on a budget, you should try a countertop resurfacing kit. Would you paint granite countertops? I tested the LuxRock kit from Daich Coatings on my kitchen countertops and wanted to review my experience with you.
My kitchen. It looks great from a distance, right?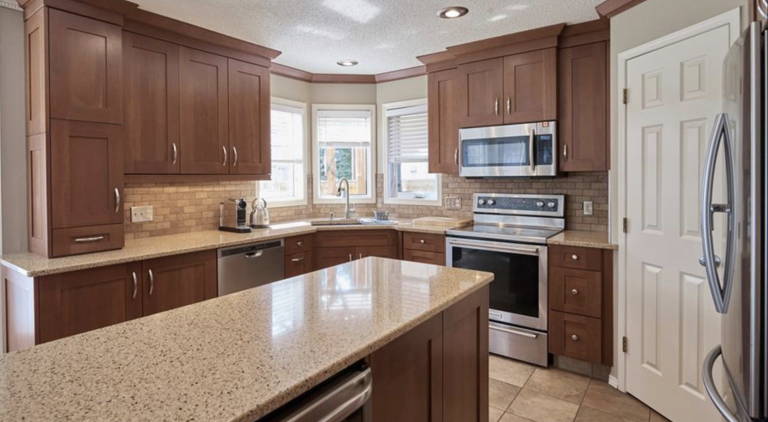 When we first moved into our home, the kitchen was not something I felt the need to change and update immediately. It may not have been the most trendy kitchen color palette of the moment, but it has a timeless quality that I could live with.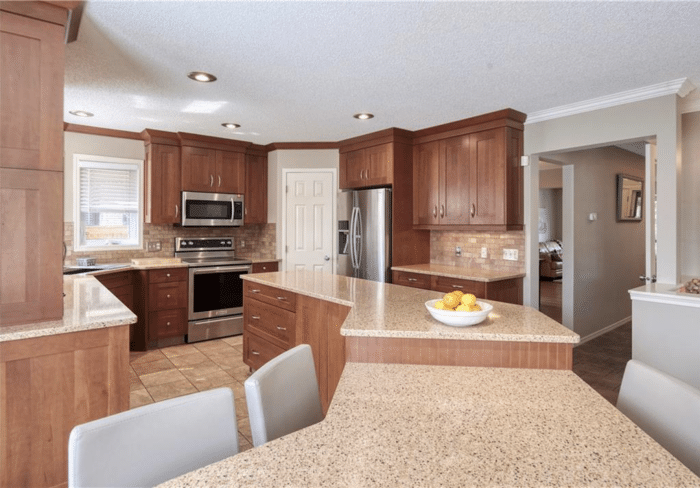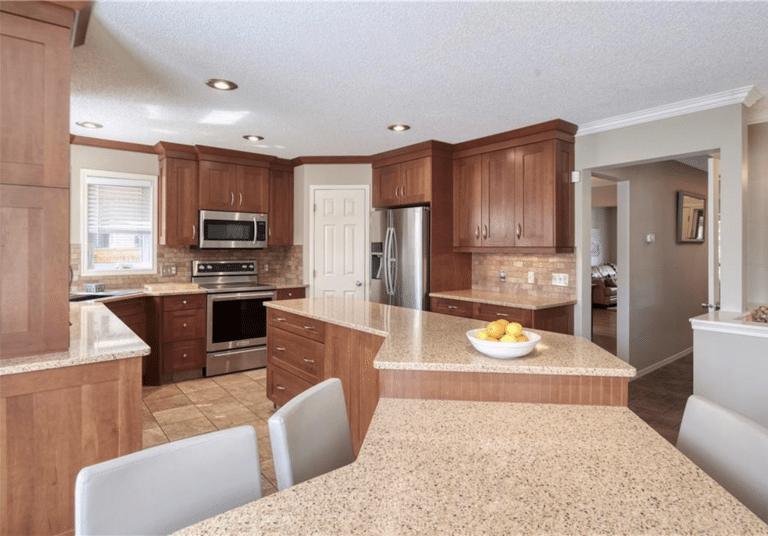 Our previous home had laminate countertops that were fading, scratched, and kind of ugly. I felt very fortunate to have a solid surface countertop in our home. The material is a quartz composite and an amazing quality.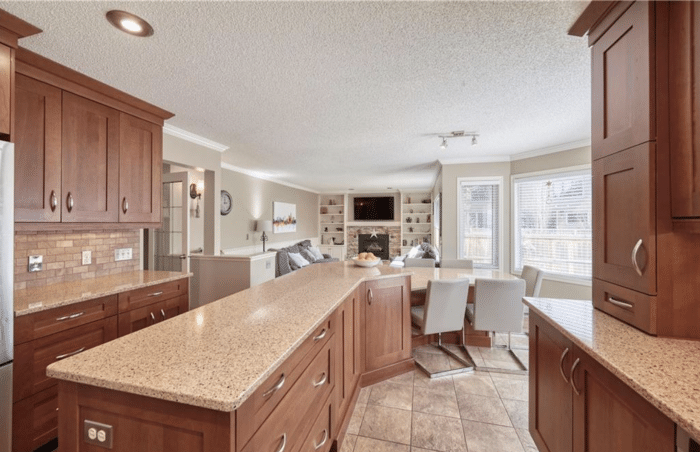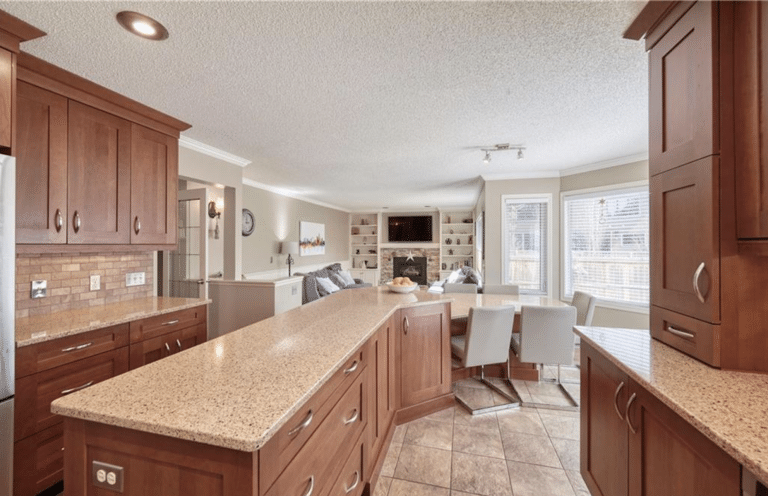 After living in the house for a few months I started to realize how much I hated the color of the granite surfaces. The pattern always looks dirty and the mid-brown tones blend in with the spills making it hard to see the spots to clean. I am often bending down or leaning over to get the right light to see better.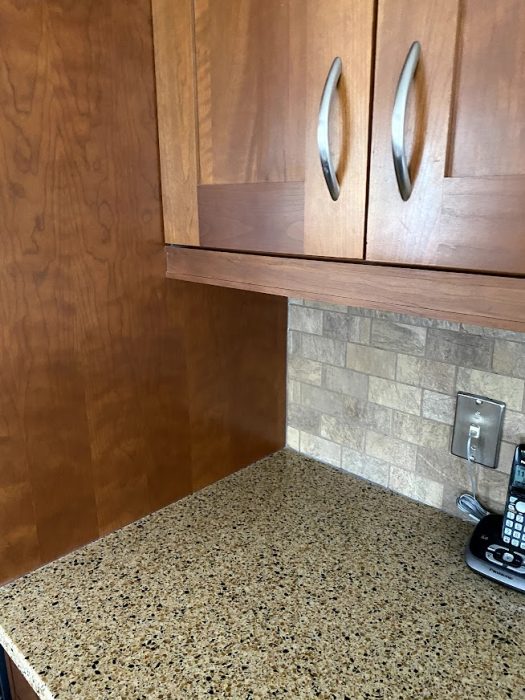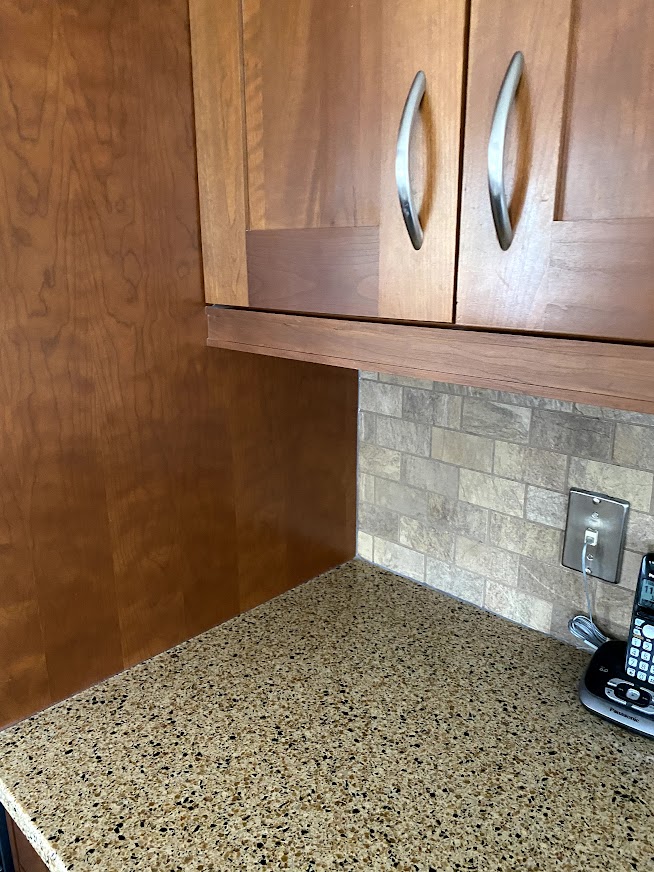 Eventually, I just hated the color. The entire space feels a bit dark and shadowy, and I need bright spaces to feel happy. Apparently, I am sensitive to lighting and colors.
I finally decided the color bugged me enough that I wanted to change it out sooner rather than later. I figured this could be a stage one renovation and I could live with this for a while while I decided if I wanted to replace, paint, or restain the cabinets. If the counters are white would I still want white cabinets? Or would the white paint be too much and I would be better off with a gray paint color for the cabinets? I can update the old countertops and then debate the next step in the future.
Why paint granite counters?
Painting granite counters, or resurfacing granite countertops, is a good option to make a big upgrade in the appearance of your home on a tight budget. Refinishing is a huge cost savings compared to replacing them with new countertops. We have a huge amount of square footage due to a built-in table attached to the kitchen counters. I figured it would be at least $7k to replace the counters. Saving money has commenced, but I began researching other options in the meantime.
Another reason I chose to refinish my granite counters was to save them from going into a landfill. Refinishing granite countertops is good for the earth. There isn't a huge market for second-hand, precut countertops. Especially without the cabinets going with them.
Can you paint granite countertops?
Yes you can paint granite countertops! I use the term paint kind of loosely. By paint I mean to apply a coating with a paint brush or roller. I highly recommend getting one of the granite countertop paint kits available. We chose LuxRock from Daich Coatings because it is a new, higher end granite product and we felt that using this product would maintain the high quality of counters that we already had.
How To Paint Granite Countertops with a Countertop Resurfacing Kit
When I began researching painting countertops I saw a lot of epoxy countertop kits that created a faux marble finish. After watching a few tutorials I found one person who showed how she made a map of her counters and drew where she wanted the prominent veining to be. It looked great, but I wasn't sure I would be able to recreate that look. I also really like the quartz and terrazzo style of counters.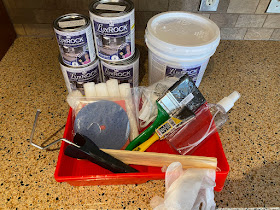 What I Like About LuxRock
The quality and durability. LuxRock is a solid surface granite countertop kit, which includes the tools needed for the project.
Everything is included – Each box comes with a base coat, stone coat, clear epoxy, and a clear finish coat. It also includes a paint tray, paint roller, foam paint rollers, and sandpaper for each coat. We did end up purchasing more sandpaper in various grits
Great for DIY'ers. If you are up for a bigger project this is a great way to save money.
Repair – LuxRock allows you to patch repair, and cover any burns, broken pieces, or signs of wear and tear in laminate countertops. If I had laminate countertops I would do this project in a heartbeat.
How To Paint Granite Countertops
Choose a granite countertop kit. I chose this LuxRock in platinum white (available at Lowes) and used 3 boxes for my kitchen and table.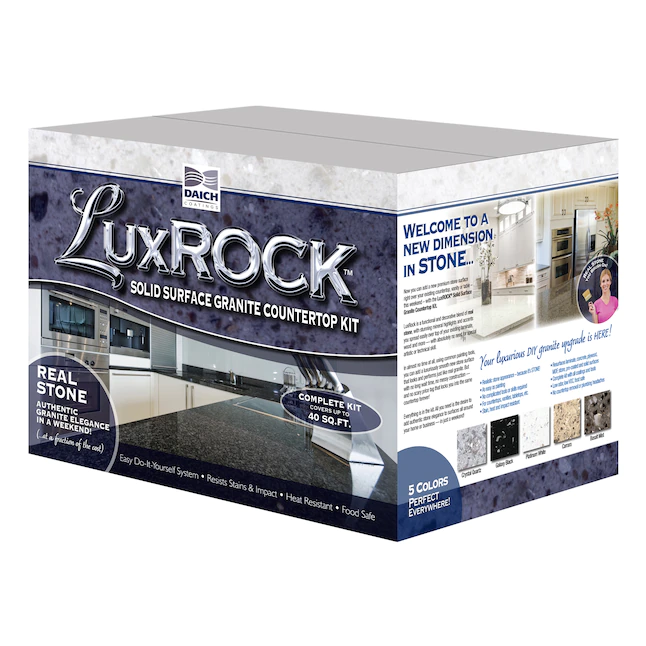 To begin, you will need to clean the counters and scrub down the entire surface with TSP. Remove any caulking from the backsplash or side panels of cabinetry. Tape off any edges with painter's tape and plastic sheeting. Remove any cabinet doors if wanted.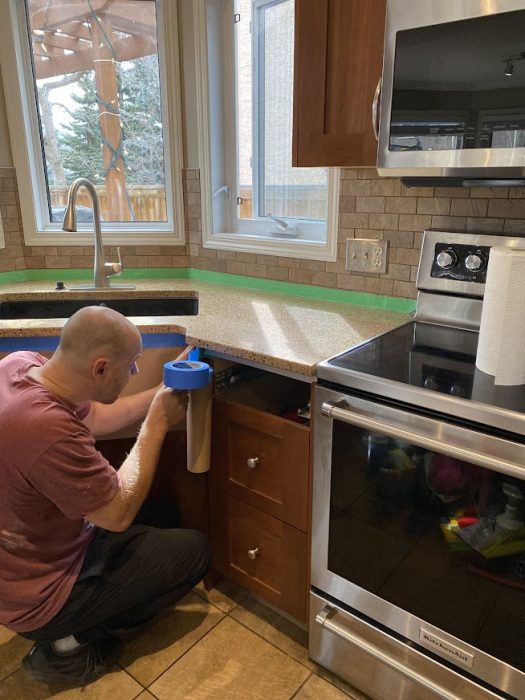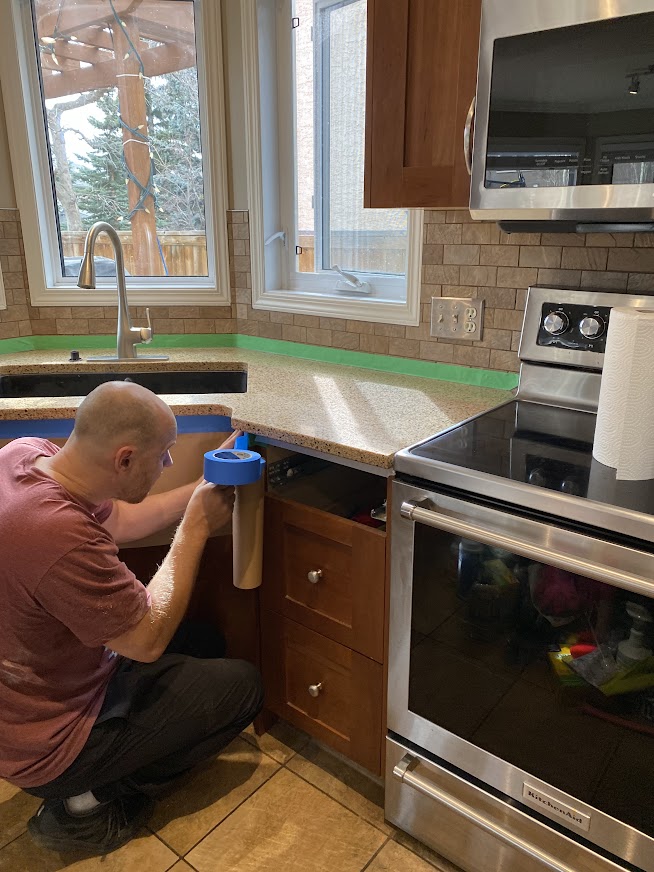 Pull out the stove and put paper or plastic down to protect the floors.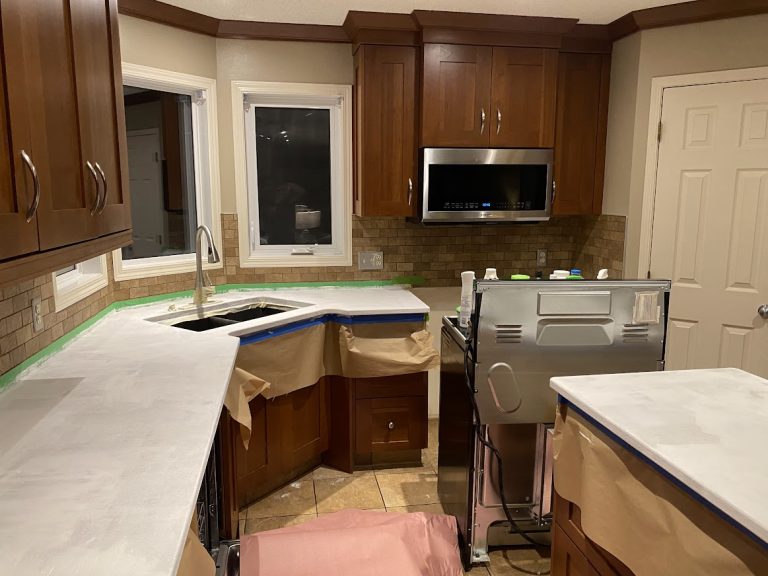 Apply the first coat of primer with the included roller. Allow to dry for a few hours and reapply the second coat of primer.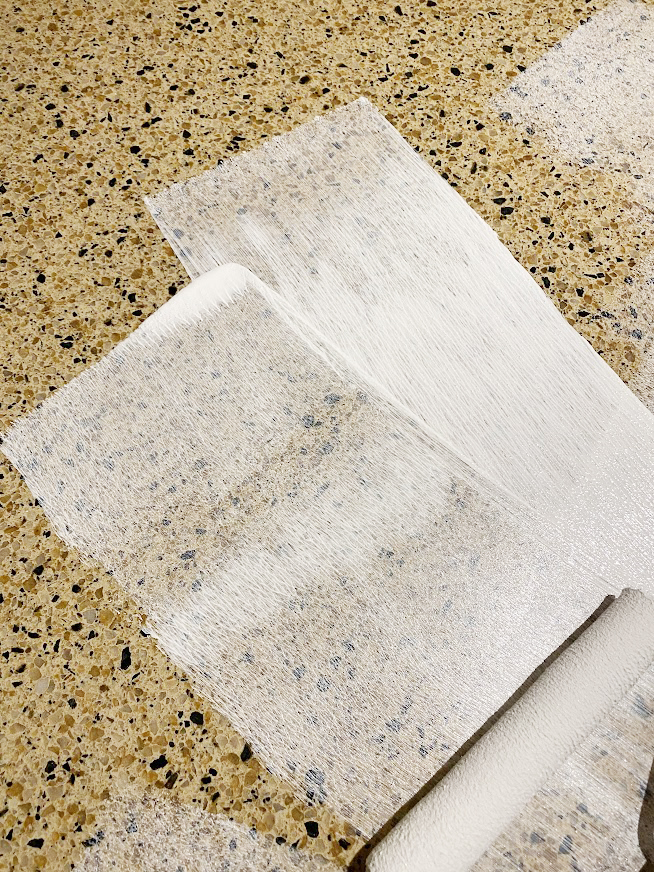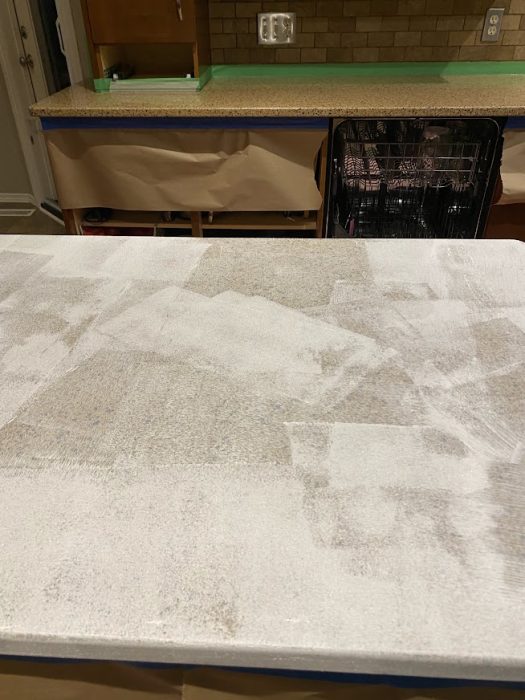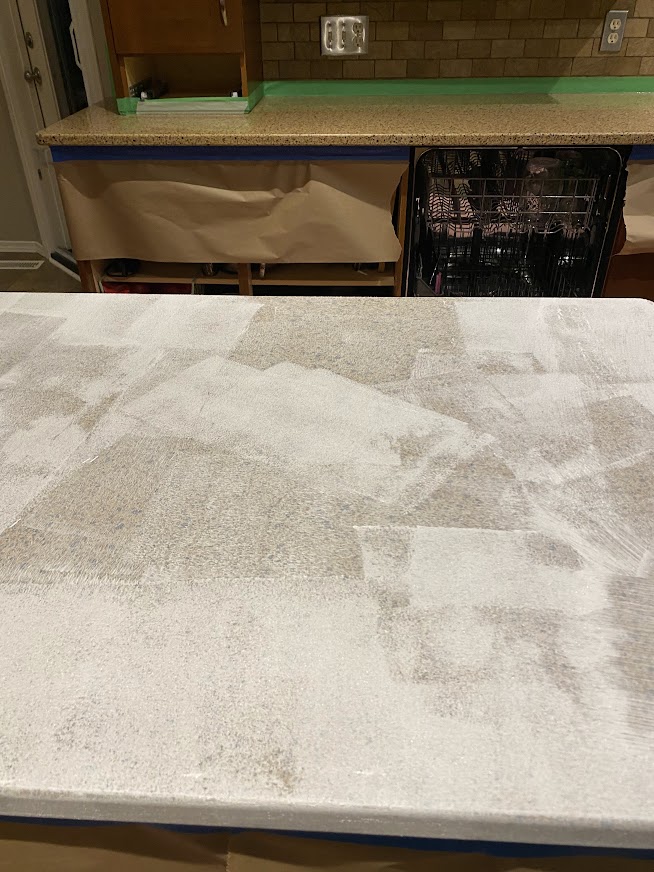 Use a new roller brush to apply the stone coat. Mix very well. Use a smaller brush for around the sink, faucets, and side edges.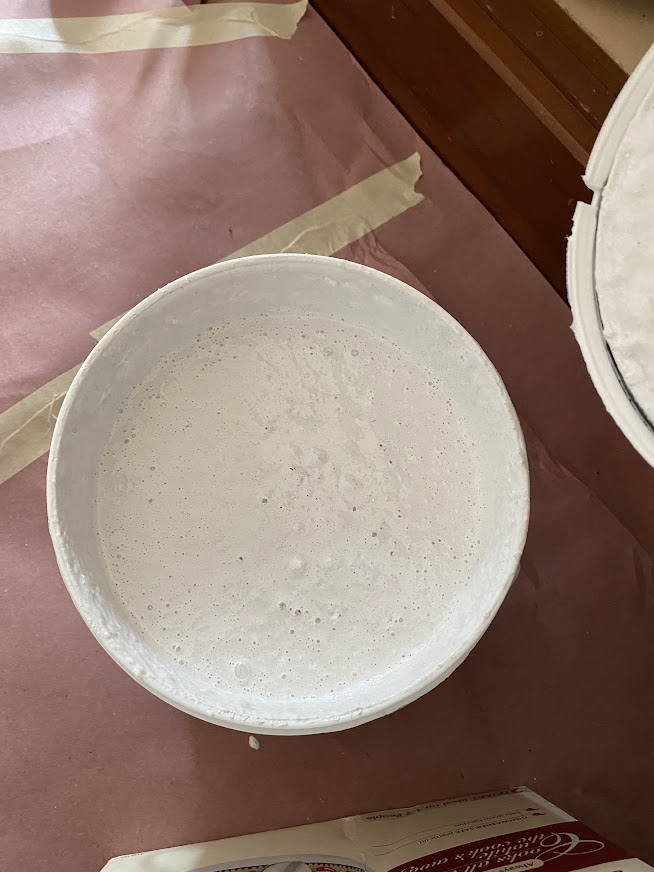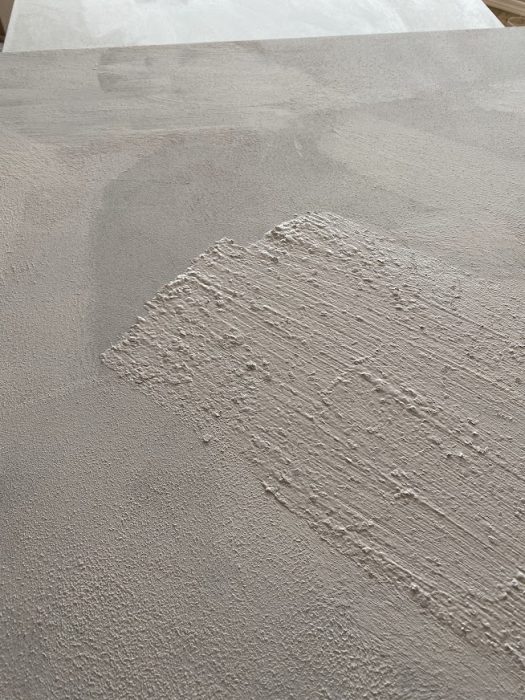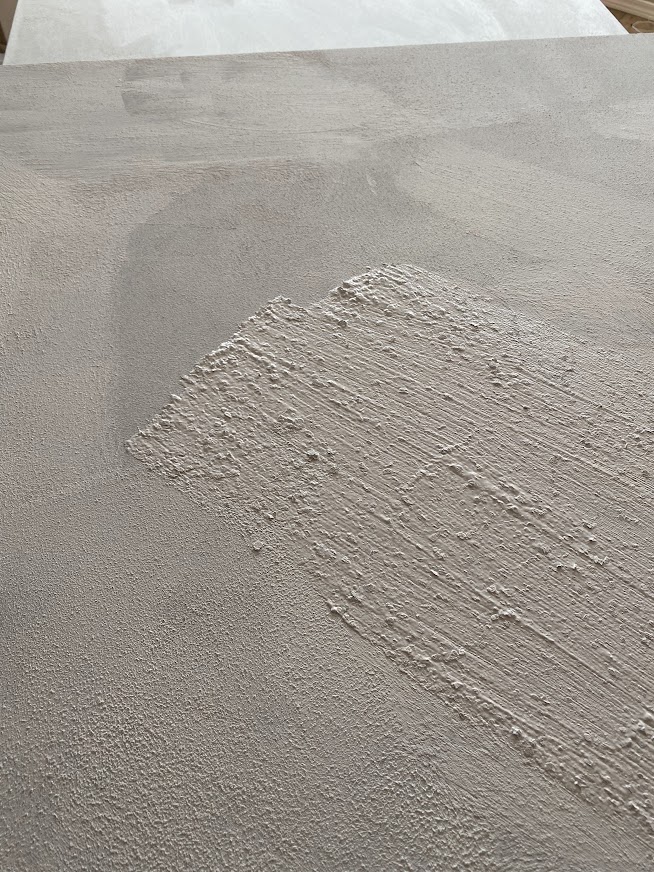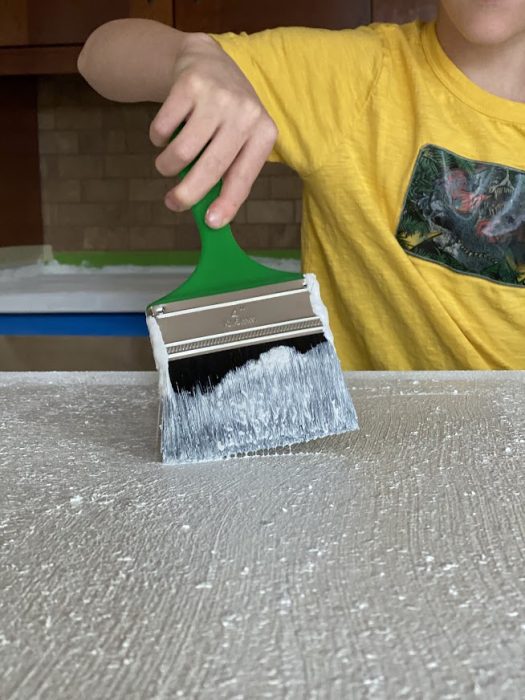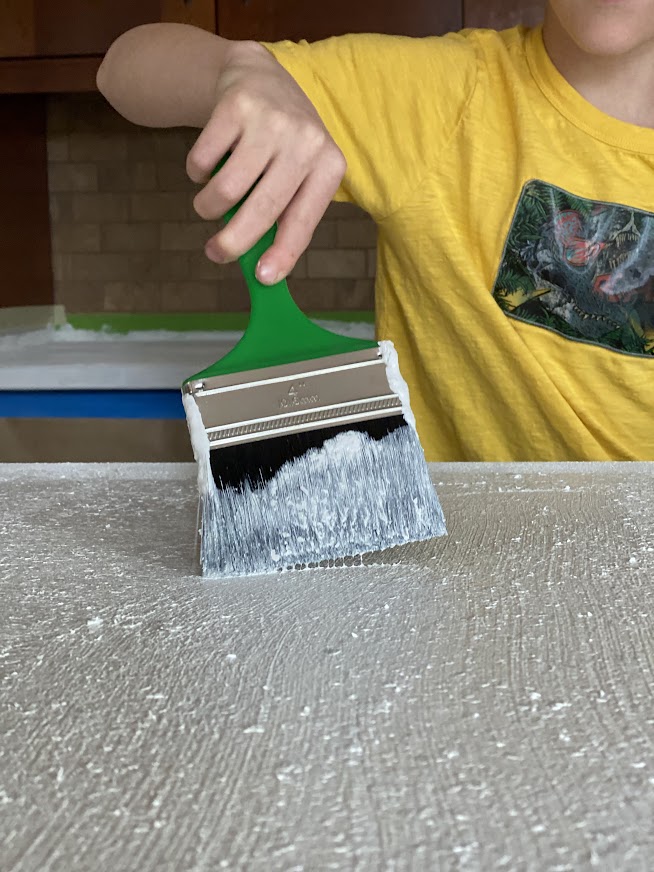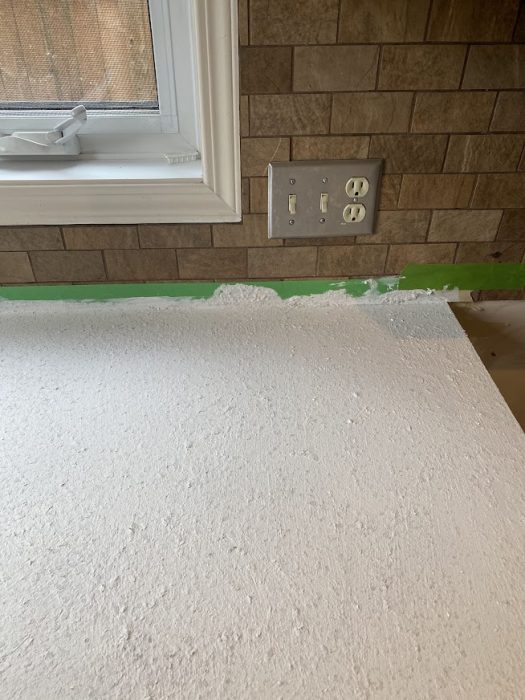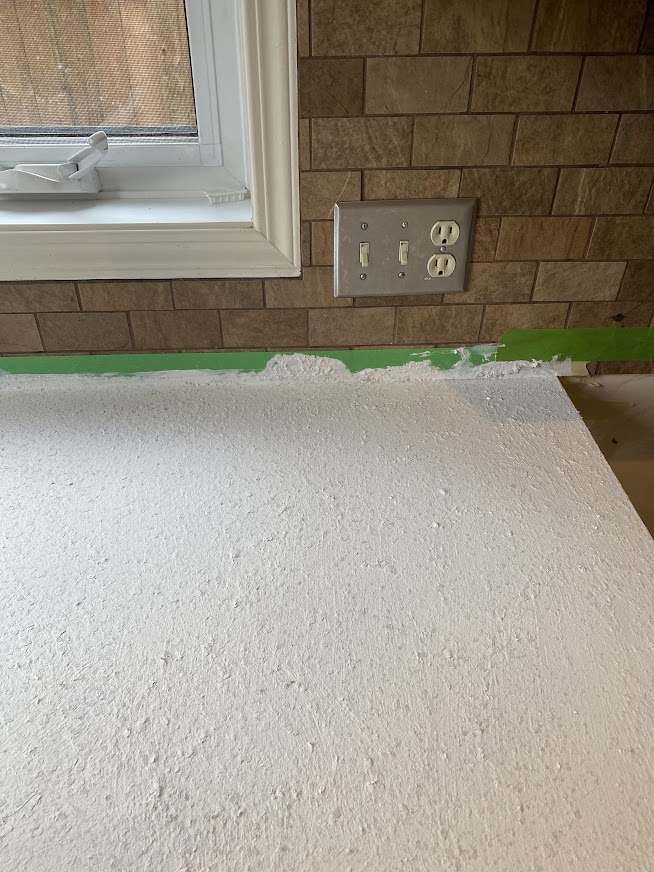 Sand with a rotary sander. We tried a few different types, but found the very best solution was any rotary sander connected to a shopvac. While trying different options we made a huge mess of dust and it sucked.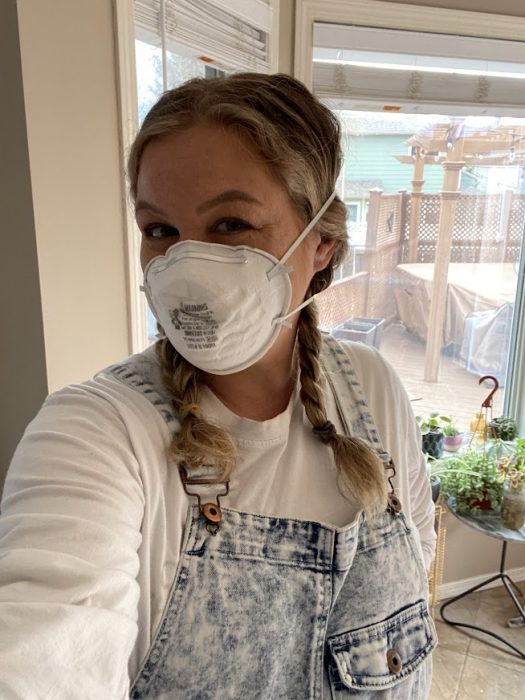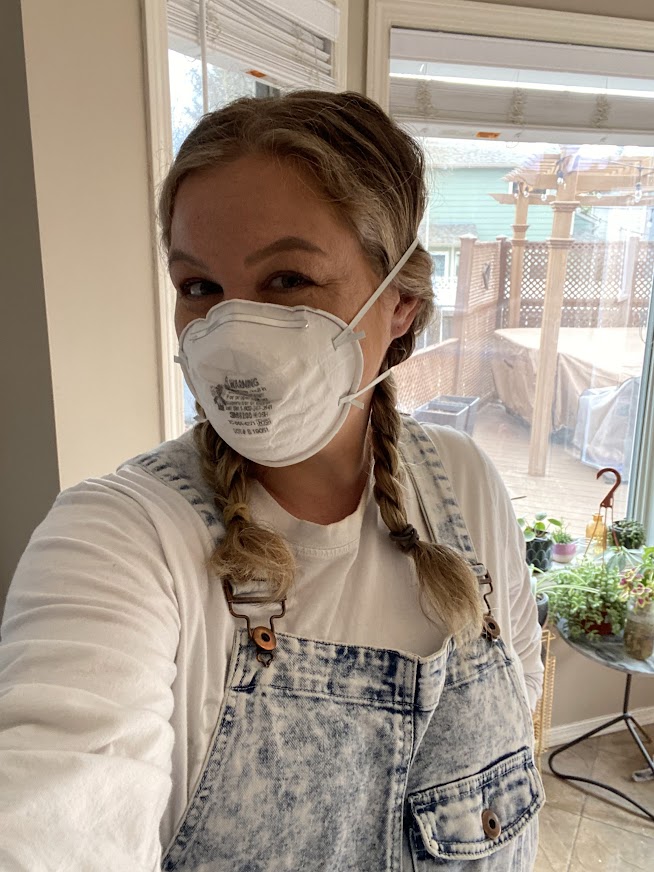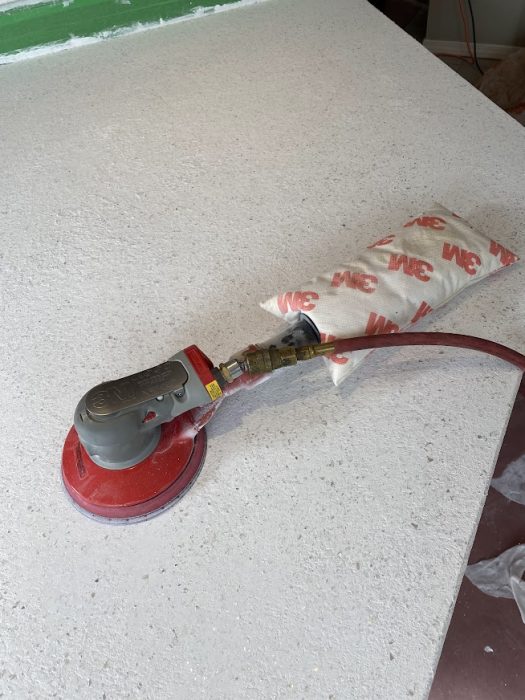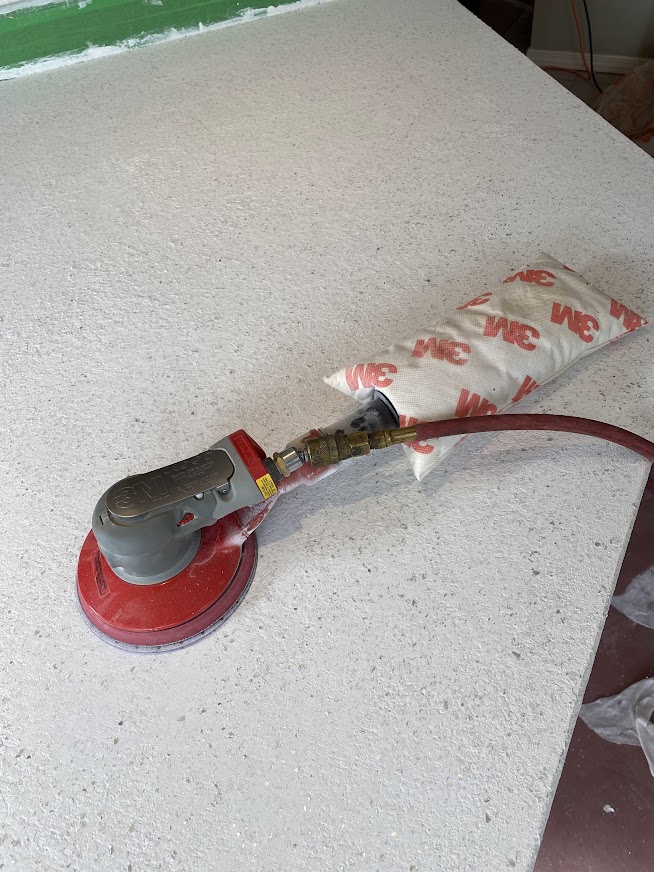 While sanding you will start to see the flecks start to shine. Its so exciting!
Apply a second coat and sand again. Follow the directions in the kit for how long to wait between coats.
sealing coat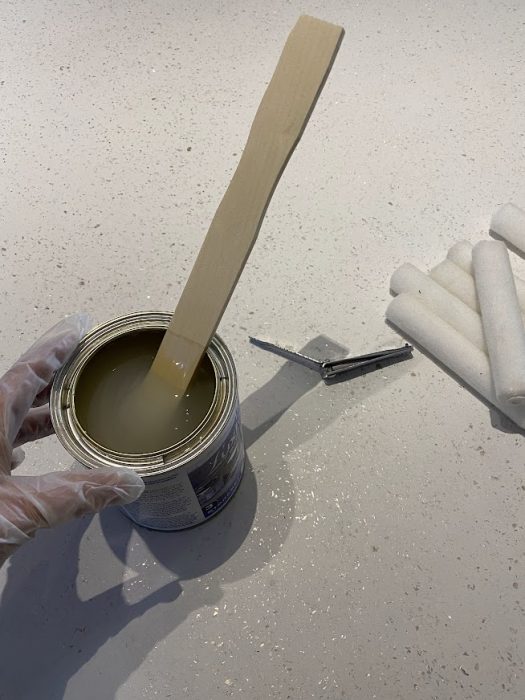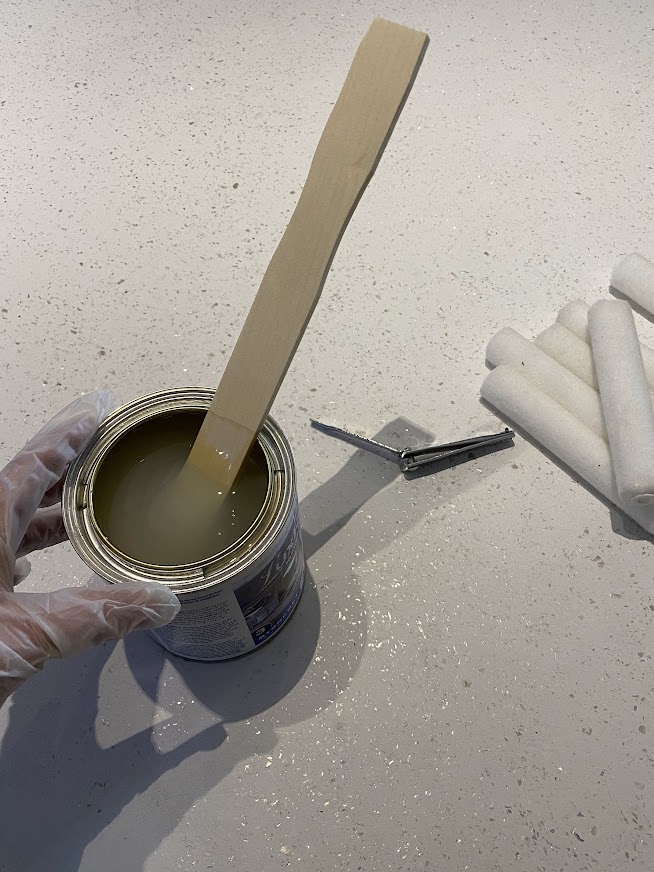 sand
top coat.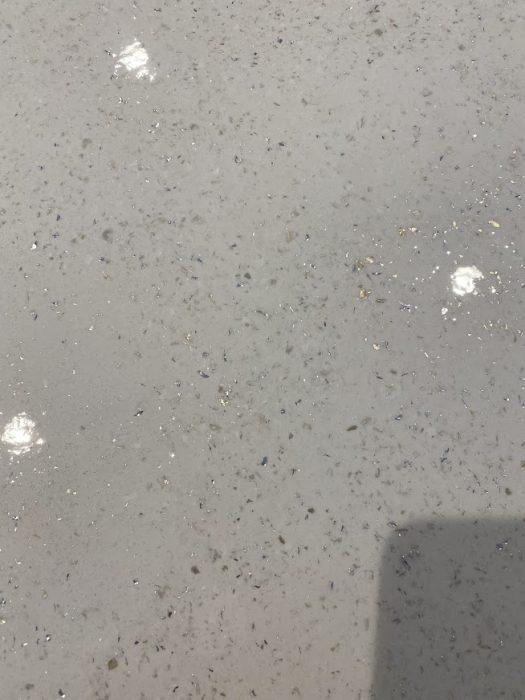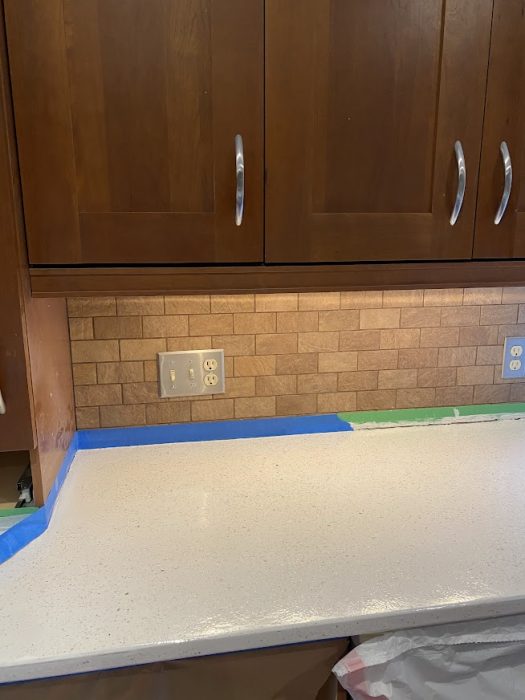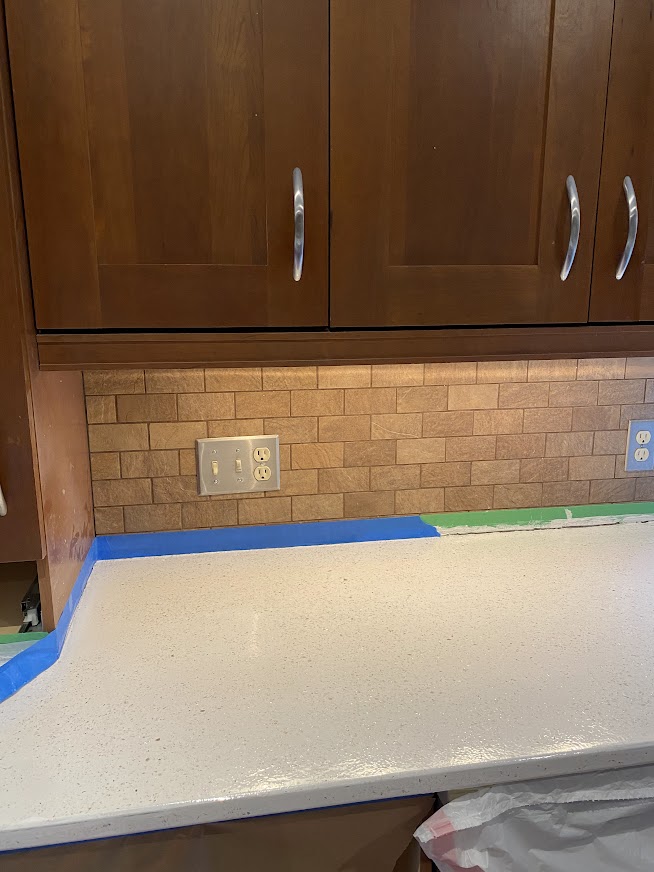 Allow the countertop to dry, then remove the painter's tape.
Apply fresh caulk and allow the countertop to dry completely.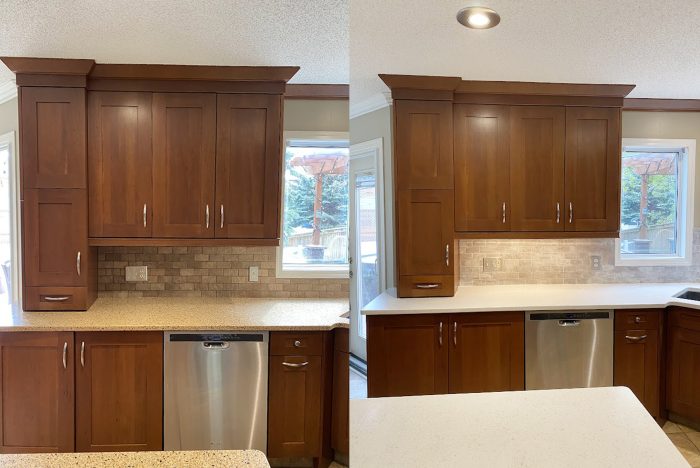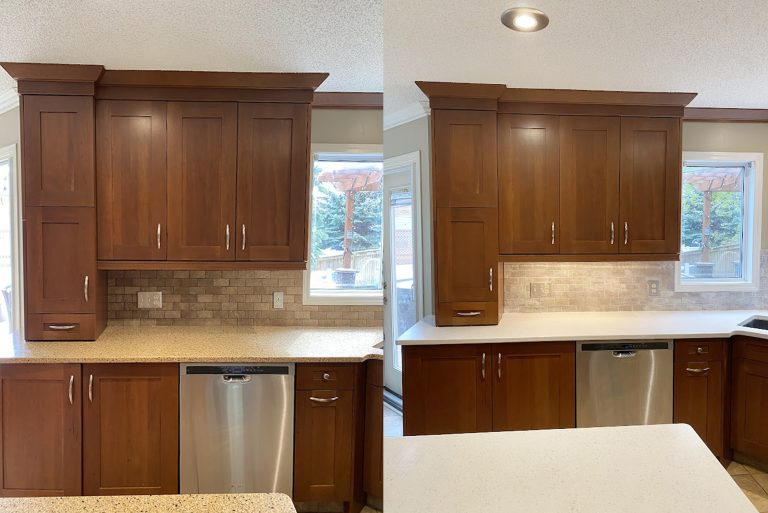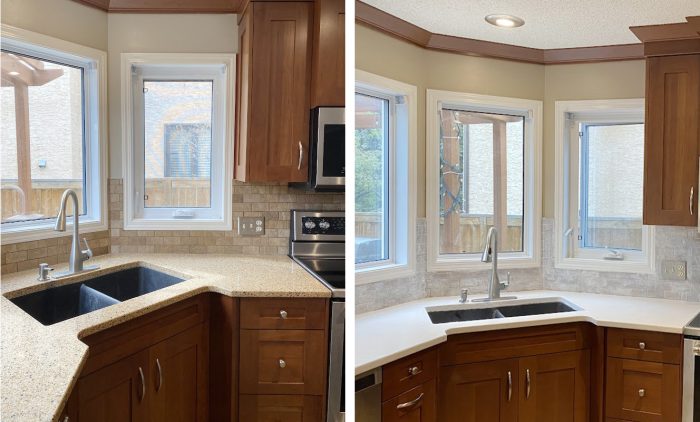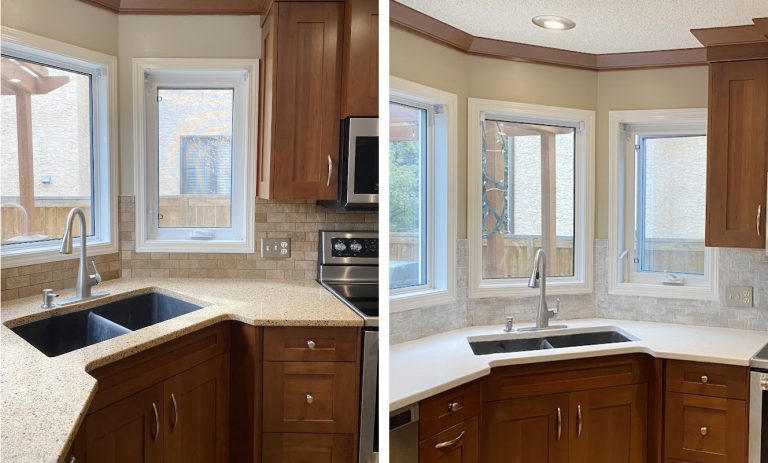 How Does It Hold Up?
We have lived with the stone-coated countertops for a few months now. Our family of 6 has 4 wild boys plus a dog. We are hard on everything, so I feel like we are a true test of durability. The surface of the countertop still looks great. I don't see any cracks or chipping. The lighter color shows more food spills, but I am positively thrilled every time I wipe them up with a damp cloth.
Do they hold up to heat? I have been hesitant to place hot pots right onto the surface, so we use hot pads. But, we have had a skillet on them and have not noticed any changes whatsoever in the semi glossy surface.
Overall, I am SO happy I used the LuxROCK Solid Surface Granite Countertop Kit. I would recommend it to anyone looking for a cost effective upgrade to their kitchen countertops, or anywhere else in their home! I would actually love to try it on a tile fireplace surround.
Tips and Tricks For Success In Painting Countertops
Start with a smaller project. The easiest would be a vanity or desk – something without a sink. But a small bathroom or just the kitchen island is a great place to start. I found there was a bit of a learning curve and it eventually got easier once you feel more comfortable with each step.
Connect your sander to the shop vacuum. It makes clean-up so much easier, and it honestly makes the biggest difference in this project from feeling manageable to feeling like a huge construction project. Keep the dust contained. Wipe surfaces down with a wet cloth often.
Watch the edges. I found it really easy while sanding to sand everything off at the edges. In attempting to get the perfectly smooth finish I often got frustrated that I would take it off the corners. I recommend being very careful with the angle of your sander or sanding the edges by hand. I even touched up a couple spots with the primer before moving onto the top coats. I was tempted to use a white chalk paint but mostly worried about the sheen matching, so didn't go there.

Prep prep prep. Watch the painter's tape that its aligned straight around the sink. Once finished, remove the tape with a box cutter so you get a perfectly straight line.
Mix the stone coat very well. I used an attachment on my drill, which worked well. You want to make sure you don't get spots where the stone isn't evenly distributed.

If you are covering a dark granite with a light stone color it would be a good idea to apply an extra coat of primer.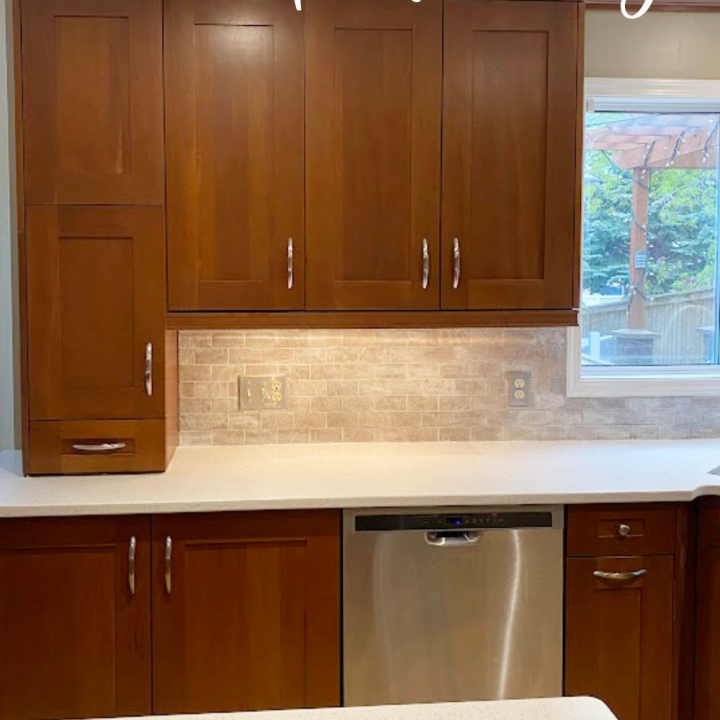 How To Paint Granite Countertops
Prep Time: 1 hour
Active Time: 3 hours
Total Time: 4 hours
Difficulty: Intermediate
Get the look and quality of granite countertops with a weekend DIY project on a budget. This low cost countertop refresh will amaze you!
Materials
Countertop Refinishing Kit
Various grit sandpaper
Painters Tape
Tools
Instructions
Choose a granite countertop kit. I chose this LuxRock in platinum white (available at Lowes)
Prep prep prep. Clean the counters and scrub down the entire surface with TSP.
Tape off any edges with painter's tape and plastic sheeting. Remove any cabinet doors if wanted.
Apply the first coat of primer with the included roller. Allow to dry for a few hours and reapply the second coat of primer.
Use a new roller brush to apply the stone coat. Mix very well.
Sand
Apply second stone coat
Sand again
Apply epoxy coatsealing coat
Sand lightly
Apply top coat and let dry
Remove painters tape and apply fresh caulk