These DIY plant stakes are the perfect gift for the plant lover in your life. Use your glowforge or other laser cutters to make this project, and customize it however you wish! Download the FREE SVG cut file and get making!
If you are looking for a really simple glowforge project for items you can sell, these plant signs or plant stakes are perfect. They don't require any assembly or glue, so are a great project to start with.
You can personalize the design by adding your own quotes or names for that perfect personal touch. Cut these plant stakes from wood or acrylic and start selling!
Are you familiar with the glowforge? I wrote all about it in my Glowforge Guide: What to know before you buy. Check out the post for all the FAQ and save up to $500 on a machine!
Garden stakes are typically used in a garden to mark what plant is growing in that spot. And that is a great way to use this free garden stake cut file. However, you can also use these plant stakes as a great way to express some plant personality. Some punny plant jokes if you will.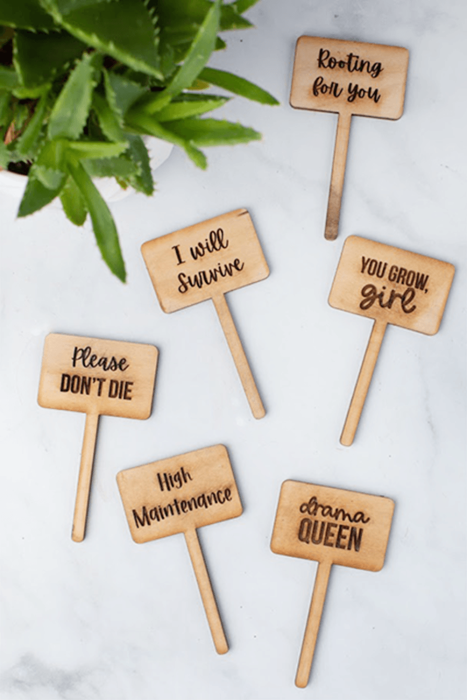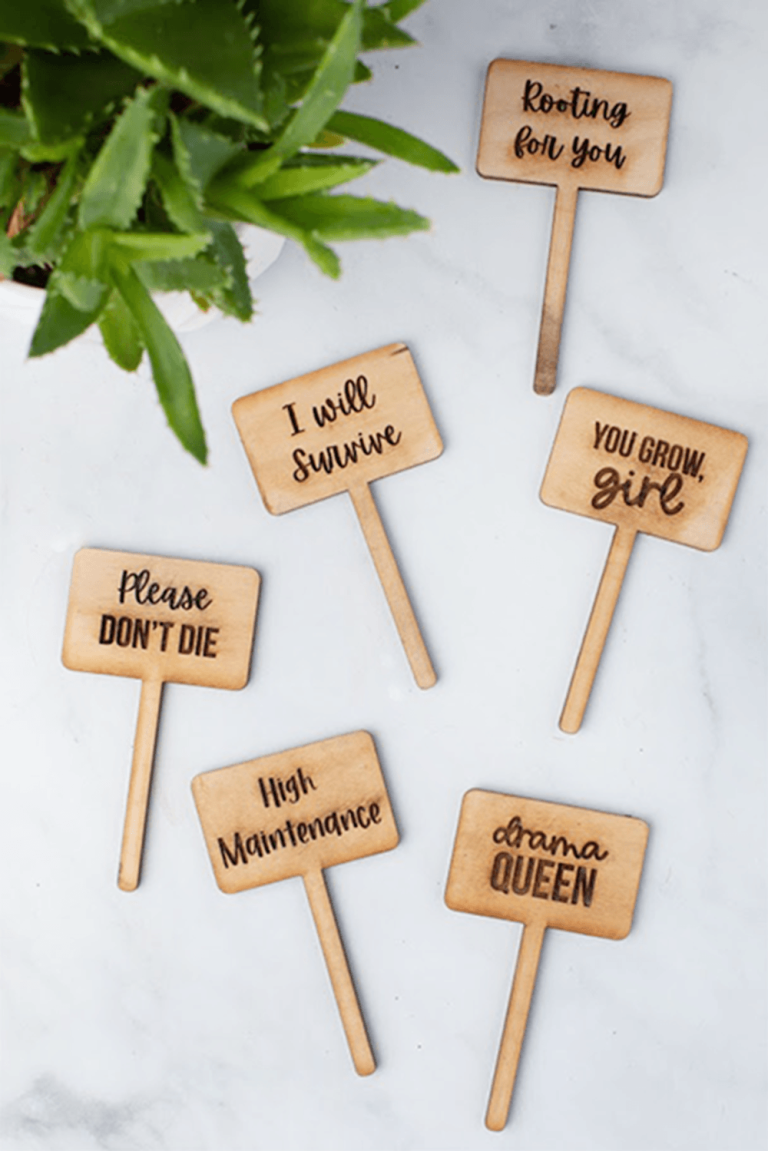 Looking for gift ideas? Skip the flowers for special occasions and give the gift of life in the form of a new plant baby. Add some pun plant markers you made yourself for the perfect personal touch. Housewarming, valentines, get better soon, or teacher gifts. These tags have you covered.
DIY Plant Markers Supplies


DIY Plant Markers Directions
Start by masking your material if it didn't come already masked. This will save you a ton of time and make the finished product so much prettier.
Turn on your Glowforge and add your material to the bed of the machine.
Open the glowforge app and create a new project. Select open from file and upload the Plant Marker SVG file from your computer.
Find the material you are cutting and adjust your settings according to that. Make sure to adjust any settings depending on if you are engraving, scoring, etc.
Adjust the pieces on the screen to fit on the material you are cutting. I like to nest the pieces together to save on material and the file is already designed for this. If you are using a scrap piece of material you will need to move, adjust, or delete a couple of the files.
Click PRINT in the upper right corner of the screen and hit the glowing button on the machine. It is cutting now!
When finished, remove the pieces from the machine and peel off the masking.
No assembly is required and no glue is needed for this Glowforge project. You can choose to stain the wood, or paint inside the engraved areas.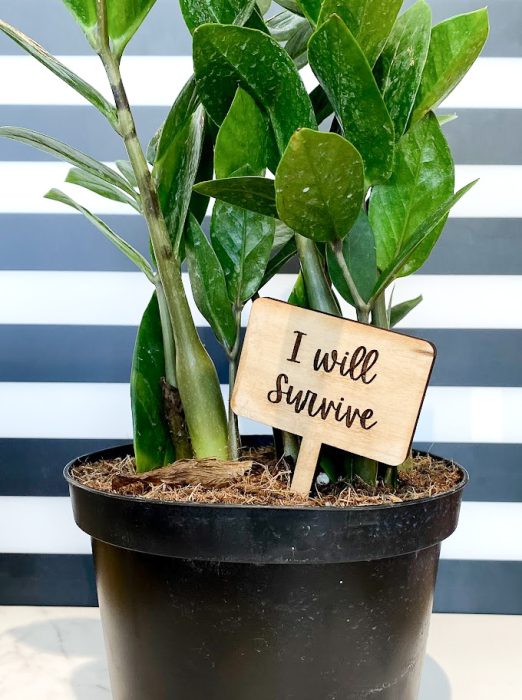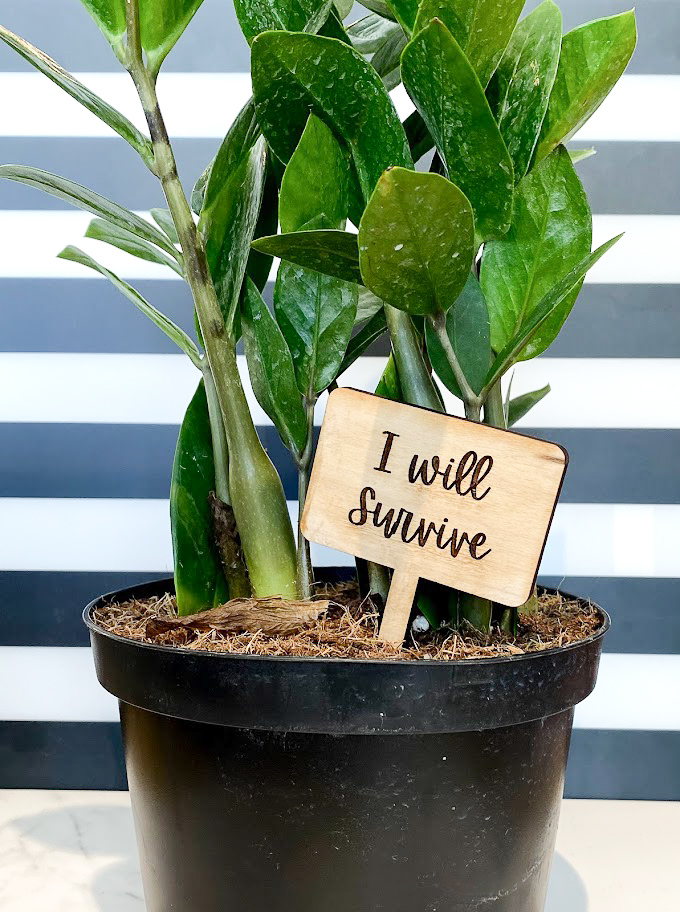 Project options for plant stakes
There are so many ways to make this project. You can paint the lettering (which is easiest if done before removing the masking tape from the project). You could just cut out the outside shapes of the plant picks and cut out the quotes from acrylic or wood for a 3D look. Mix and match wood, acrylic, stain and paint to make it your own.
I would love to see what combinations of materials and colors you come up with. Please tag me on instagram @BrooklynBerryDesigns with your projects made from this please!
Want to save this for later? Please pin it to your favorite interest board!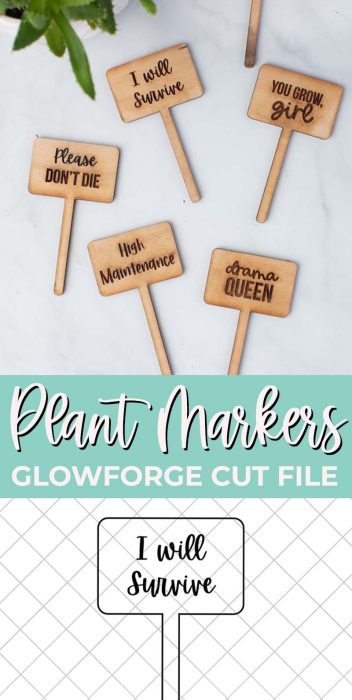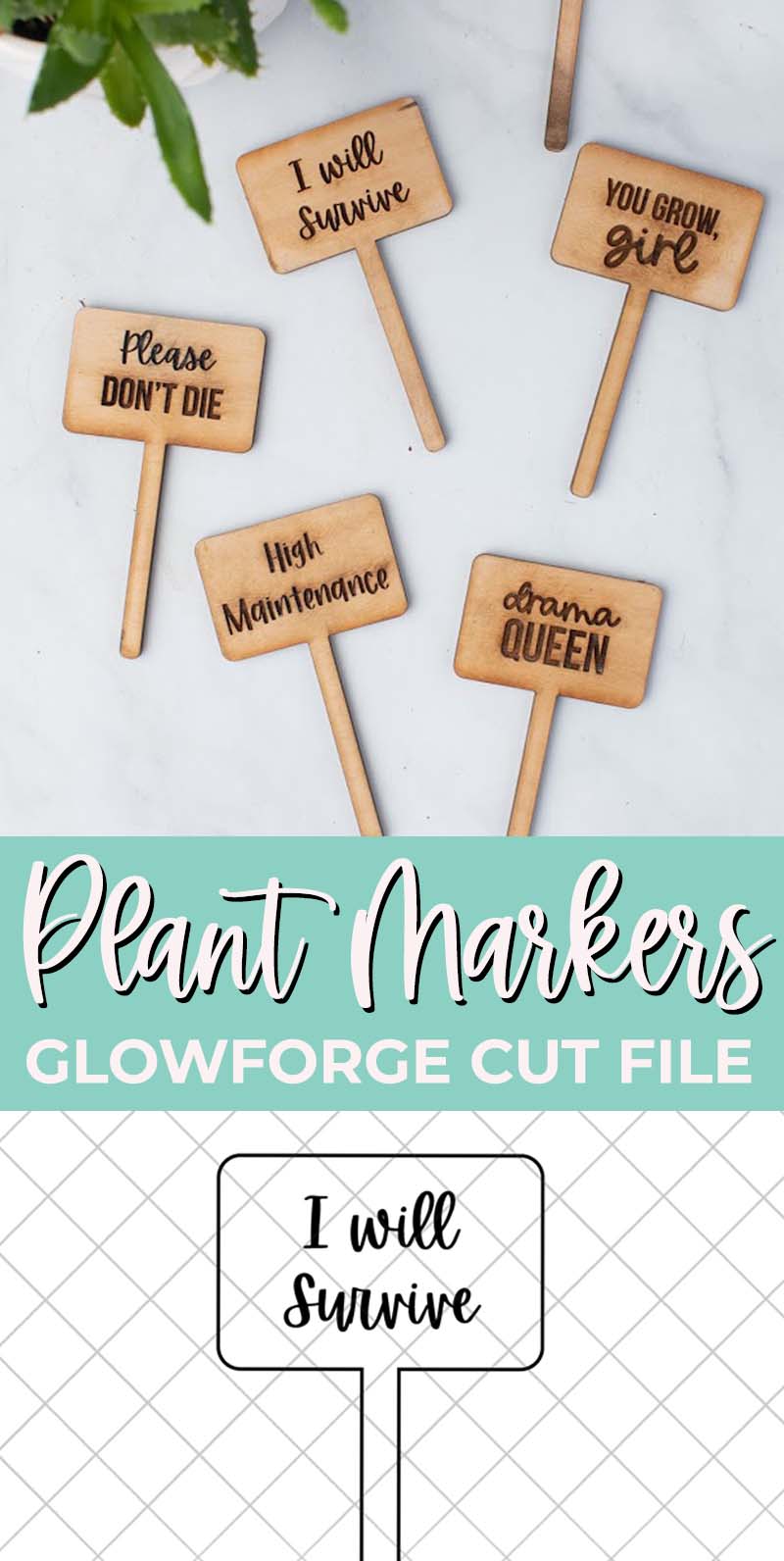 Looking for more ideas for plant lovers?
Happy Crafting!