It's not a well hidden fact that I have a Cricut and love to use it. I often bring it with me on girls weekends to help my friends get their craft project requests done.
There is nothing like crafting with friends. In the last week or two I have had a number of people asking about the machines, specifically which one to get. I thought I would share my thoughts and opinions here in case anyone else had the same question.
I personally have only used the machines that don't require a cartridge – the Cricut Explore, Explore One, Explore Air, and Explore Air 2. The older machines work and cut well and required you to purchase expensive cartridges that would give you access to that group of images and shapes.
It is easy to fall in love with the new Cricut Explore because it doesn't require the use of cartridges. Rather, it uses a website where you can purchase individual shapes and fonts and it comes with lots that are free.
I attended a party hosted by Cricut at Alt Summit and was blown away by the materials it could cut. The projects went way beyond paper crafts and card making. I was sold.
Which Cricut Model Do I Want?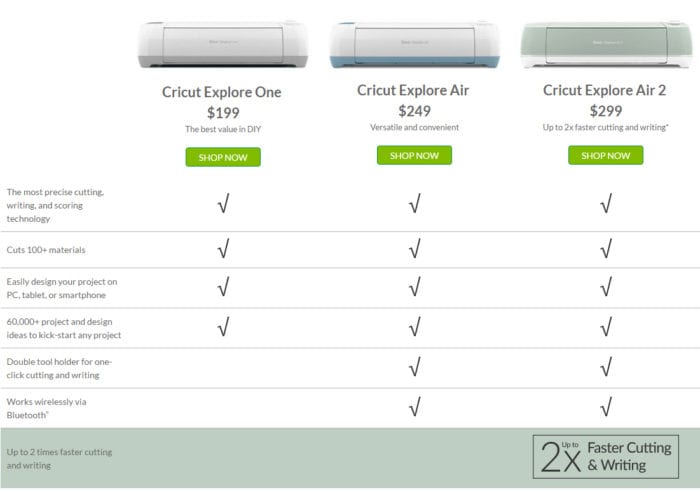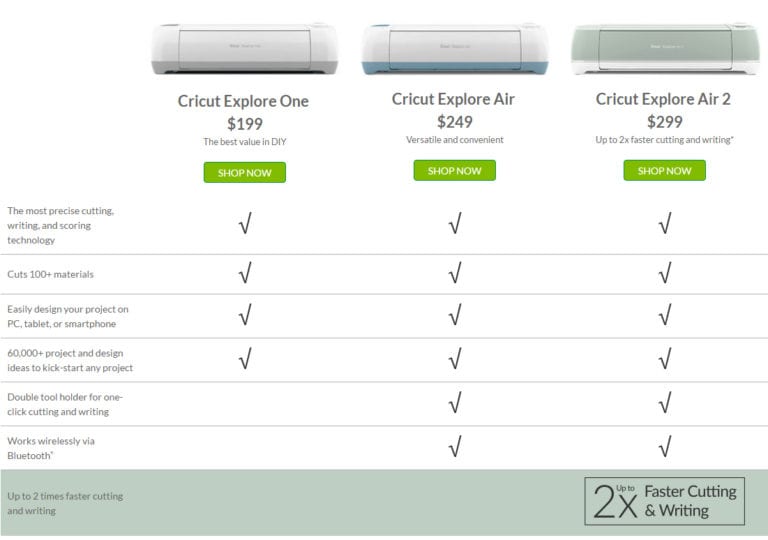 Do you want your machine to write or score?
Of the Explore models, they will all cut materials with the same precision just the same. The Cricut Explore One is the most basic. It has to be connected to your computer with a USB cord.
It has a single cartridge to hold a blade, so it can cut only. An additional wireless adapter can be purchased separately.
The Cricut Explore has the same features as the Explore One, but also has another cartridge that can hold a pen or scoring stylus. This allows you to score paper to be folded or hold a marker to write and draw. Its pretty cool!
Do you want to have wireless capabilities?
The Explore Air adds the ability to cut, score, and draw without being connected to a computer. You can use the ipad app to create your design and send it to the machine, all without having to be at a computer.
**(if you purchase a separate Wi-Fi adapter this can be done with the other machines as well)**
You can also use the app, save your design, and then finish it on the computer. This allows you to work on a design from your ipad or iphone without having to be tied to your computer…..
Do you have a machine and need some tips on getting started? Check out my Cricut FAQ guide here.
Are you in a hurry? Do you cut one image over and over?
The Explore Air 2 comes in beautiful colors – Mint Green, Yellow, and Purple and many others and has the ability to do a faster cut – 2x the speed.
If you are making a large quantity of the same item (think group t-shirts, cups, a large art project, or you own an etsy shop) you will LOVE the explore air 2 for the fast mode. It will save you so much time!
Many people who use their Cricut to make items to sell own at least two machines so they can cut twice as fast. The Explore Air 2 will save you buying a second machine with its 2X faster cutting!
Accessories
Whichever machine you choose, I recommend getting a starter kit. Its a great value and having some materials on hand when you get your machine is awesome!
There is nothing worse than having a new toy and having to wait to pick up supplies to use it. After you have played with your new toy, check out the Access membership – it's a $10 monthly fee that allows you access to thousands of designs and fonts without having to purchase any individually. It's the best way to go.
Does that help? If you still have any questions about what Cricut machine you need leave me a comment!
*The newest machine to be added to the Cricut family is the Cricut Maker. See my FAQ on the Maker here.