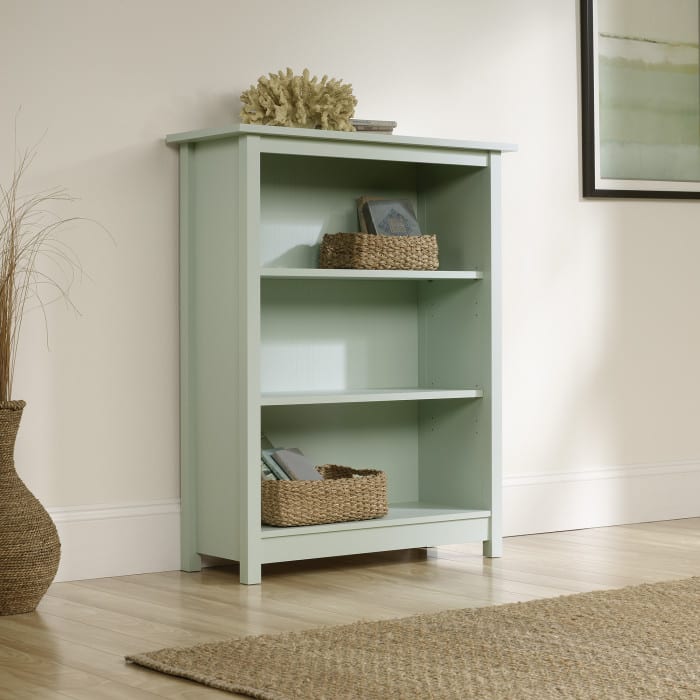 When we ordered our coffee table for the living room from Sauder, we decided to order a mid sized book case as well. The price was great and the greenish blue color was swoon worthy. Bead board back? A cute book case you don't need to do anything to? Sign me up. I love the versatility of the book cases, and could think of a few places I could realistically use this.
The bookcase is currently in my living room, as seen on a particularly rough day in our home. I had it set up as a styled bookcase with coffee table books and accessories. Seeing as how the ages of my kids are a bit tricky, it just wasn't working out in our home. Luckily, I can think of so many other uses for this in our house.
Bookcases are for more than just books. I love to use them in the play room by adding bins to store toys and games out of sight.
I need a place either in my mud room or in the entrance to the house in the garage to store shoes and backpacks. The shelves are deep enough to hold a few pairs of shoes.
I also could use it in my living room as well, and style it different ways. I could see adding wallpaper or fabric to the back to bring in some more pattern. Either way, my options are pretty limitless with this.
For more ideas on how to style things for different uses, rooms or seasons, check out my pinterest boards HERE as well Sauder's pinterest board as well!