Most kids love to use playdough and these free printable playdough mats for preschool kids make it even more fun! Stick around and learn all of the different ways to make play dough fun for young kids and help them develop important fine motor skills at the same time. The form for the PDF files is at the very end of this post.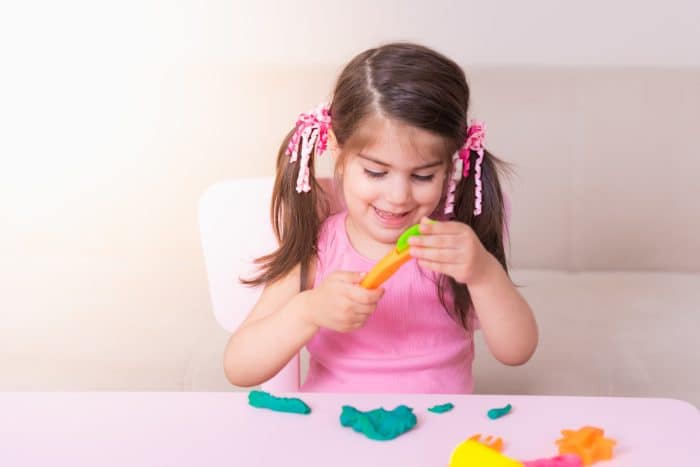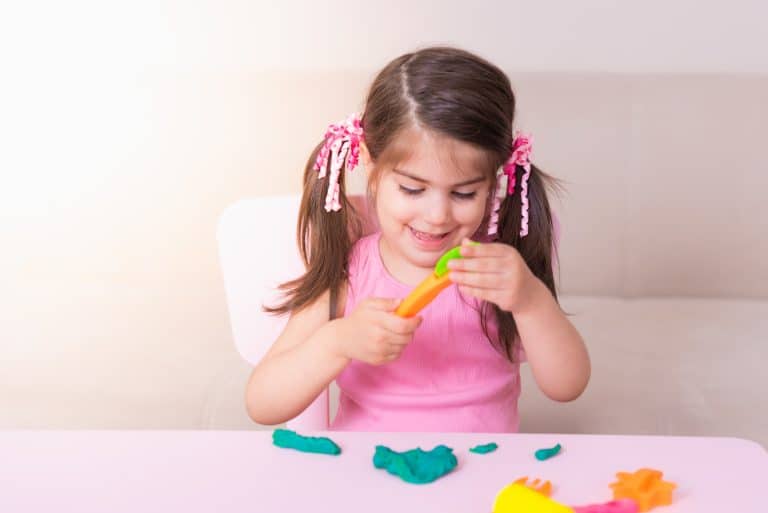 As a mom to 4 boys, I have had many years of play dough in our house. For myself, the biggest frustration was that after digging out all of the supplies they didn't play very long. That is until I discovered free playdough mats.
The concept itself is something so simple, but the magic part was that my kids played and interacted with their dough for a longer time. They could play pretend and make a pizza using different colors of dough for ingredients. A simple drawing on a piece of paper gave them so many more ways to play and I was sold!
The other day I had a friend and her 4 year old son over to visit and I wasn't sure how to entertain the little nugget so that his mom and I could chat. I quickly printed out some playdough printables and slipped them into sheet protectors for him. It was such a big hit, I decided to make a couple more and share them here for you to use!
Make playing with playdough fun and educational with these free printable mats for preschool kids!
Playdough mats are such a fun way to encourage creative play in young children. Typically play dough mats are laminated and will feature various creative prompts with different themes such as letters, numbers, shapes, animals, and more. Kids of all ages can use these mats to form the dough to fill the suggested images. A mat with empty flower pots lets kids roll dough into snakes to make a flower stem and then flower petals.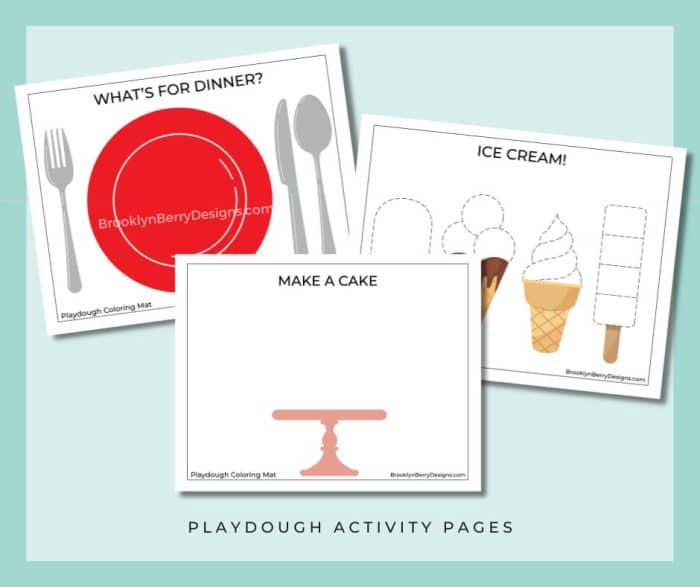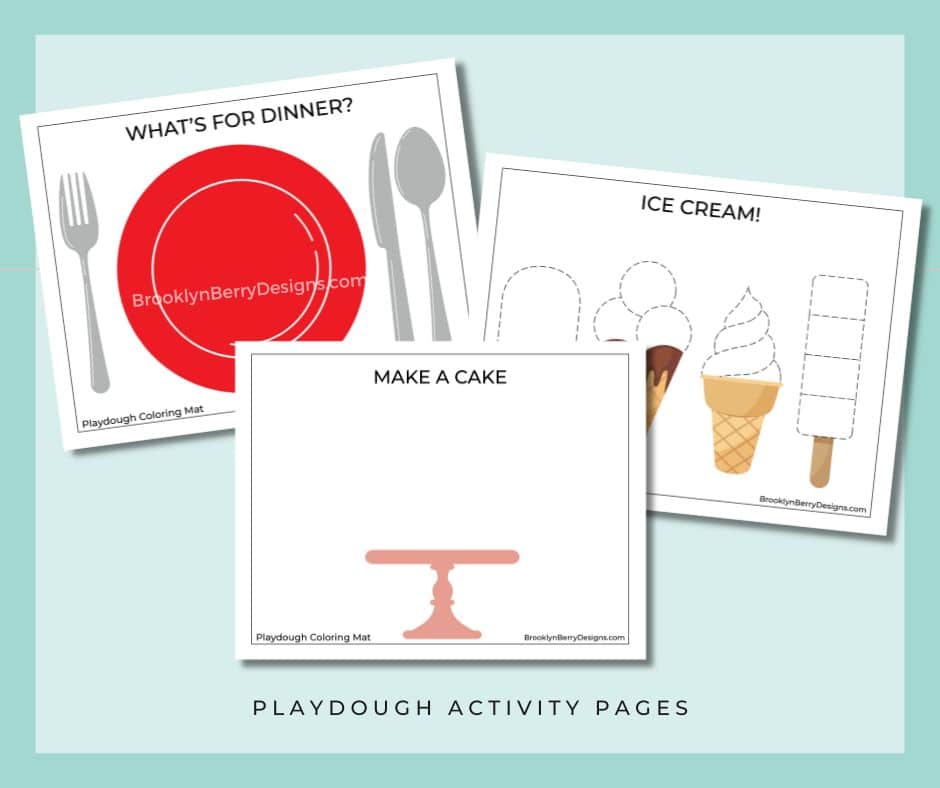 Free Food Themed Playdough Mats
I drew three basic pages around a food theme. A plate with utensils has the prompt "what's for dinner?" Another ice cream page has 4 different ice cream and popsicle shapes with a dashed line outline. Make a cake in any shape and add your own decorations!
Benefits of Using Printable Play Dough Mats for Preschoolers
Kids love playing with playdough! Three of the best benefits of using play dough mats for preschoolers are:
Improves fine motor skills – using play dough mats helps kids develop the muscles in their hands which helps when they are writing letters later on.
Encourages creativity: Printable play dough mats allow preschoolers to use their imagination and creativity to create unique designs and patterns.
Enhances hand-eye coordination: Playdough activities and filling in the mats requires hand-eye coordination, which is a great way to help preschoolers develop this important skill.
This great activity is the perfect way to learn sight words, math skills, different shapes, letter sounds, and more! There is no wrong way to use these alphabet play mats, they are the perfect addition to any preschool!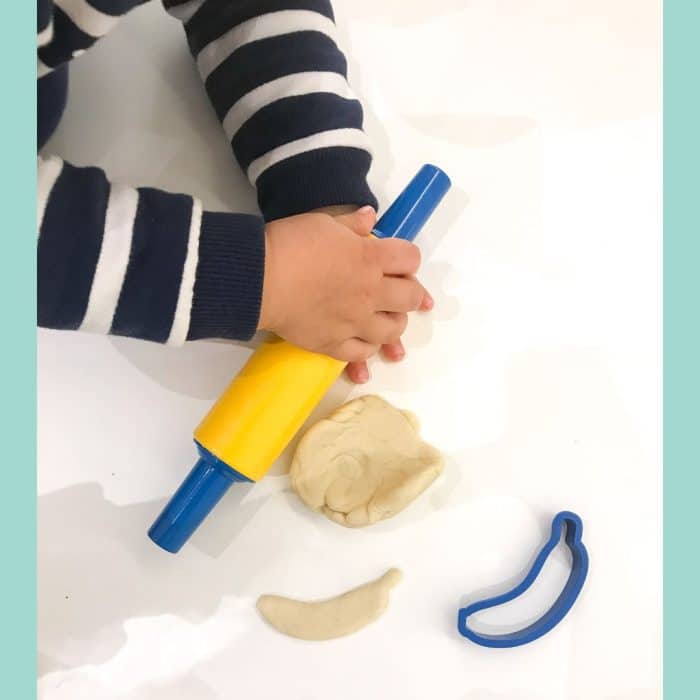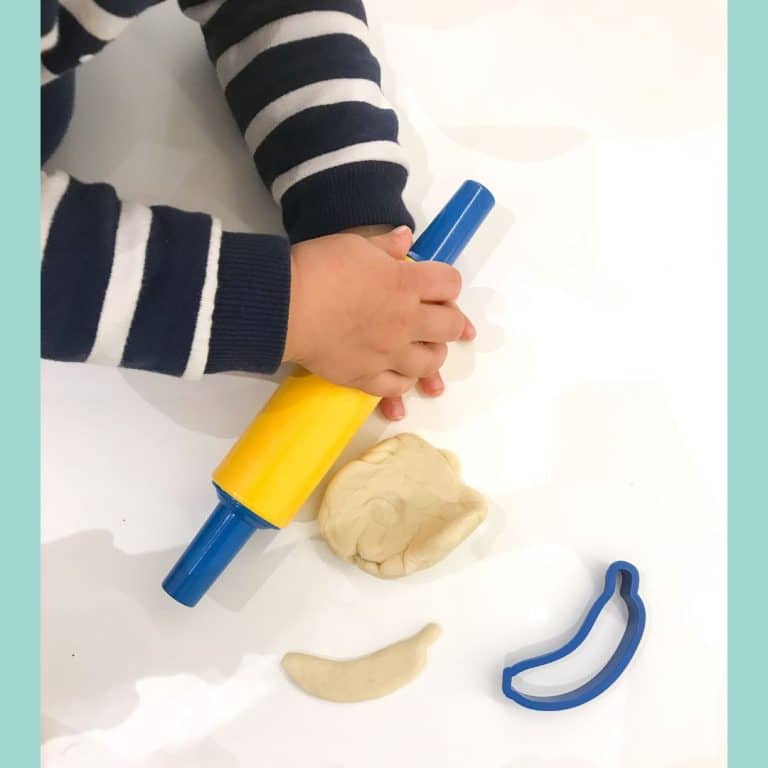 How To Use These Fun Playdough Mats
Print these out and laminate the pages. If you don't have a laminator a plastic sheet protector will work too (that's what I did!)
Print these out and add some containers of playdough for Christmas Gifts!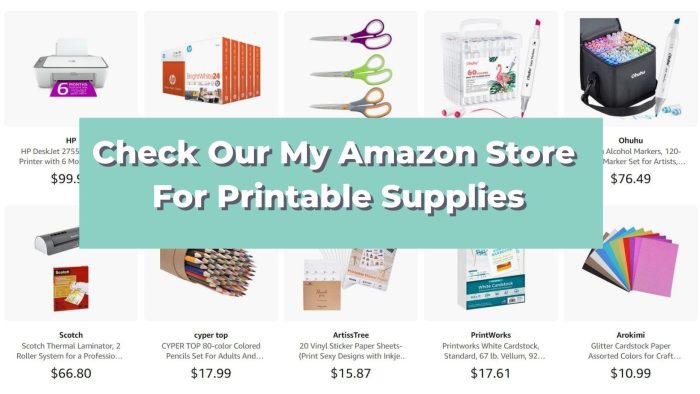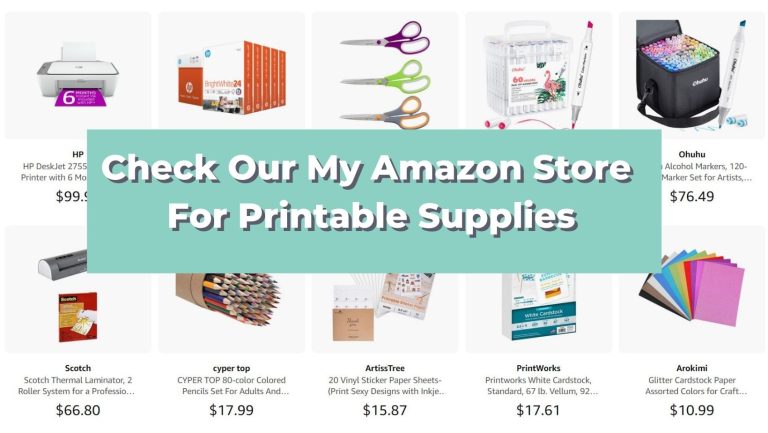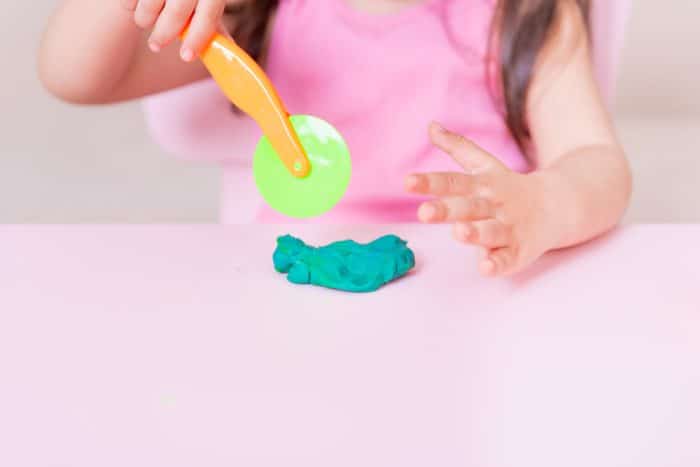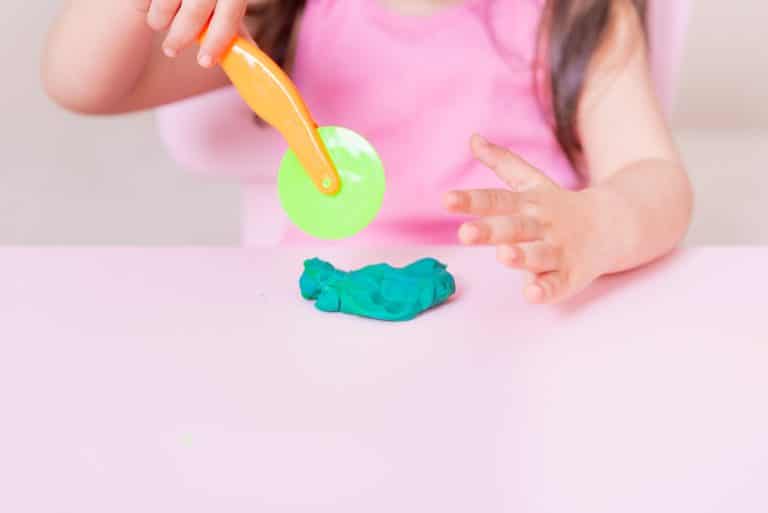 How to Make the Most of These Printable Play Dough Mats
Bring out the tools! Butter knives, rolling pins, cookie cutters, pizza rollers, or a garlic press are perfect tools to use alongside the dough.
Use unsharpened pencils to poke into the dough. This one was recommended by a special education teacher and is surprisingly fun!
For more sensory play – add items to the dough for a more tactile experience. Glitter, beads, foam balls, rice, or beads are a great way to get started.
Be sure to show kids how to use their little hands to roll the dough out like a snake and form it into different shapes and letters.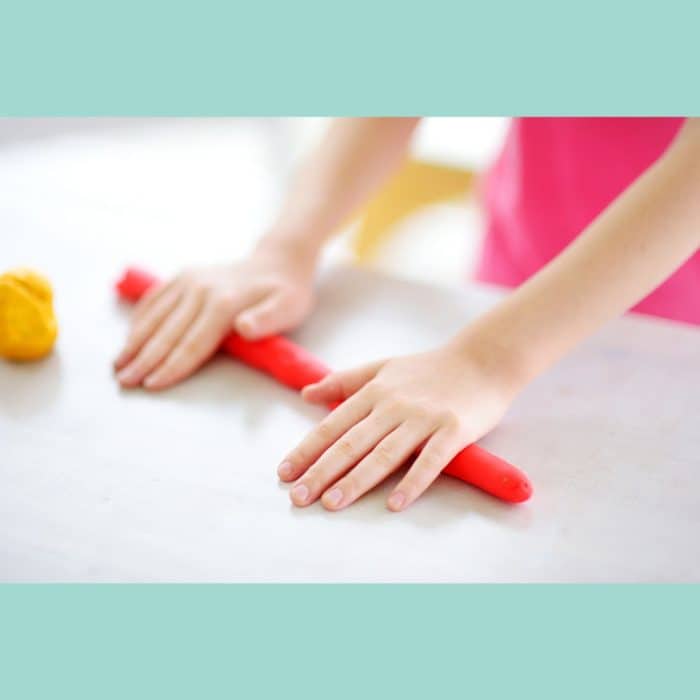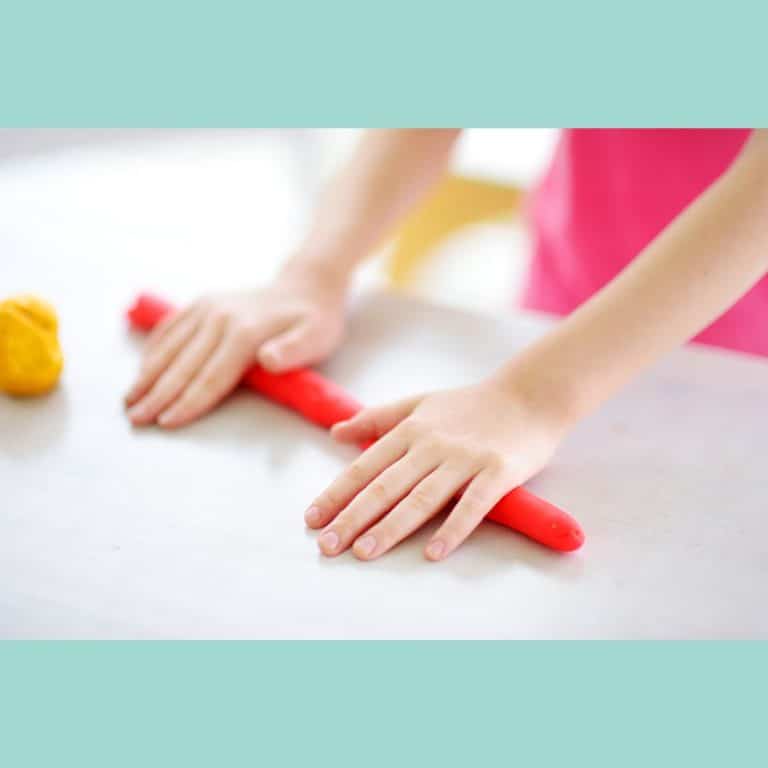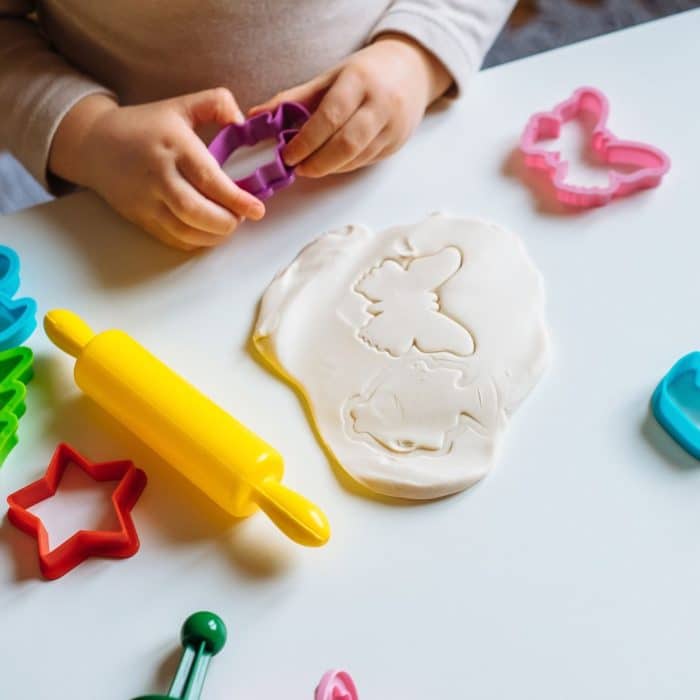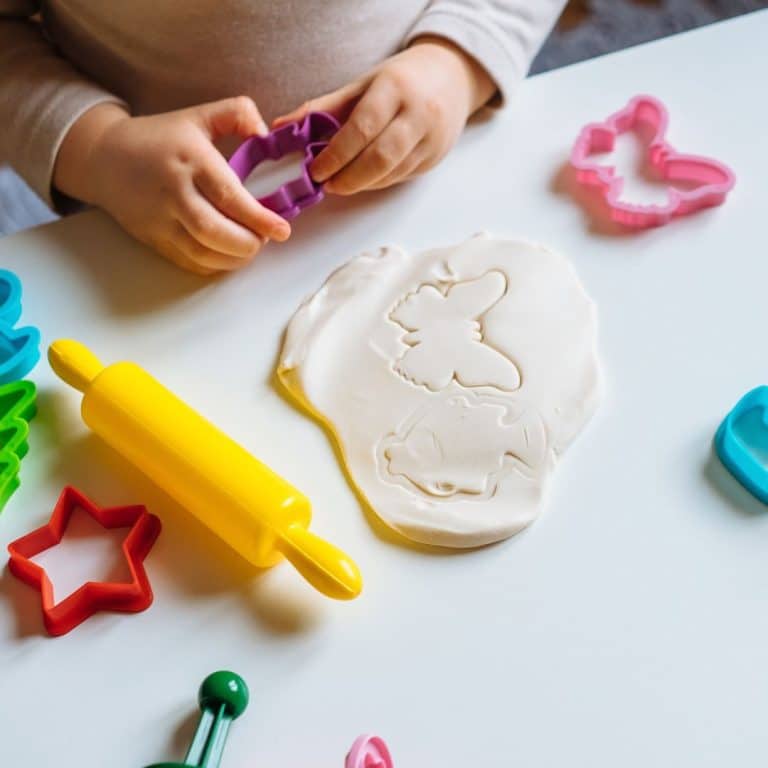 More Fun Play Dough Mats for Preschoolers
There are tons of other themed mats to check out:
Alphabet Playdough Mats – A fun way to learn the letters of the alphabet – work on letter recognition and letter formation with uppercase and lowercase alphabet mats. I like these letter playdough mats from Simple Living Creative Learning.
Sight Word Play Doh Mats will help students with their sight word recognition.
Number Playdough Mats can be used for both the number and the number word.
Monster Playdough Mats
Easter Egg Patterns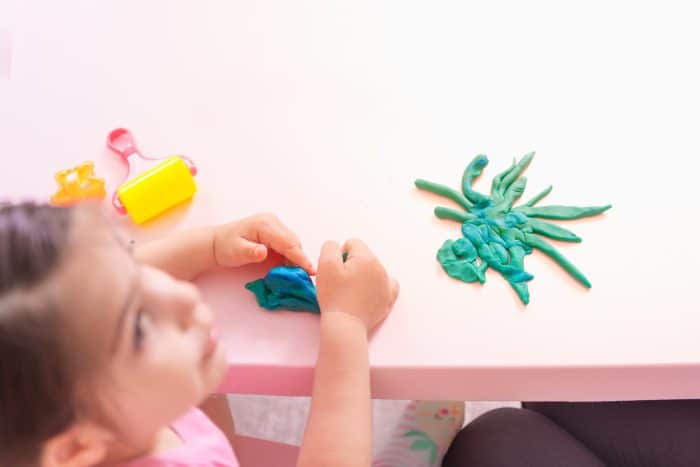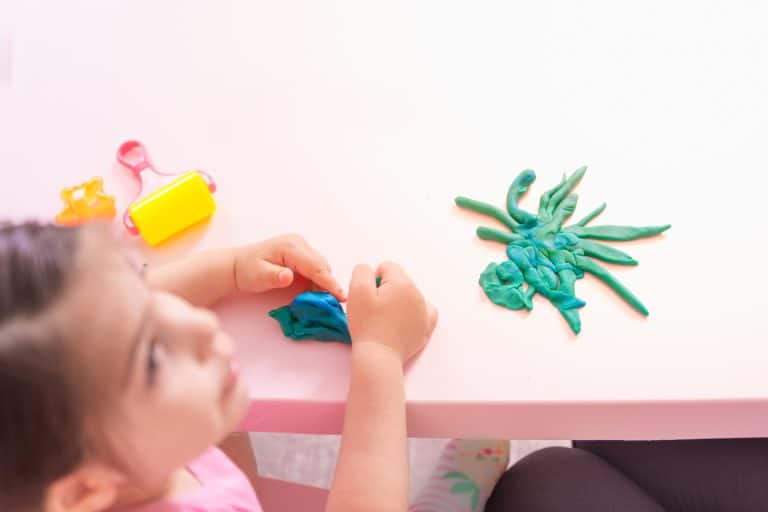 Download The Food Themed Playdough Mats
To get the free printable enter your name and email address in the form below and click the GET IT NOW button. I'll send the printable file straight to your inbox.
Terms and Conditions:
By downloading this free printable you are signing up for my e-newsletter and you'll be notified when I release new free printable files.
This printable is for personal use or classroom use only.
This file can be used in part or in whole for your personal projects.
Digital reselling, sharing, and redistributing of the files is NOT allowed. If you would like to share, please direct friends to the original blog post where you found this.