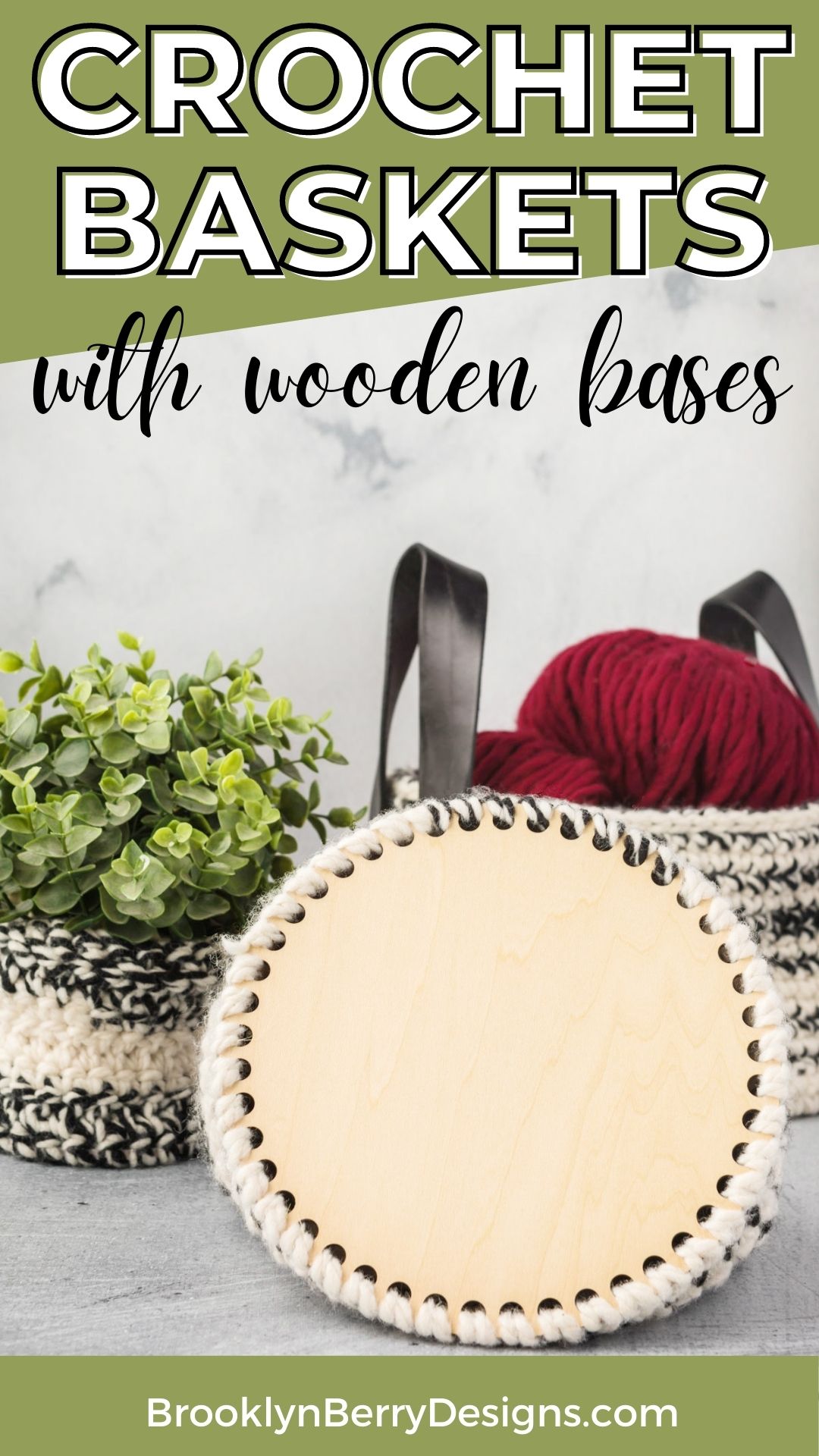 Level up your yarn storage with a crochet basket with wooden base. You can make a more durable crochet basket quickly using a laser-cut wood base and this free crochet basket pattern. Get the cut file for use with a laser, or buy one already cut for you!
These beautiful crochet baskets use basic crochet stitches, which make them a great project for those starting out or looking to branch out to new project types. Make another basket for everywhere in your house. Add a plant and give it as a gift! Store pens! Contain toys! Hold more yarn! This finished basket will be well used and well-loved.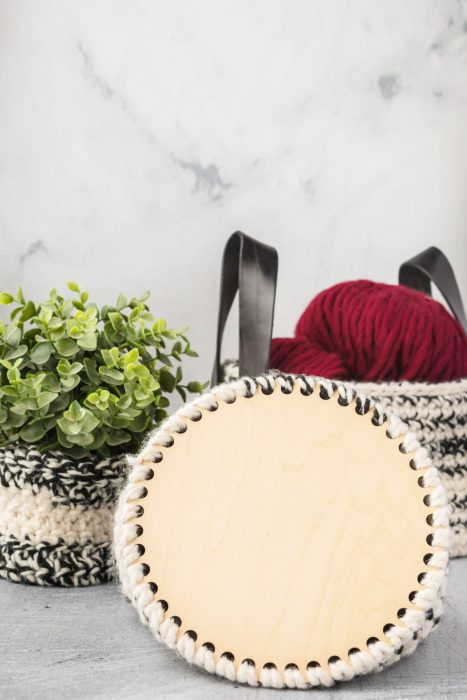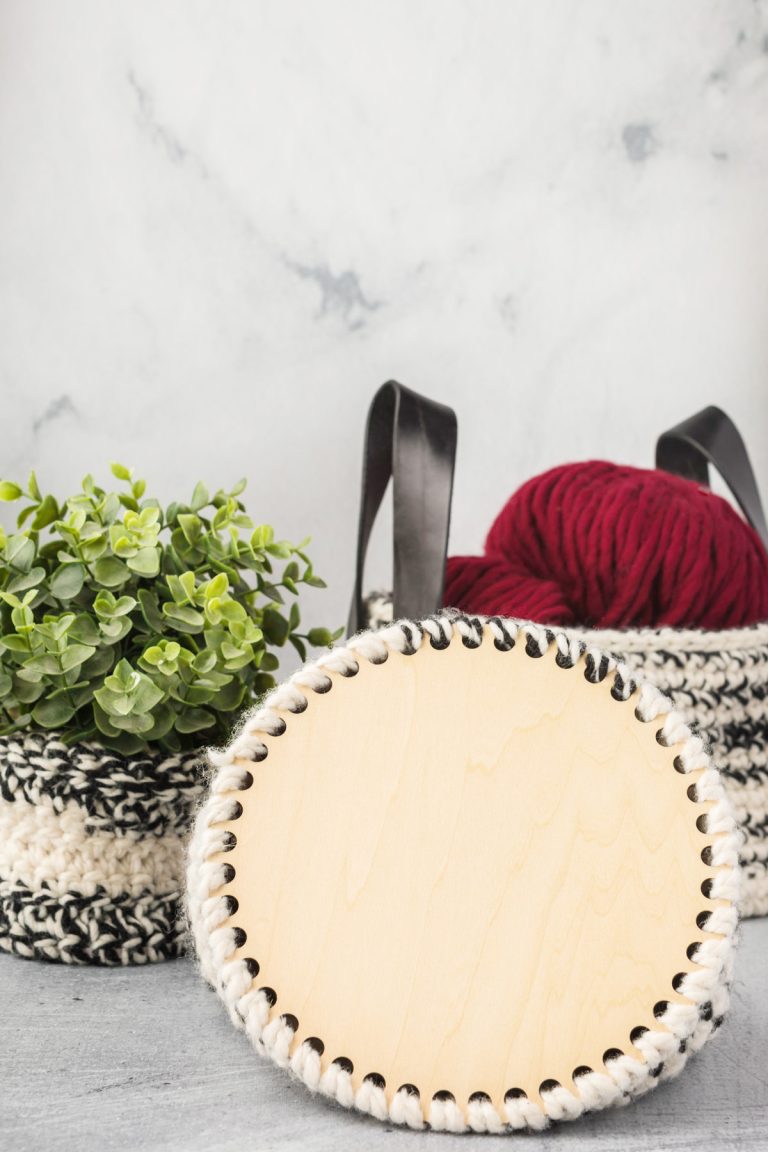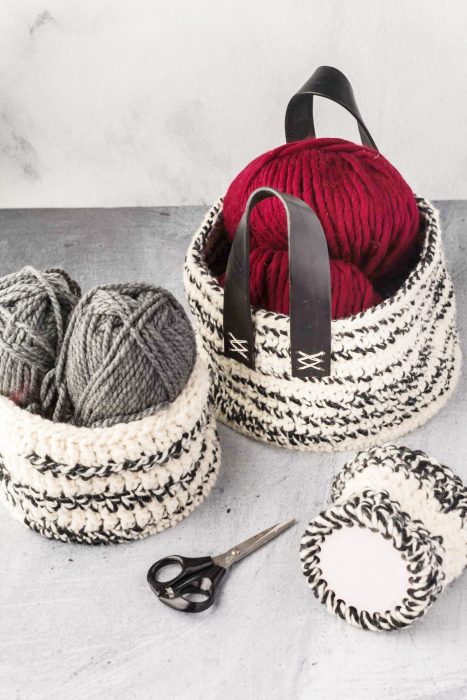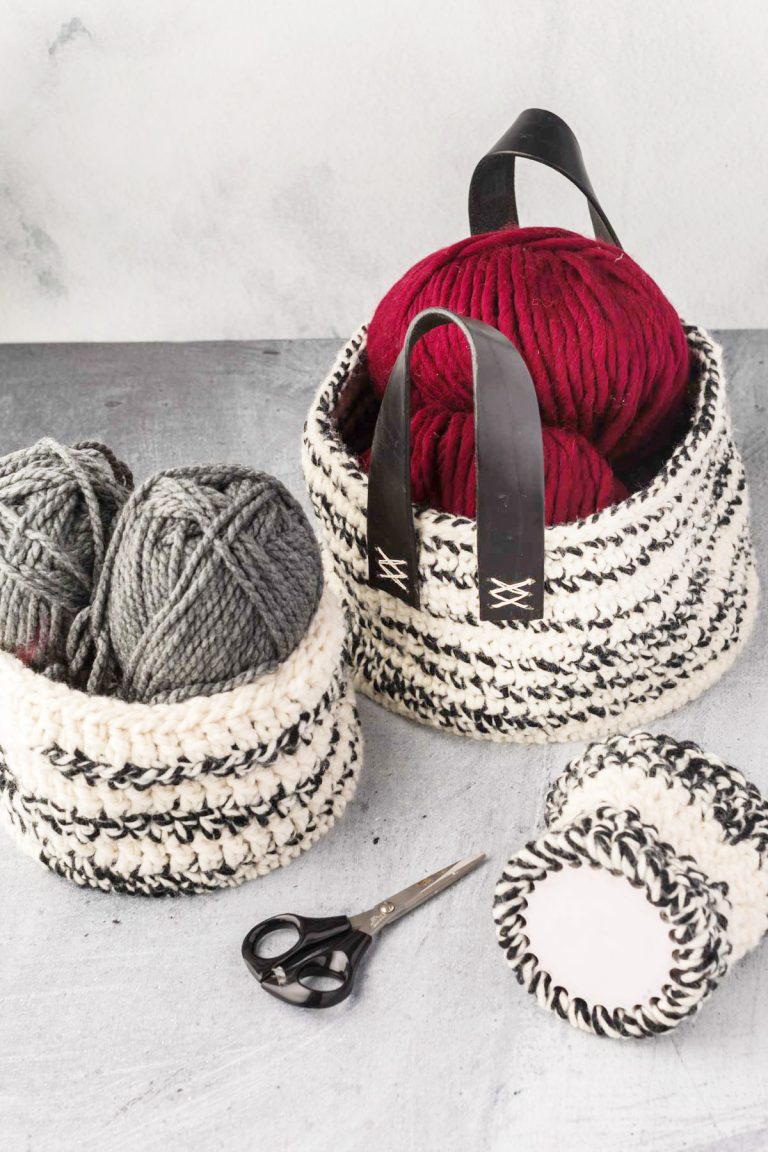 A crocheted basket is the best beginner crochet project because they work up fairly quickly, you can use any crochet stitch you like. Made in many different sizes, they have so many uses. The small basket can be used to store pens and pencils. Or crochet hooks! The large basket can store your crochet projects in progress, kids' toys, hold your balls of yarn, or literally anything you can think of!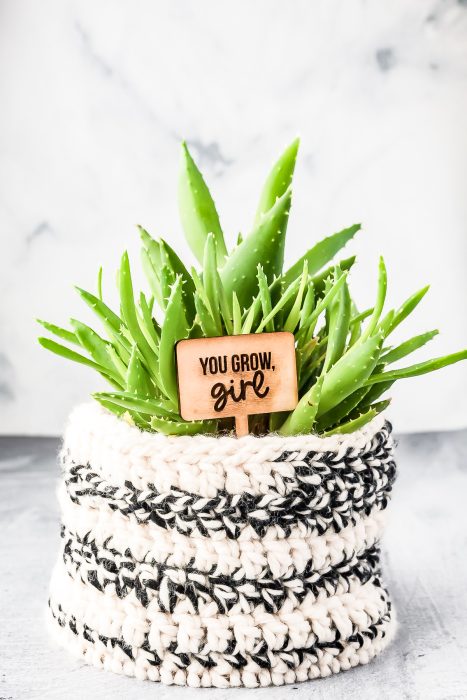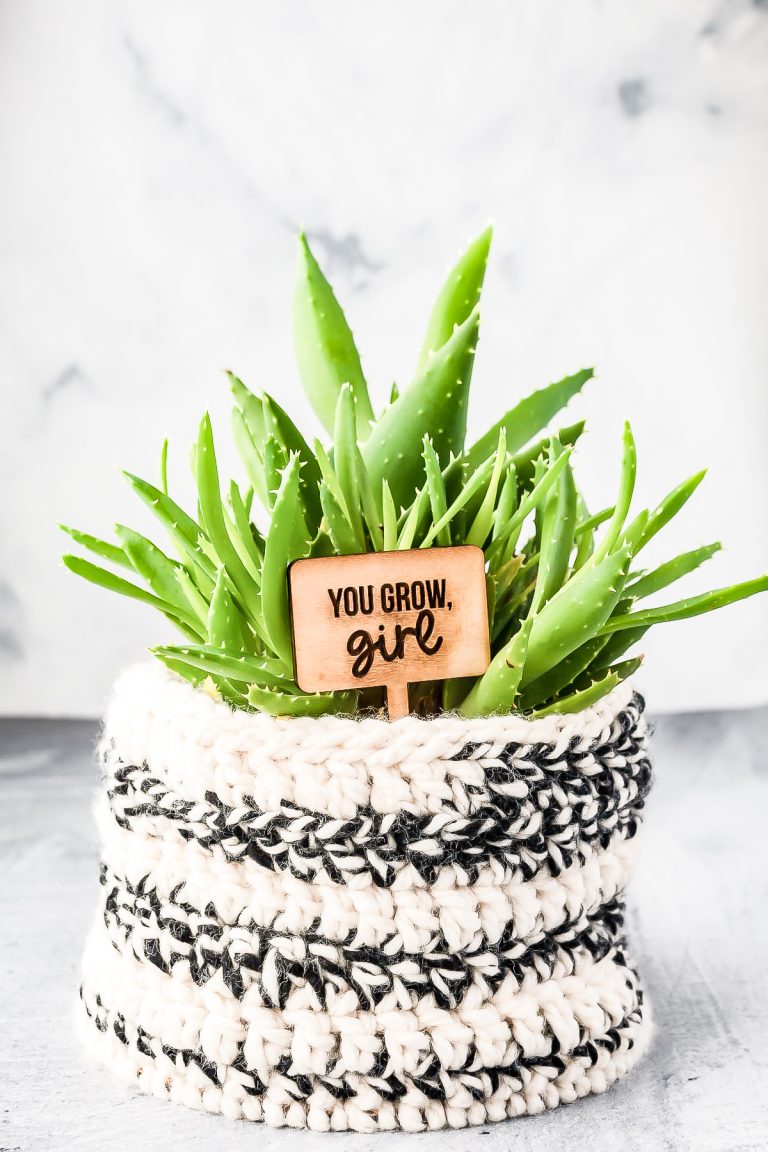 Crochet Project Ideas
Where the crochet basket idea came from
I have a group of friends who started a group chat just to share projects, ask for opinions on yarn colors, and talk all things craft projects. I get so many great project ideas there and love having friends to talk about crafty things with. As soon as I saw my friend Home To Heather's crochet baskets she made, I wanted to make my own. I am pretty sure everyone in that group started making baskets, and the Hudson's Bay colorway of the Thick N Quick yarn became our most precious.
Why Crochet Basket Bases Don't Work
For my first crochet baskets, I made I just used the typical crochet base. I used the Lion Brand Thick N Quick yarn in a black and white colorway. Finally, I finished the basket by cutting up an old belt for handles.
Baskets of Shame
However, the end result was a floppy basket that I never used. It didn't stand up straight and looked sloppy. The baskets had a shameful existence stashed unused in the bottom of my linen closet. Those baskets had such high hopes. I couldn't use them, but also couldn't get rid of them because that yarn cost a pretty penny. Eventually, we moved and those baskets had to come with me to my new house, still empty. Empty and taunting me.
A Vision Of Wooden Bases
Soon after moving, I purchased my glowforge laser cutter and I had an idea. A wooden base for the baskets! I cut out some wooden rounds with holes around the edges to crochet into. Very similar to the crochet border blankets I make with flannel that is punched around the edges. (See crocheted flannel blankets here).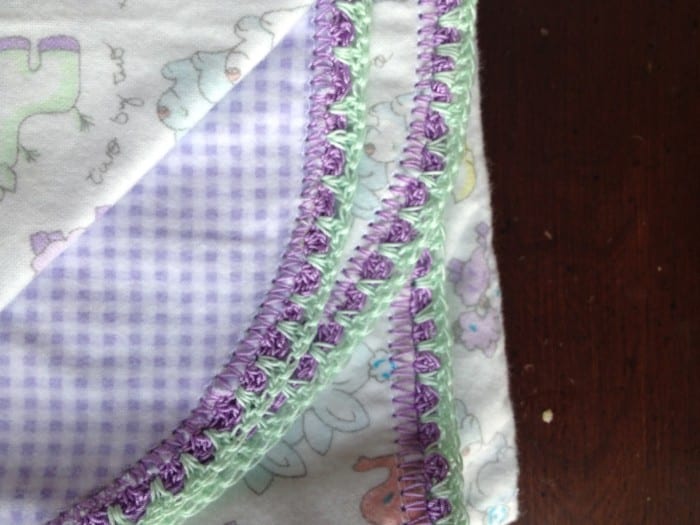 This seemed to be simple enough, but it actually took a lot of testing and trial and error. Which size of a needle would I need for this project? How big should the cut hole be to get the crochet needle into the wood round?
Lucky for me, I cut a few different options and sent them to my crochet friends to test for me. And it felt like magic to see an idea from my head come to life. Guess what? Having the wood base made the crochet basket much more sturdy – which means way more useable. They also work up very quickly, which makes the larger project a bit more fun.
Lucky for you, I am sharing my crochet basket base and the math is all figured out for you! Just crochet into the holes of the wooden base and easily make your own basket. You can download the file at the end of this post.
Crochet Basket Free Pattern
I am calling this a free crochet pattern, but it is not a traditional written pattern. I would say it's mostly a tutorial on how to use the wooden base. If you are a more experienced crochet user, use this as information to get started, and use any stitch patterns you like. Live your best crafty life and experiment with it.
Different colors of yarns can be used in ombre patterns, stripes, or any design you choose. These really are "choose your own adventure" baskets.
Materials Needed For Crochet Baskets With Wooden Base:
Different Types Of Yarn To Try
4 strands of worsted weight yarn together. A great way to use up scrap yarn is to combine different types of yarns and colors together to make a thicker yarn.
Holding two strands of super bulky yarn together (two strands of the wool ease thick n quick) for more sturdy basket sides.
T-shirt yarn or thick recycled cotton yarn would work great as well.
How to cast onto a wooden basket base
Make a slip stitch and insert your hook into the stitch. Single crochet into each hole around the entire base. Join with a slip stitch into the first single crochet to close. This is the only time you will join with a slip stitch. All other rounds will be worked continuously for a seamless look.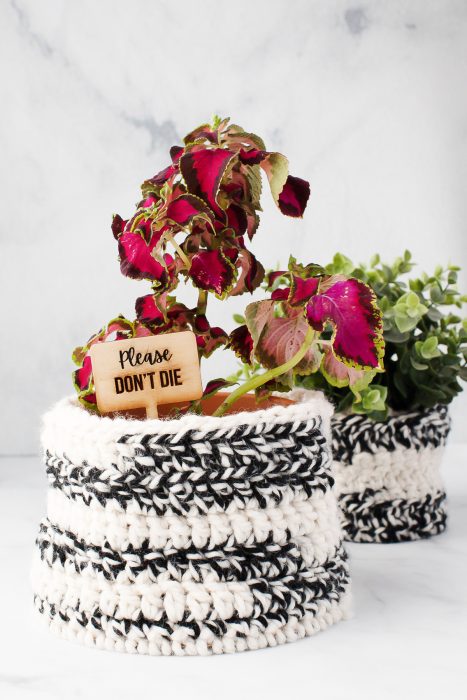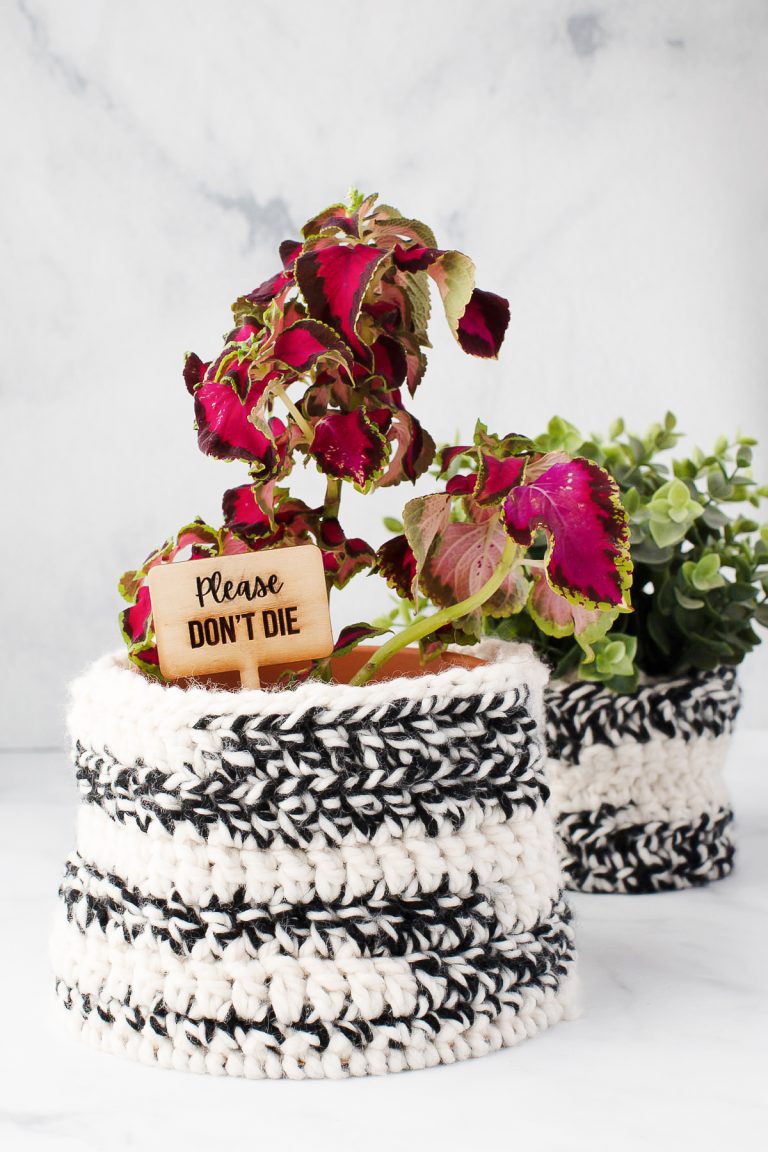 Free Crochet Basket Pattern
You may want to switch to different sizes of crochet hooks for the main basket section. I chose to use a smaller hook (5mm) for the sides. This may be different depending on your stitch tension but I do like the basket to be tighter stitches to stand up better.
There are an unlimited number of ways to complete this basket. The most basic would be to use single crochet stitches in rounds until you reach the height that you like. Double crochet stitches would work up faster, but not be as dense of a stitch. Half double crochet stitches are a thicker stitch as well.
Leather Handles
Here is a great way to upcycle an old belt that doesn't fit or is out of style. Grab a belt and cut it using sharp scissors. For the large crochet basket, my handles were about 8 inches long. I used a crop-a-dile I had to punch holes into the leather. Align your handles on either side of the basket and use a cotton cord or thin rope to stitch between the crochet rows and the leather belts. You could use an awl or other sharp tool to poke holes into the leather as well.
You could also crochet handles, which you will find in a few of the crochet basket patterns I am linking below.
Crochet Basket Patterns


Have a glowforge? Get the file to cut your own basket base here!
Want a glowforge? Learn all about it with my Glowforge Guide here.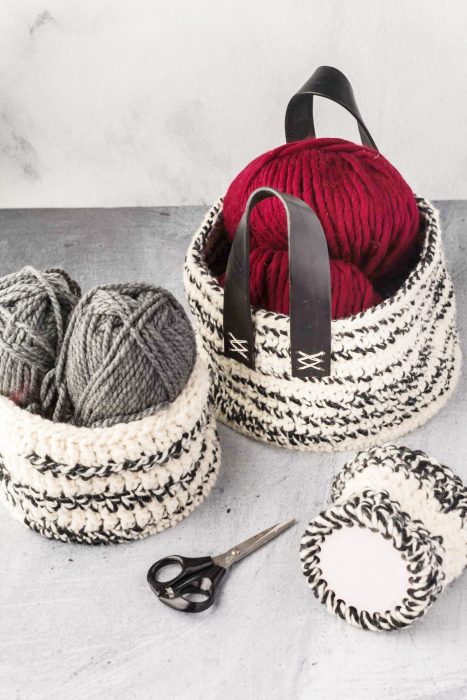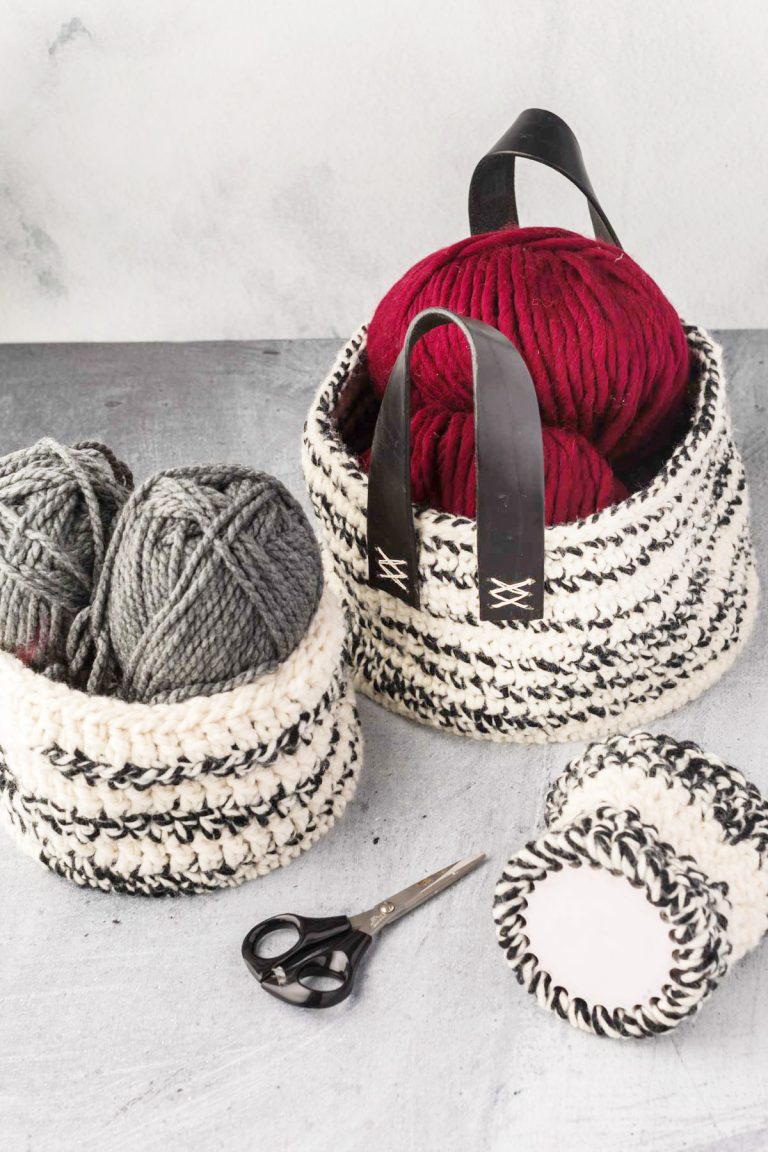 Download SVG Files Here
To get the free SVG, enter your name and email address in the form below and click the GET IT NOW button. I'll send the SVG cut file straight to your inbox.
Terms and Conditions:
Downloading this free cut file signs you up for my e-newsletter and you'll be notified when I release new free SVG files.
This cut file is for personal or classroom use only.
This file can be used in part or in whole for your personal projects.
Digital reselling, sharing, and redistributing of the files is NOT allowed. If you would like to share, please direct friends to the original blog post where you found this cut file.