This DIY macrame feather is the perfect project for beginners because it uses simple knots and is quick to make. They are the perfect addition to any boho christmas decor, but can also be made into earrings, keychains, or wall decor. The perfect handmade gift, you will want to make one for all of your friends in different colors!
On a cold winter night there is nothing more satisfying than curling up with a tv show, your drink of choice, and an easy craft that isn't too fussy. These beautiful macrame feathers are the perfect project for that. Its so easy to make because it uses basic knots, but looks so stunning – it adds the perfect bohemian touch to your home, style, or wherever you want to use it! Learn how to make your own with this easy, step-by-step tutorial and a free printable template to shape them perfectly.
Get even more boho Christmas decorating ideas here!
If you are an avid macrame artist, this is a great project to use up any scraps of leftover cord from previous macrame projects. You can use pretty much any type of cord that you can find.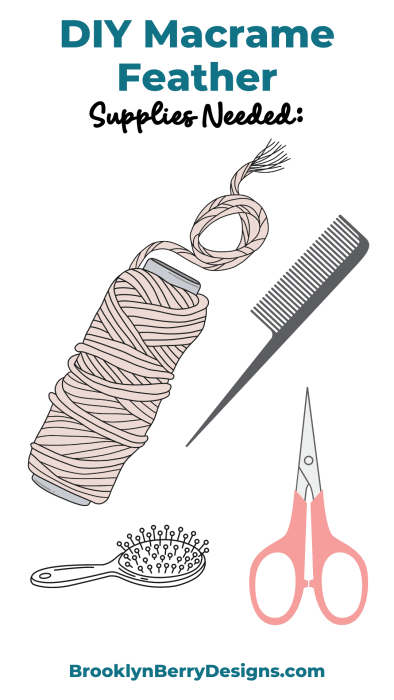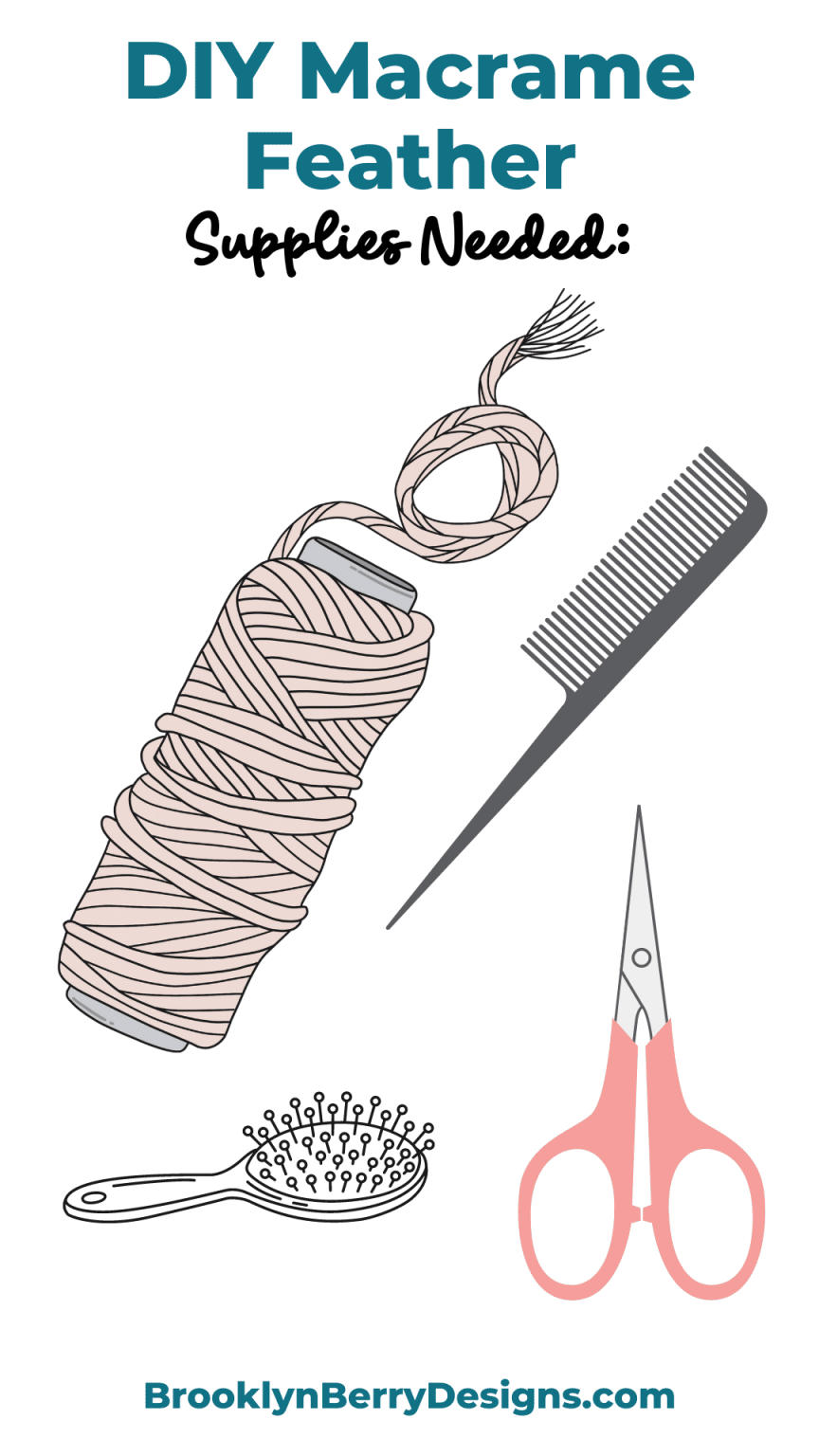 Supplies Needed For Macrame Feathers
Best Macrame Cord For Feathers
The biggest difference in the cotton rope is how it looks when brushed out into fringe and how it holds its shape. Cotton cord is softer and will hold its shape after applying spray starch. Hemp, Jute, or other materials will work as well, just try brushing out the ends to see how it will fray. It will come down to what look you prefer, but any cord will work.
Sharp Scissors
The emphasisis on the sharp. Scissors is a pretty obvious material, but it makes such a difference when doing a final trim on the frayed edges of the finished white feathers. For a really smooth curve a rotary cutter would work as well.
Wire Brush
A small plastic comb will do the job of untangling the cords but something very fine like a wire brush is an easy way to get that fine feather look with the strings. A great idea is to use a wire pet brush – I found mine at the dollar store!
Steamer
If you like the look of the fibers being really straight, a steamer is a great way to block the threads and pull them straight. Of course, the waves in the fibers may be the boho look that you like so this step is completely optional.
Fabric Stiffener
If you are using these diy feathers as a christmas ornament or a large feather wall hanging you will want to use a something to stiffen the cotton pieces of rope. I have used hairspray and spray starch, but the best results were with the Aleen's stiffen quick spray. You just spray one side, let it dry, flip it over and repeat. If you are making wall hangings, another great option is to add felt to the back. Just use a color of felt that blends in so you don't see it.
Macrame Feather DIY Tutorial
The first thing you need to do is gather your supplies. My first feathers were about 5 inches long so I am basing my tutorial off that size. However, feel free to adjust the sizes, length and width to however you like!
Cut one piece of cotton cord 10 inches long (approximately twice the length you want your feather to be), folding it in half with the loop end at the top. For the next step cut 40 pieces of cord 5 inches long. It's always better to have it be a bit too long than a bit too short, so err on the side of caution here.
Macrame Knots
The most challenging part of this whole project is trying to describe how to tie the knots! This is not an intricate design, but the best way to explain it is to show you.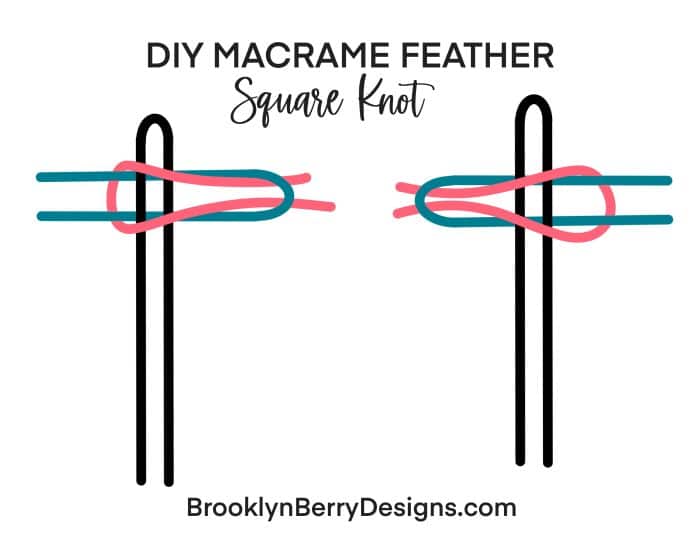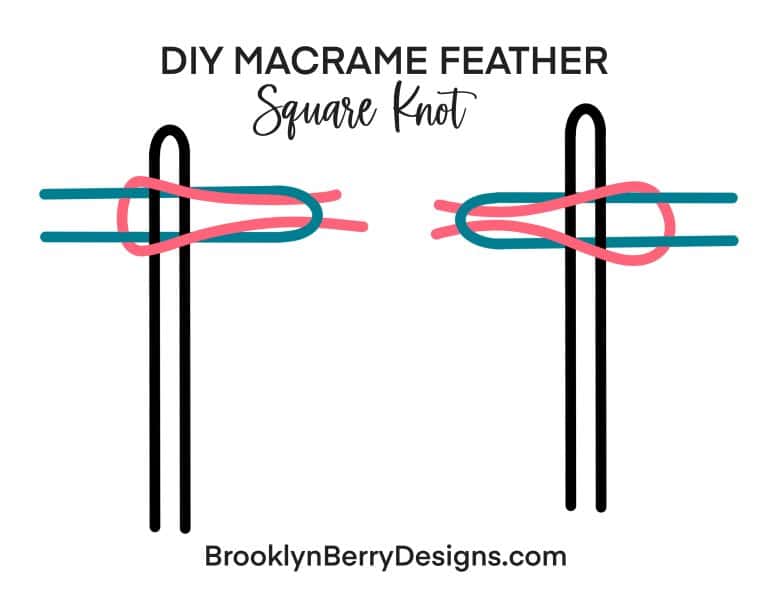 Take one piece of cord and fold it in half and place it underneath the center cords (you may want to tape down the top of the center cord to keep it in place).
Take another piece of cord, fold it in half. Slide this second loop end underneath the first loop. Pull it through and loop it over the ends of the first cord.
Pull both ends right. Your first knot is done!
For each knot you want to alternate which side you start on. The first time the loop was on the right side of the knot, so for the second time place the loop in the opposite direction so the loop is on the left side and the cut ends are on the right. Continue making knots down the center cord until you have used all your strings or have about 2 inches of cord left on the center.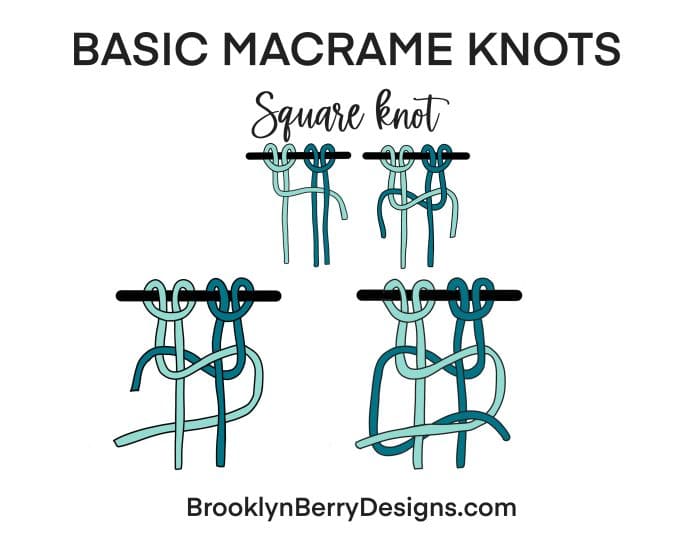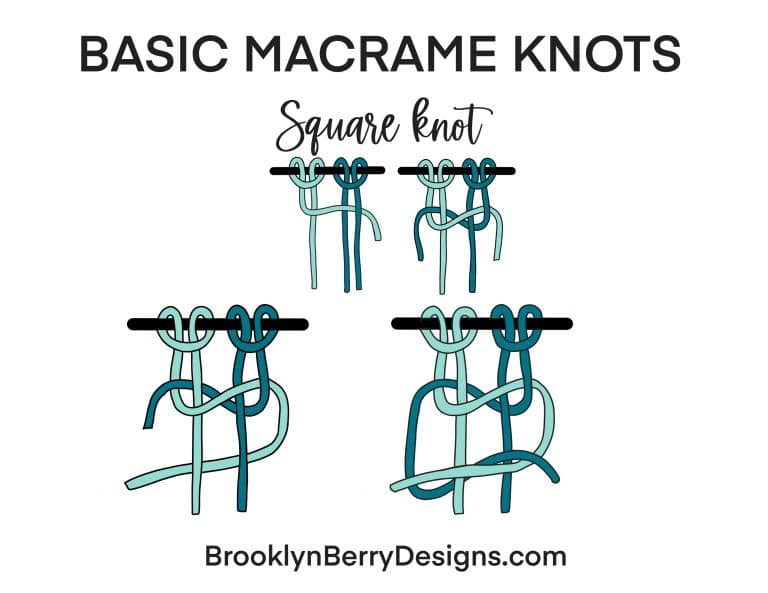 When you are done with adding new strings, tie a half square knot with the two center strings to secure your square knots.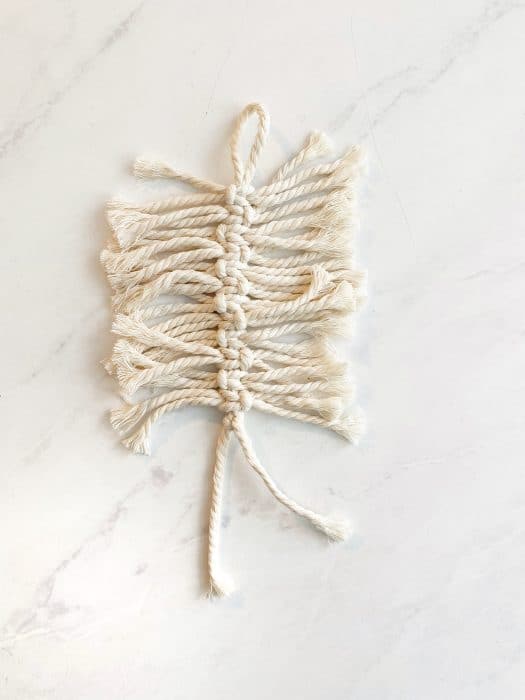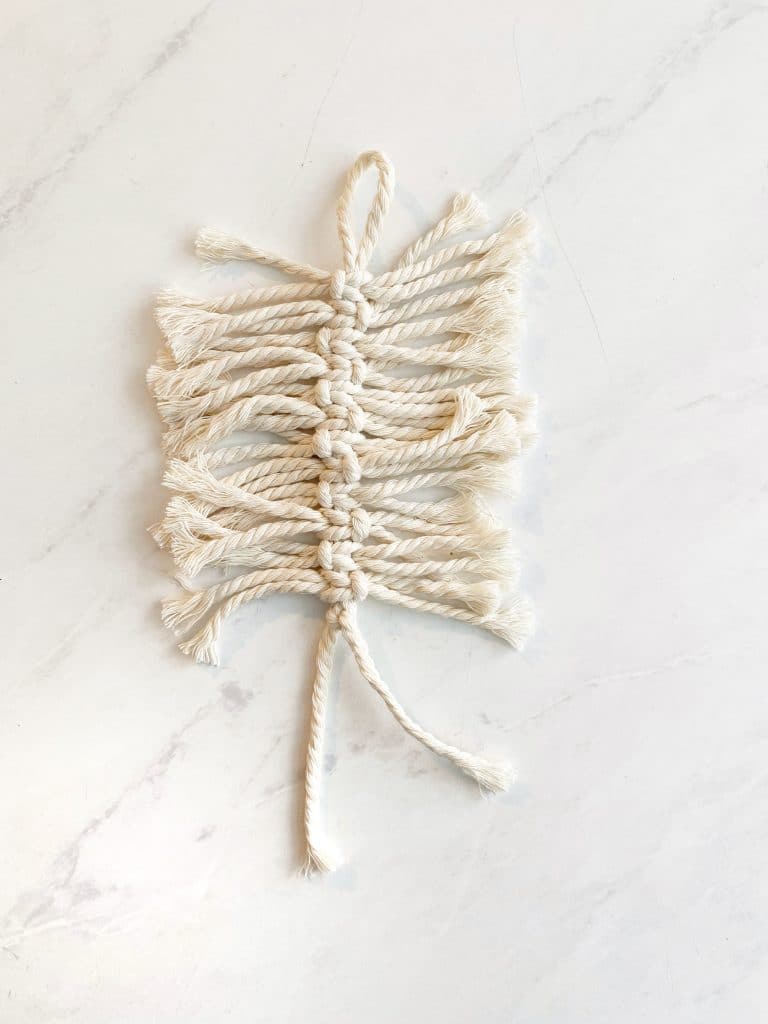 Brushing The Cords
Comb out the cotton ropes with a fine tooth comb.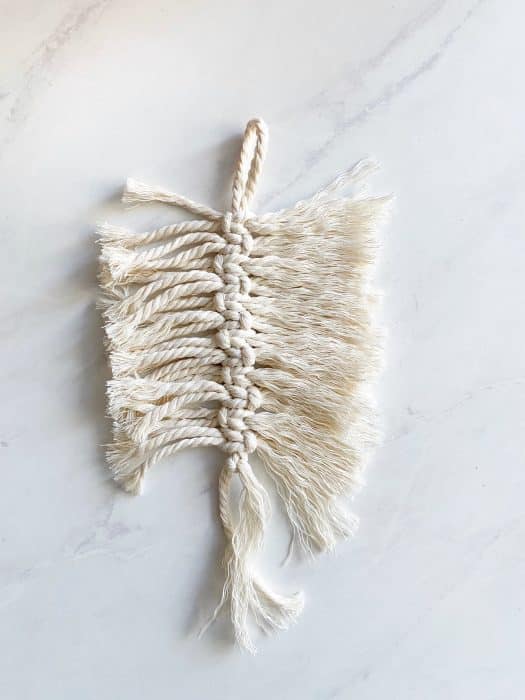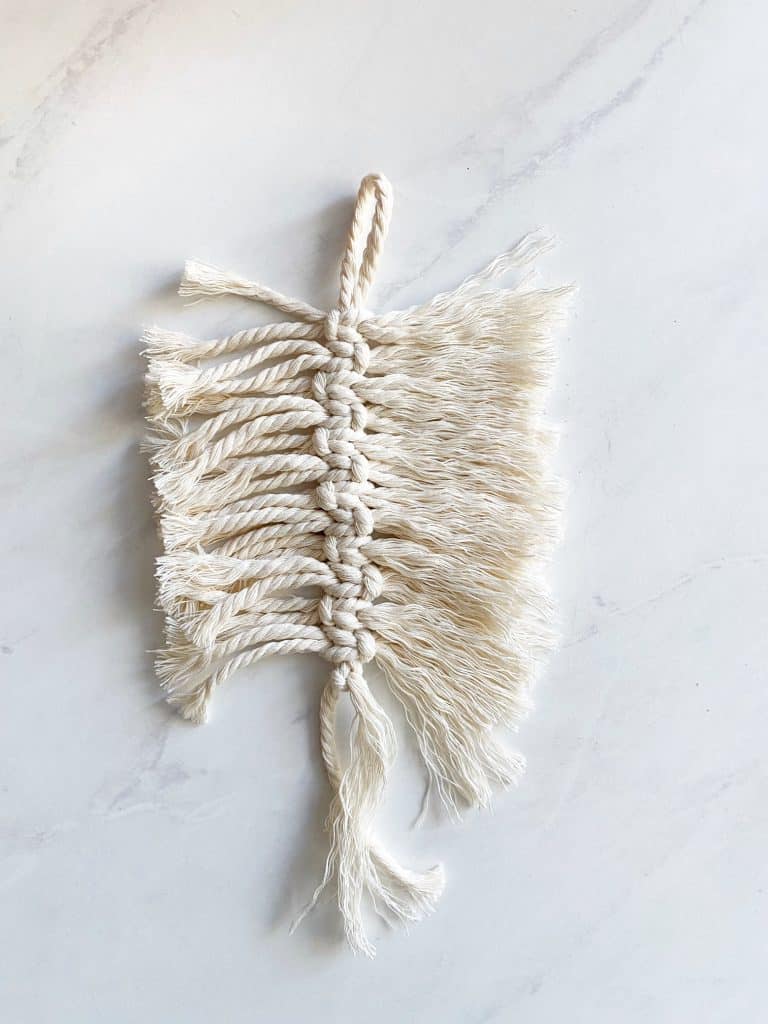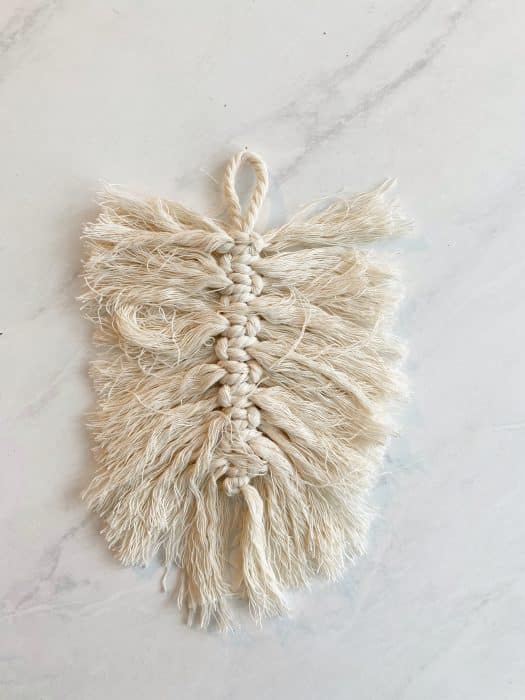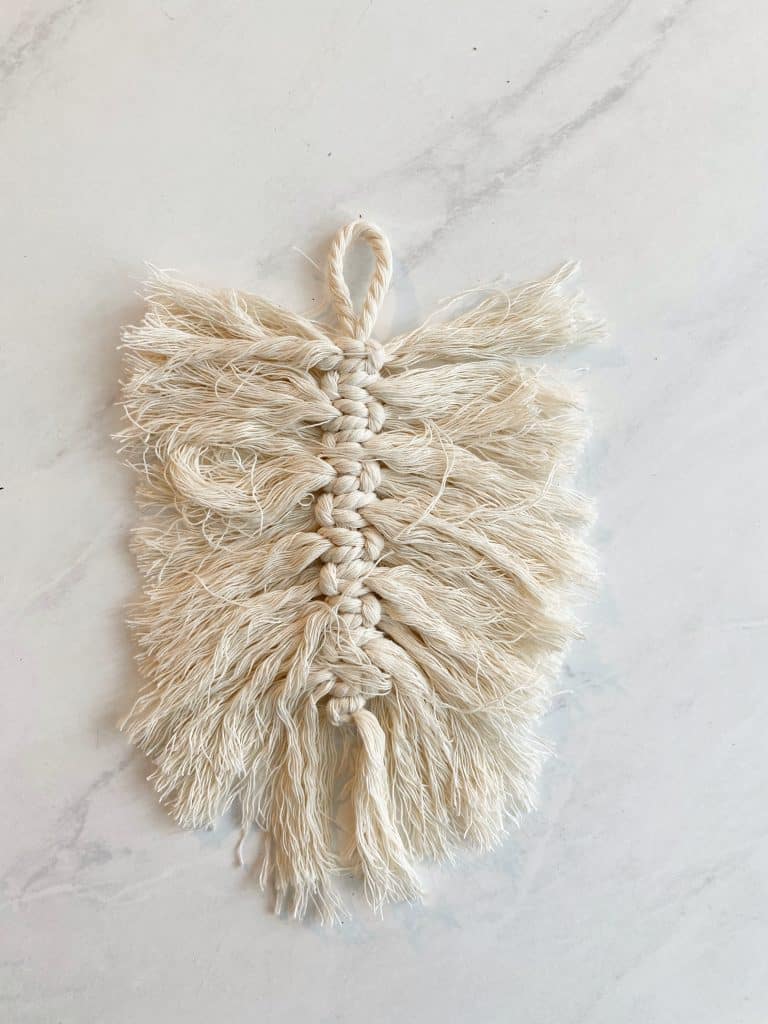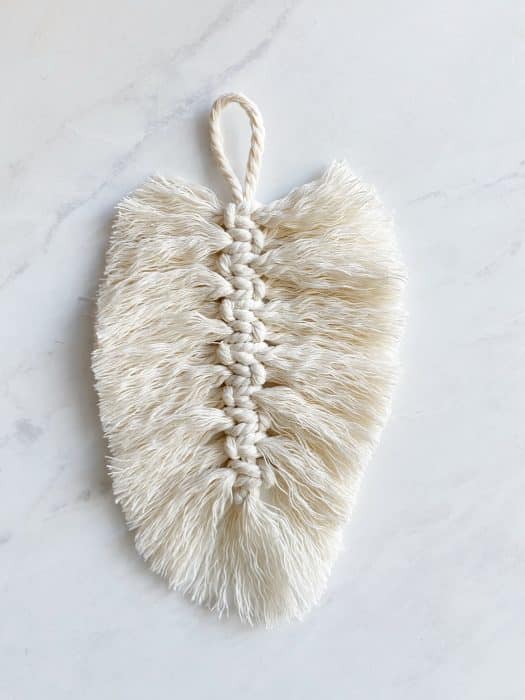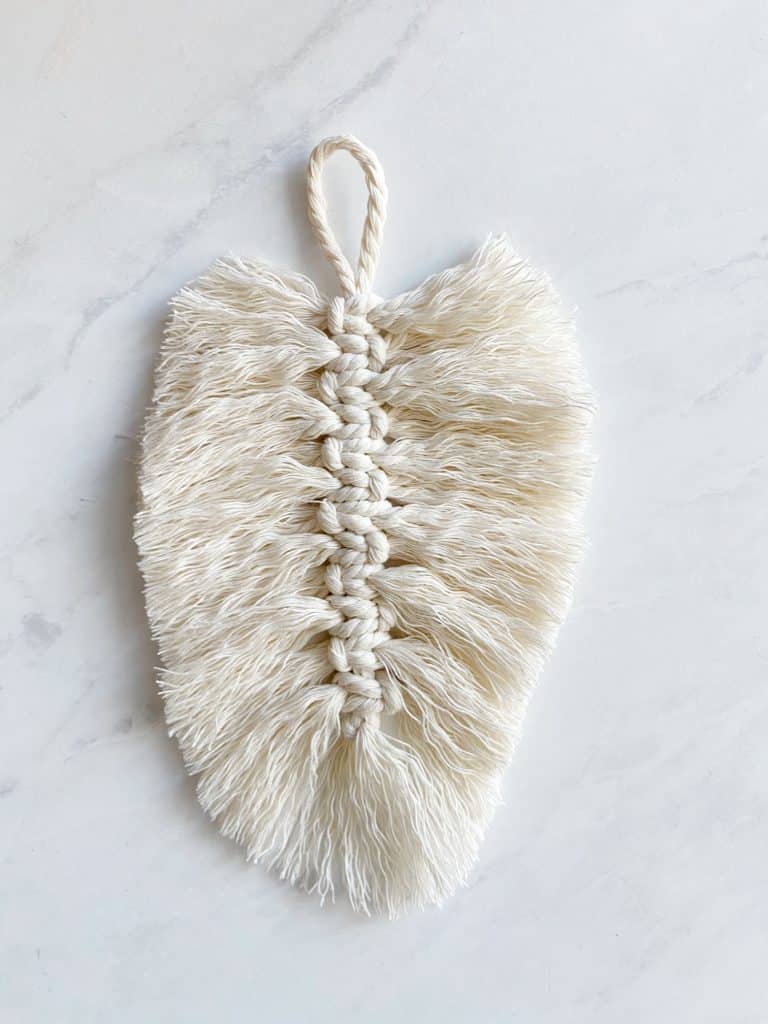 Using a fabric steamer or household iron, steam the loose string ends and comb the threads. Repeat until the strings are straight and it lays straight.
Brush the end strings down to form a feather shape.
Use fabric stiffener to finish the piece.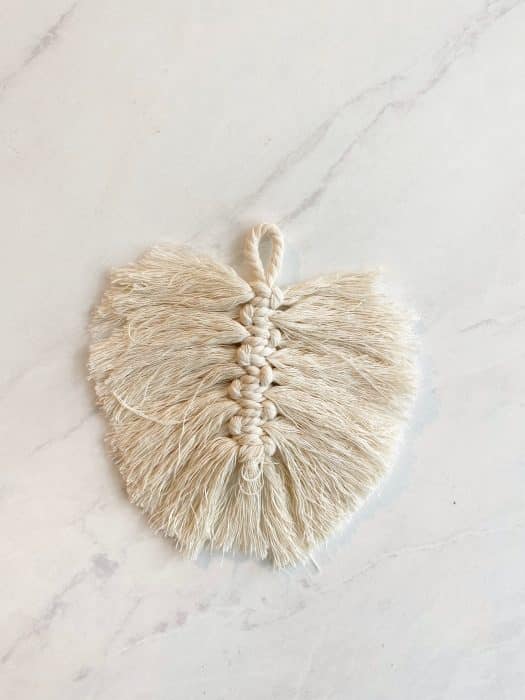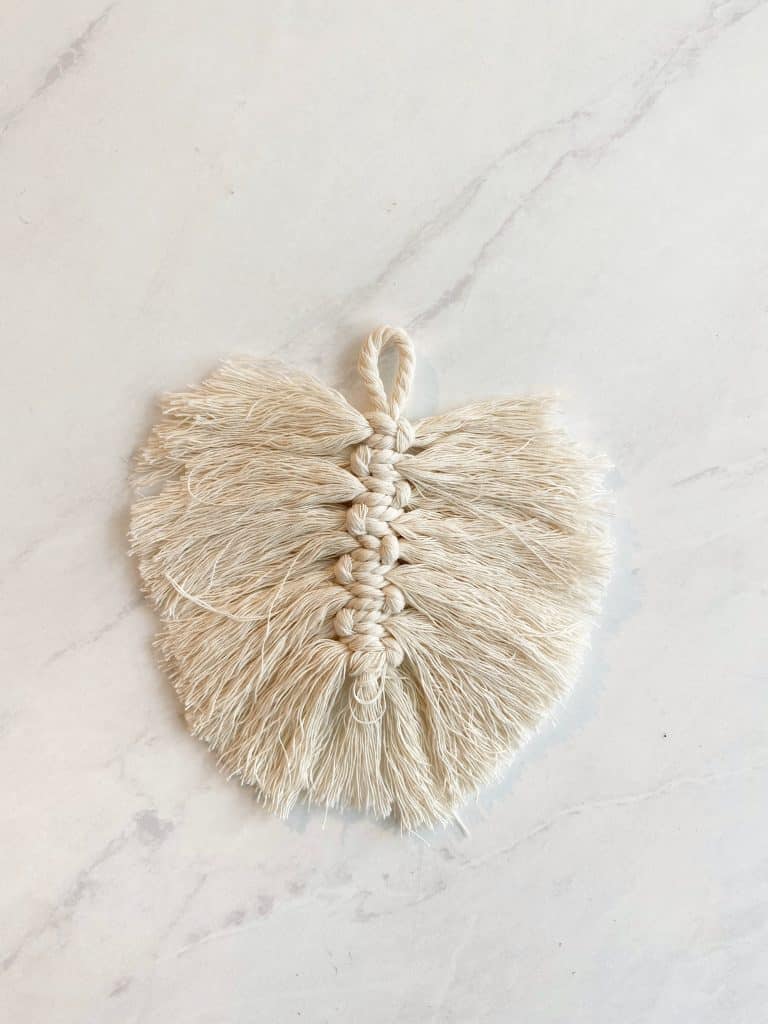 Using sharp scissors trim the strings into a feather shape.
For a precise shape of feather, I have included a free macrame feather template to shape your feather. Get the free download at the end of this post.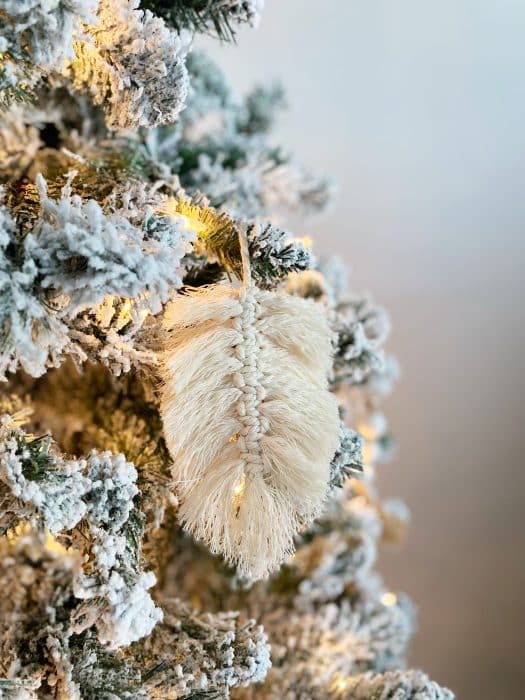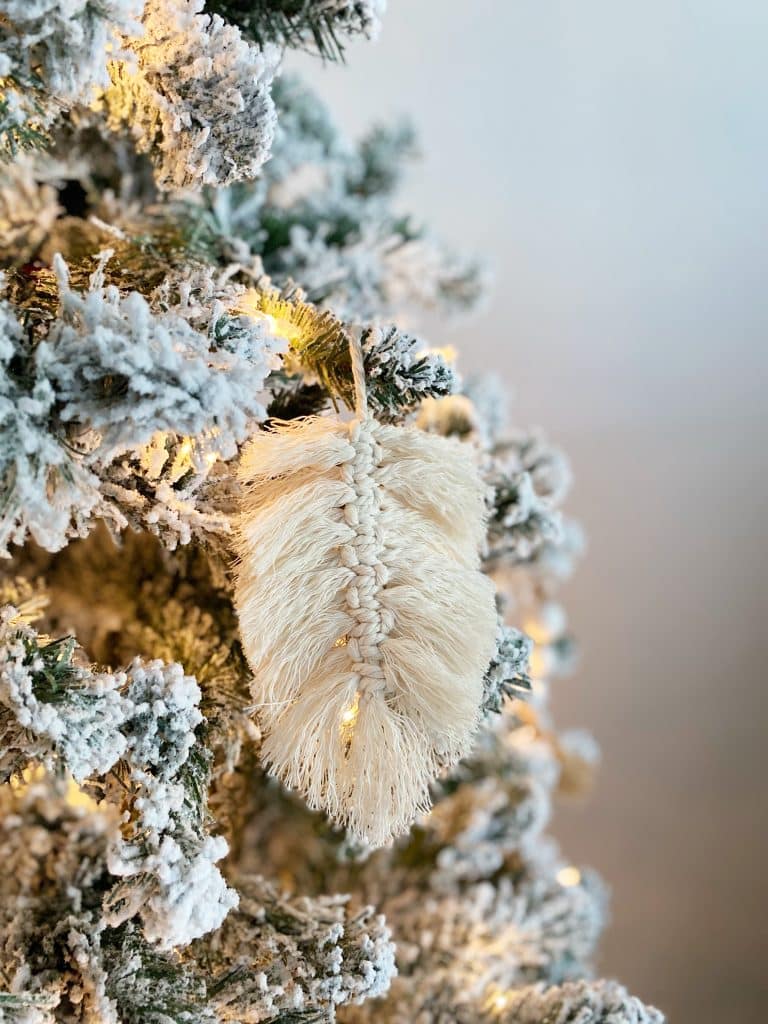 Finished Project Ideas
There are many different ways you can use this project:
FAQ
How do you shape a macrame feather? You use the free macrame feather templates I created! Just cut them out, place over top of the feather and trim the cords according to that shape!
What size cord is best for macrame feathers? Any size will work, choose based on the finished look you prefer.
Can you use hairspray to stiffen macrame feathers? Yes, you can! I would recommend aerosol hairspray for wall hangings that won't be handled as often.
Can I customize these macrame feathers? Yes! In so many ways. Add a wooden bead, pieces of yarn in alternating colors, and whatever else you want. The choice is yours!
DIY Macrame Feather
Macrame feathers add some bohemian style into your home decor. Learn how to make them in this easy, step-by-step tutorial.
Yield: 1 Feather
Cost: 5
Equipment
1 Pair of scissors very sharp!

1 Wire brush

1 Steamer or iron
Materials
1 piece Cotton cord 10 inches
15 pieces Cotton cord – 5 inches
1 Spray starch, fabric stiffener, etc
1 hardware of choice – key ring, earrings, ornament hook, etc.
Instructions
Cut one piece of cotton cotton string 10 inches long. Cut 40 pieces of cotton string 5 inches long.

Fold the long string in half. Tie on your cords. Using two of the shorter strings, fold in half and complete a square knot on the center string.

Repeat while alternating sides so that the knots sides alternate sides throughout. Slide the knots together so the strings are more compact.

When you reach the desired length tie a half square knot with the center strings to secure your square knots.

Brush it out. Brush out the strings with a fine tooth comb. Using a fabric steamer or household iron, steam the loose string ends and comb the threads. Repeat until the strings are straight and it lays straight. Brush the end strings down to form a feather shape.

Use fabric stiffener to finish the piece. Spray one side. Let it dry, Flip over and repeat.

Using sharp scissors trim the strings into a feather shape. Use the feather template included in this post to help form the final shape.

Attach to the hardware of your choice and enjoy!
Free Printable Template
To get the free printable enter your name and email address in the form below and click the GET IT NOW button. I'll send the printable file straight to your inbox.
Terms and Conditions:
By downloading this free printable you are signing up for my e-newsletter and you'll be notified when I release new free printable files.
This printable is for personal use or classroom use only.
This file can be used in part or in whole for your personal projects.
Digital reselling, sharing, and redistributing of the files is NOT allowed. If you would like to share, please direct friends to the original blog post where you found this.
Want a guide to some basic macrame knots? Learn the difference between a larks head knot and a square knot in this post.
Looking for more macrame patterns? Try some easy friendship bracelet patterns that use macrame knots!
More easy projects for gifts?
Happy Crafting!