Discover the ancient game of Mancala and learn the rules to play like a pro! Our beginner-friendly guide will teach you everything you need to know to get started and the mancala board game rules.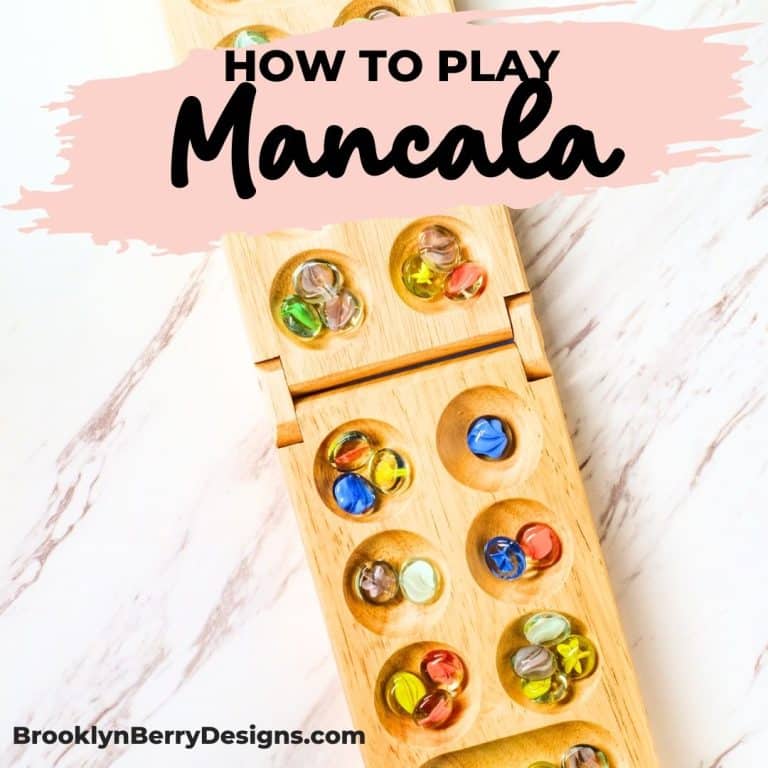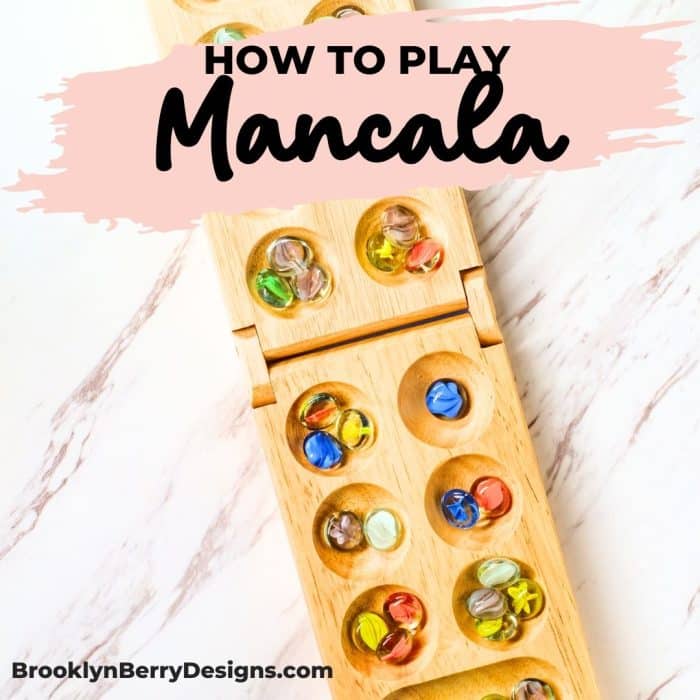 What Is Mancala?
Are you looking for a fun and engaging game that has been enjoyed for centuries? Look no further than Mancala! This ancient game, which originated in East Africa and the Middle East, is easy to learn but offers endless opportunities for strategy and skill-building. Whether you're a seasoned gamer or new to the world of board games, Mancala is sure to provide hours of entertainment and challenge. So gather some friends or family members and get ready to experience the joy of Mancala!
How To Play Mancala
The mancala game is a two player family game played with marbles or stones and a board with rows of holes. Its a strategy game with a goal to capture your opponents game pieces and is recommended for ages 7 and up. Playing time is about 15 minutes.
DIY TIP: If you do not have your own mancala board, you can use an empty egg carton and two large cups!
Setting Up The Game:
You will need a Mancala board and game pieces. The typical board layout has two rows each with six small holes and two larger pockets on each end of the board. These small pits are also called pods, pockets, houses, or holes. The large holes are called stores or Mancalas. Your own store is on the right site for each player. To keep it simple I will try to stick with pits and stores for the following rules of the the game.
Begin the game by placing 4 stones or marbles in each empty pocket on your own side. To have enough stones for each pocket you will need 24 per player, or 48 total. Options for stones can be literally anything – marbles, stones, beads, or beans are often used as tokens.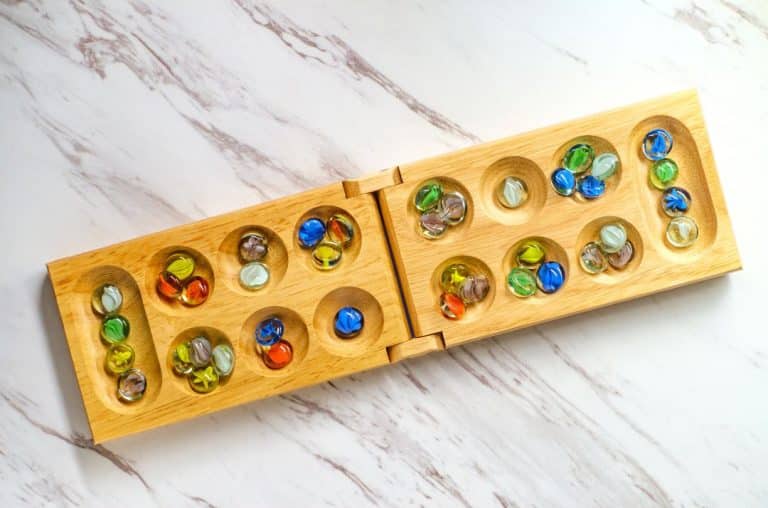 Option: You can also play with more pieces in each pit to start. More advanced players will play with 6 stones in each pit for a more challenging game. 3 stones in each pit makes for a faster game. Choose your own adventure!
Mancala Rules
Mancala is a two-player strategy game played with a board and small stones, seeds or beads. The object of the game is to collect as many stones in your store as possible. The player with the most stones at the end of the game wins.
Here are the basic rules:
Decide who will be the first player. On a turn a player will pick up all the stones in one pit and places one stone in each pit moving to the right. You may be placing stones in your opponents pits. If your last seed or stone lands in your own mancala, you get an extra turn.
Game Play:
Players take turns choosing one of their pits and distributing its stones counter-clockwise direction (to your right) into the each pit, including your own store, the other players pits, but NOT their store.
If the last stone lands in an empty pit on your side of the board, they capture that stone and any stones in the pit on the opposite side of the game board and place them in their mancala.The game ends when one player has no more stones on their side of the board. The other player takes the remaining stones in their pits and adds them to their mancala. The player with the most stones in their mancala at the end of the game wins.
Strategy To Win Mancala
Here is where math skills and strategy are your friend.
Utilize the free turn – anytime there is one stone in your last put you can drop it into your own mancala store and take another turn.
Gather more stones. Droping your last stone into an empty hole on your side of the board allows you to take the stones in the opposite hole. This is a great way to add to your total stones quickly!
If you go first, pick up the stones in the fourth hole away from the mancala store. This will end with your last stone in your store and you will get a free turn.
Keep your stones balanced between the pits to stop your opponent from capturing a large pile of stones.
Focus on controlling the middle of the board, as this gives you more opportunities to capture your opponent's pieces.Keep your stones balanced between your pits to prevent your opponent from making easy captures.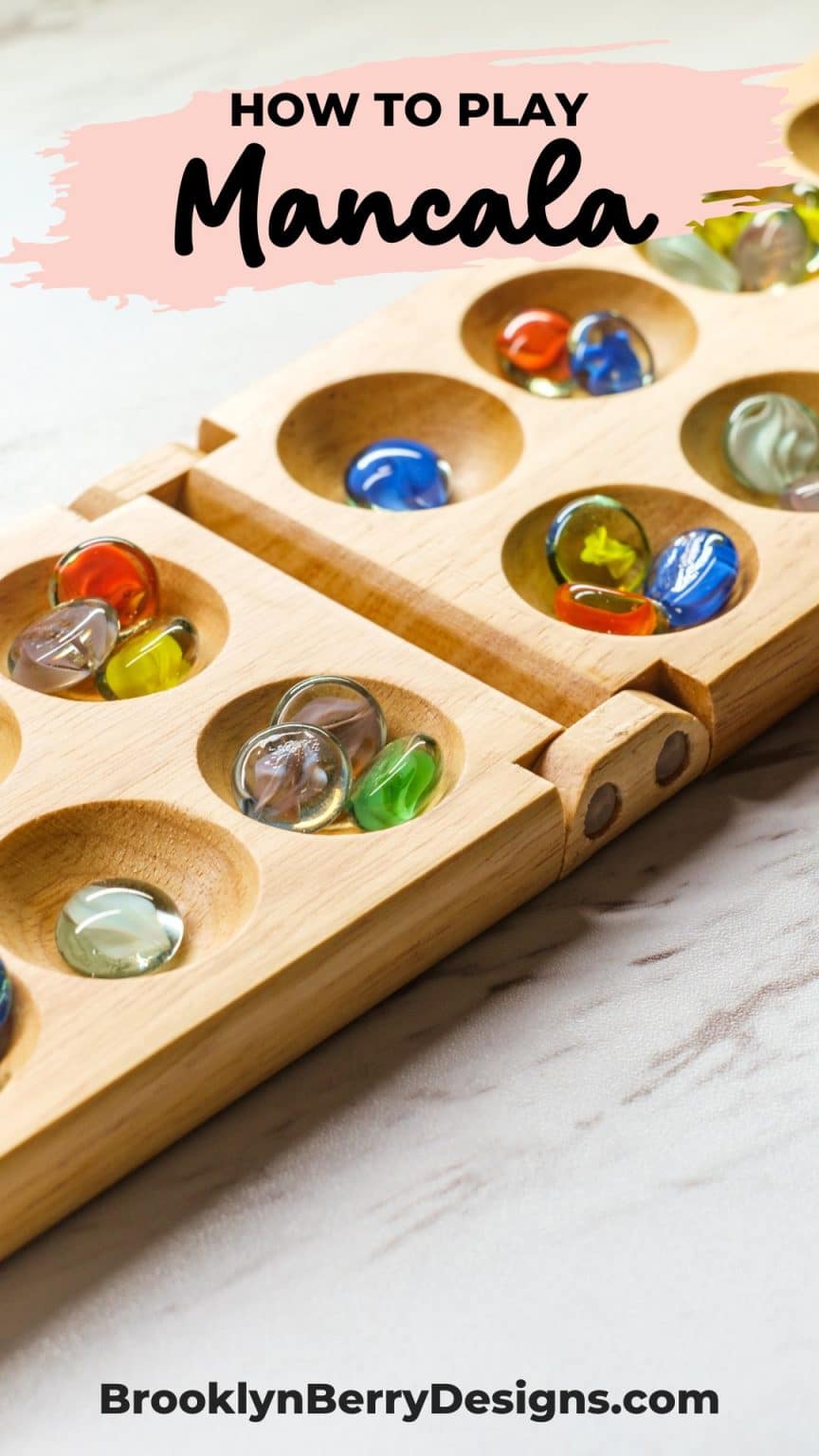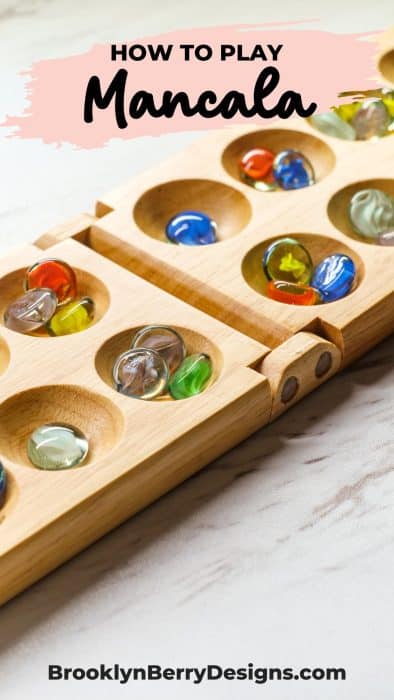 Looking for more games and fun for kids?
Happy Crafting!