Looking for some pumpkin carving ideas or want a free printable pumpkin stencil? Then you are in the right place. Get 10 printable pumpkin stencils that will be super fun for the kids and cute for your front step!
Halloween is almost here, which means it is a great time to carve some pumpkins! Whether you are planning a Halloween party and need activities to do or just having fun at home, carving pumpkins is fun for kids of all ages!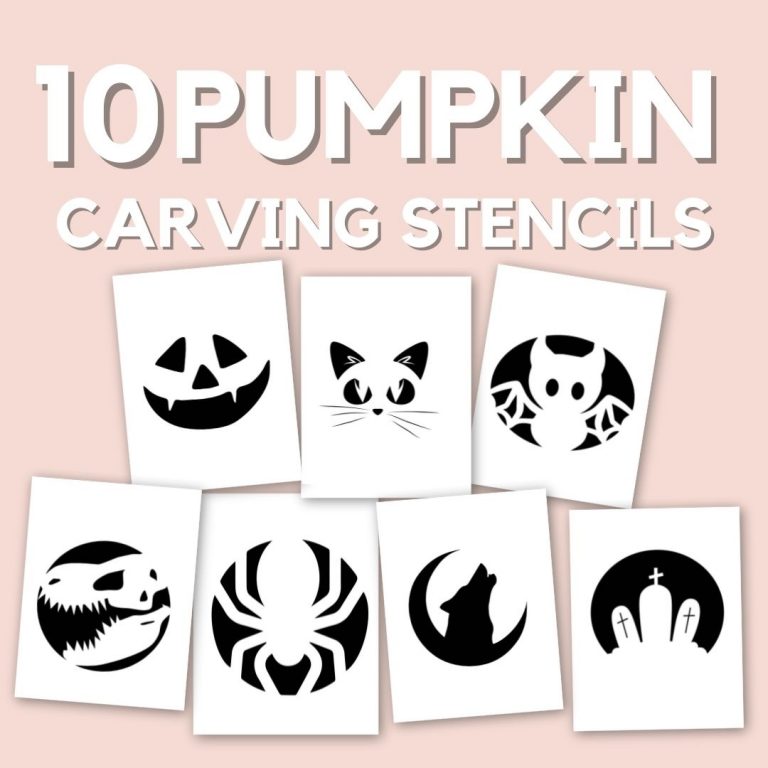 WHY PUMPKIN CARVING STENCILS ARE AMAZING
Freehand and unplanned (haha) carving usually ends up being a letdown in our house. When we go trick or treating they see so many other amazing pumpkins out and they are usually cut with a stencil or template. They look so amazing!
I used to let all of my kids wing it with their pumpkins, and then one year I decided to search for some easy carving ideas we could use. The finished results looked so much better and everyone was so impressed that they could make something so cool!
Every year my kids and I love to carve pumpkins to decorate our front steps. This year I wanted to get ahead of the game and get some designs ready to print. I included some simple designs and others more detailed so there is a wide variety to choose from without being overwhelmed by choices. Simple pumpkin faces, spiders, haunted houses, and even a cute cat are all ready for you to use.
Whether spooky or cute, there is some great beginner pumpkin carving ideas – and I am sharing my free printable pumpkin stencils too! They are very easy to use. Just print, trace, and cut!
Looking for more Halloween Ideas? Check out these adorable Halloween pennants and printable Halloween games!
How To Use Pumpkin Carving Stencils
Download the templates at the end of this post (just enter your email in the box and I will send it right to you)
Print of the stencil you like best – or all of them!
Tape the stencil to the pumpkin. This may require cutting slits into the paper to get it to curve around the pumpkin.
Use a toothpick or pin to punch out or trace the outline of the design
Use a serrated knife or pumpkin carving tool to cut out the pieces.
These carved pumpkins will look perfect on your porch with lights inside on Halloween night.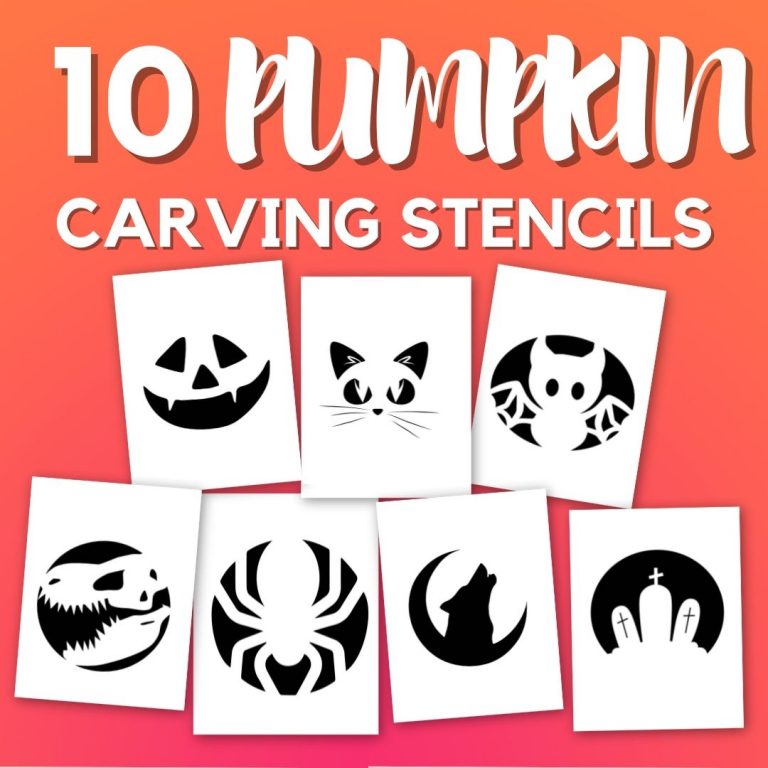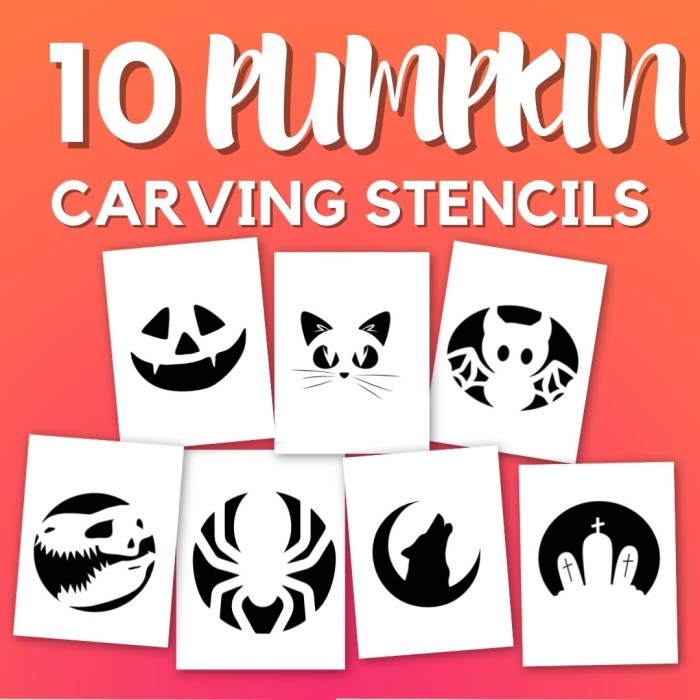 DOWNLOAD THE CARVING STENCILS HERE:
Want to save this idea for later? Just pin it to your Pinterest board and it will be ready and waiting for you when you need it!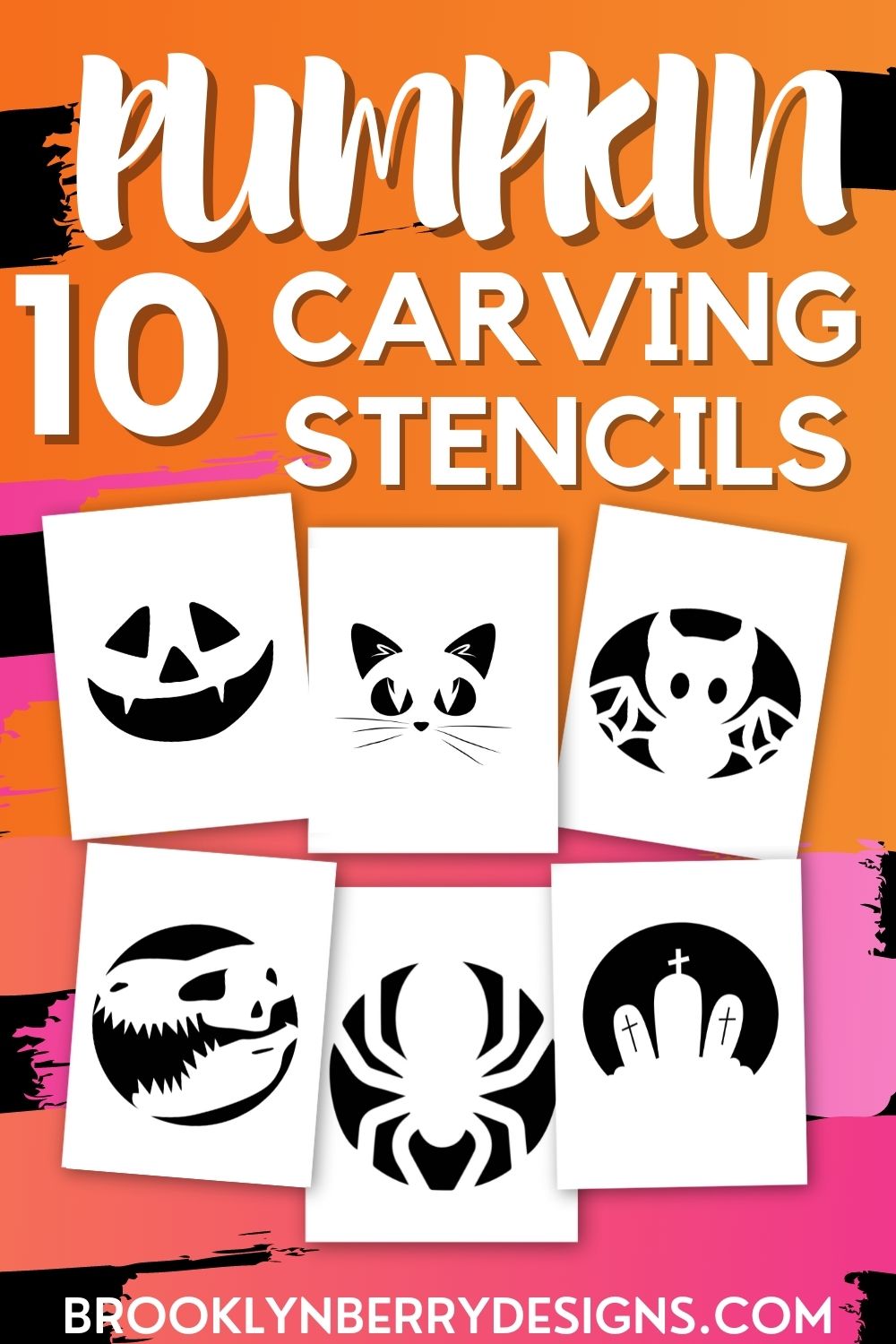 Happy pumpkin carving!