Make your own party decor by adding vinyl to items in your home. These sugar skulls are a festive but not spooky design to add around your home.
Halloween Party Decor
An easy way to add some party decor without having to go out and buy more stuff is do decorate the things you already have!
I love using vinyl in my projects because it holds so well but can also be removed. I love the intricate designs of sugar skulls for Halloween so I used my own images into the Cricut Design Software (here is the tutorial on how to do that).
Don't waste materials – cut out your designs fromvinyl in various sizes and fill in the entire piece of vinyl you are cutting. Just fit as many as I could onto the 12×12 sheet. The smaller pieces are great to nest between larger designs.
Sugar Skull Halloween Decor
A sugar skull cut from black vinyl about 6 inches tall looks great on a white dinner plate. Doesn't it look great on the mercury glass chargers? Classy Halloween meals around this house – although no food is being placed on this vinyl.
Vinyl is perfect for a short celebration, easy to remove after, or keep for yearly decorations!


Halloween Cupcake Toppers
Cupcake Toppers are so easy to make with black white and orange cardstock paper folded into accordion wheels and a 3D Bat attached to a toothpick. For the sugar skull cupcake topper I used a piece of the vinyl cutouts I had, but another great option would be to use the pens in the Cricut (explore or maker).
I didn't get any awesome pictures, but you can see I experimented with using the negative of the designs for a different look.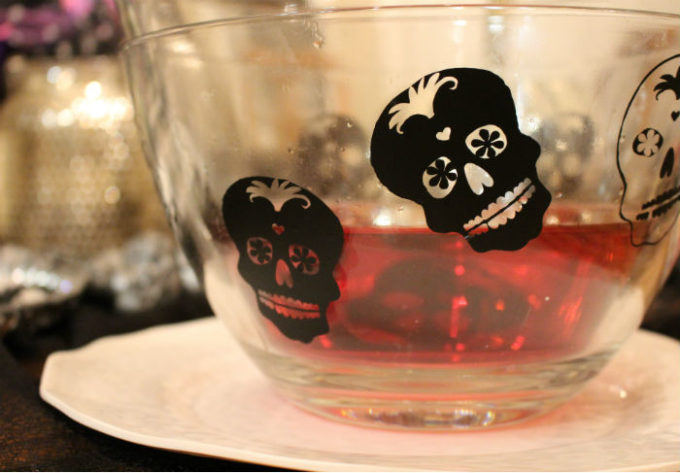 Looking for more halloween projects? You will love these:
Happy Crafting!