Level up your next family walk through the neighborhood with a neighborhood scavenger hunt. Download this free printable and get exploring around your community!
Are your kids looking for something they can just go do, without the parents planning an elaborate and expensive activity? Get them outside for some fresh air with this free scavenger hunt in their neighborhood. An outdoor scavenger hunt is like a treasure hunts for younger kids to see their street in new ways.
The Neighborhood Scavenger Hunt: A Nature Walk With A Goal
While on a field trip with my son's preschool class we went on a nature walk in one of our local parks. Before leaving the classroom his teacher showed them line drawings of three items to look for while on their walk. The items were a yellow flower, a mother duck with ducklings, and a few other things that seemed simple enough, and yet I worried we wouldn't actually find those things.
Once we arrived at our location and completed our short walk I saw there were statues of those items where we had stopped to gather! While we were waiting for everyone to arrive the kids naturally found the statues and were each really excited to have happened upon those items! It was such a fun and frugal idea to give the kids a goal while on their walk.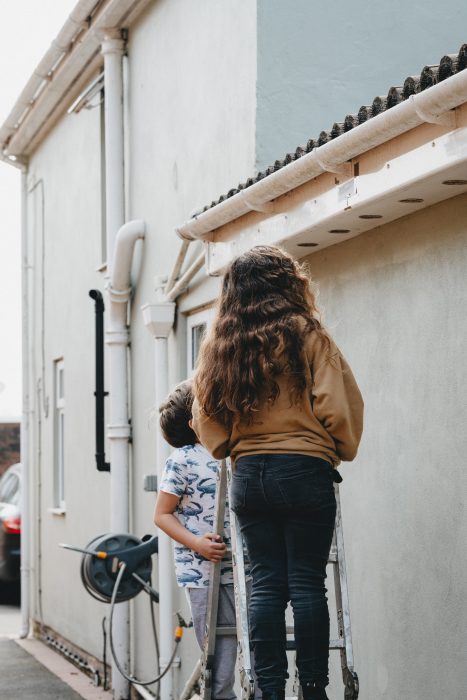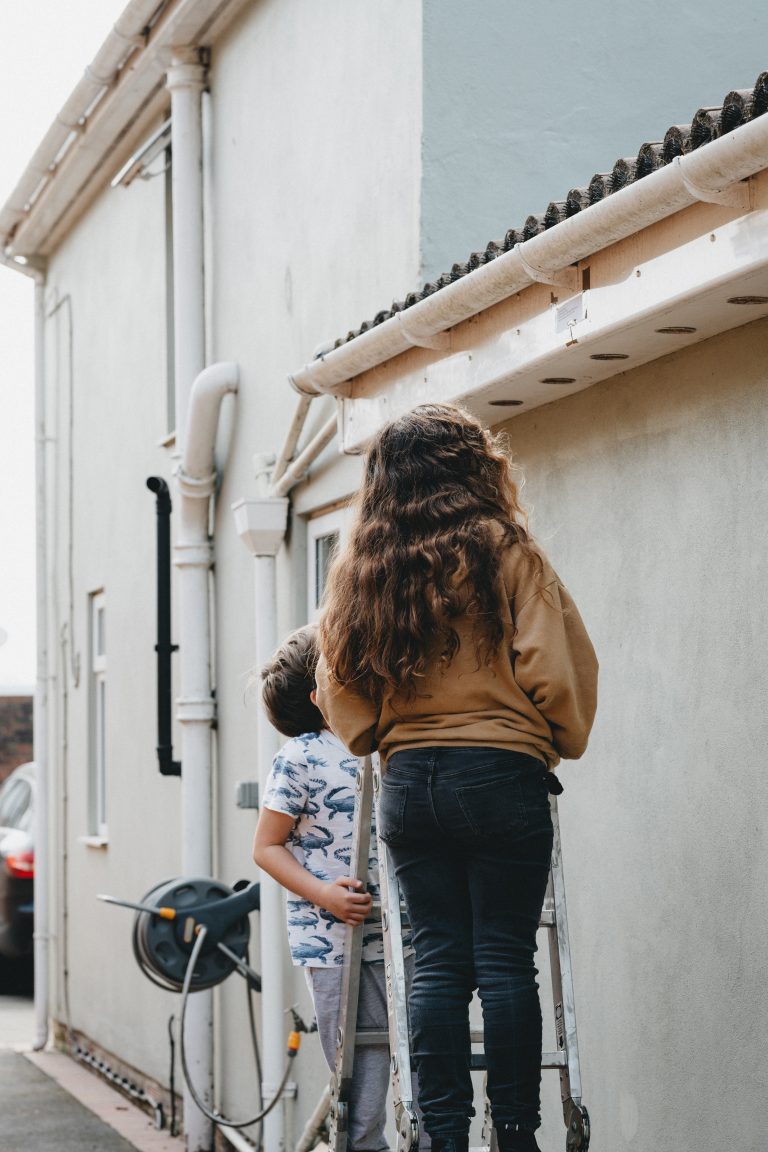 Taking that idea, I decided to make my own scavenger hunt for my younger children to use. The whole family can have so much fun taking a walk with the added goal of searching for specific items to find and checking off their neighborhood scavenger hunt list. The items list is generic to cater to most people's neighborhoods but includes a few items that might be a bit trickier!
You can customize it by adding any local items you have seen. An interesting statue, painted wall, an interesting house in your neighborhood. These things are not only fun to search for, it also helps children find landmarks and recognize areas of their neighborhood.
What ages are best for a neighborhood scavenger hunt?
Kids ages 5-10 have enjoyed this activity the most. The pictures are a great way to help with younger kids who may be tagging along. This fun neighborhood scavenger hunt can easily be adapted to kids of all ages. Add a photo scavenger hunt for a fun way to change it up.
Neighborhood scavenger hunt ideas:
Older kids could come along and keep an eye out for specific items that could be added to the list later! Our neighborhood has some utility boxes and garbage bins that are painted in unique murals. My oldest is 13 and he would like to find something tricky to add to the list for his brothers to find on the next walk.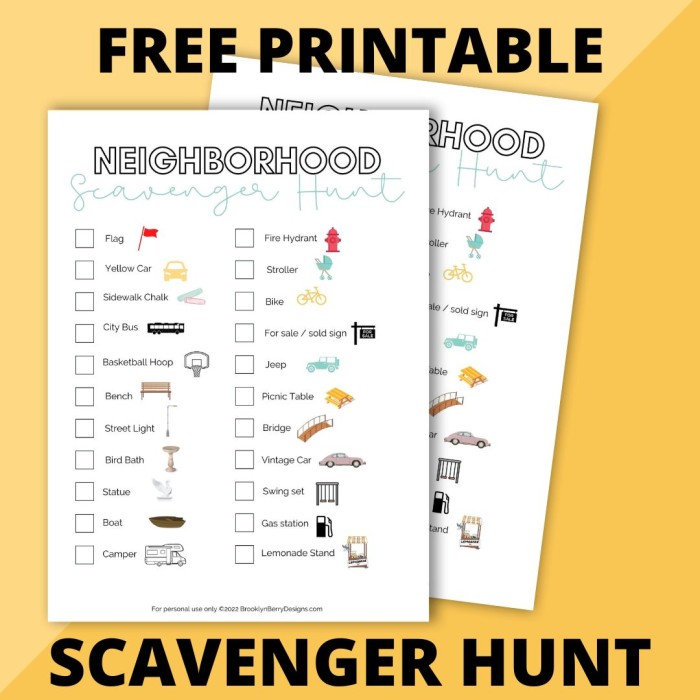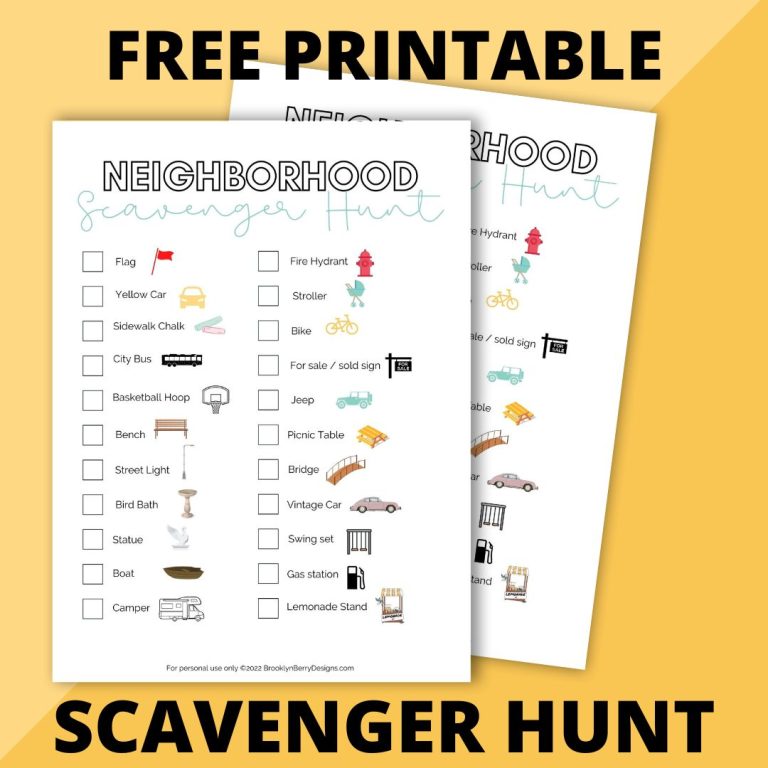 How To Get The Printable:
At the bottom of this post, there is a box where you enter your email address. If you are already on the list, don't worry! It won't add you twice! It just lets me know to send you this specific pdf file.
Check your email and download the printable. Print and go!
How To Use This Free Printable Scavenger Hunt:
Obviously, this one is pretty simple. Print it off and hand it to your kids. The goal for this activity is to have fun and get out of the house, so the expectations are low.
Bring pens or pencils and have the kids look over the list before starting the walk. The goal may not be to get every item on the list, but to just see how many you could get. Maybe save the other items for a future walk!
Still looking for more fun activity ideas? Check out these posts:
Other scavenger hunt ideas:
And be sure to PIN this post, so you can print the FREE scavenger hunts when you need them: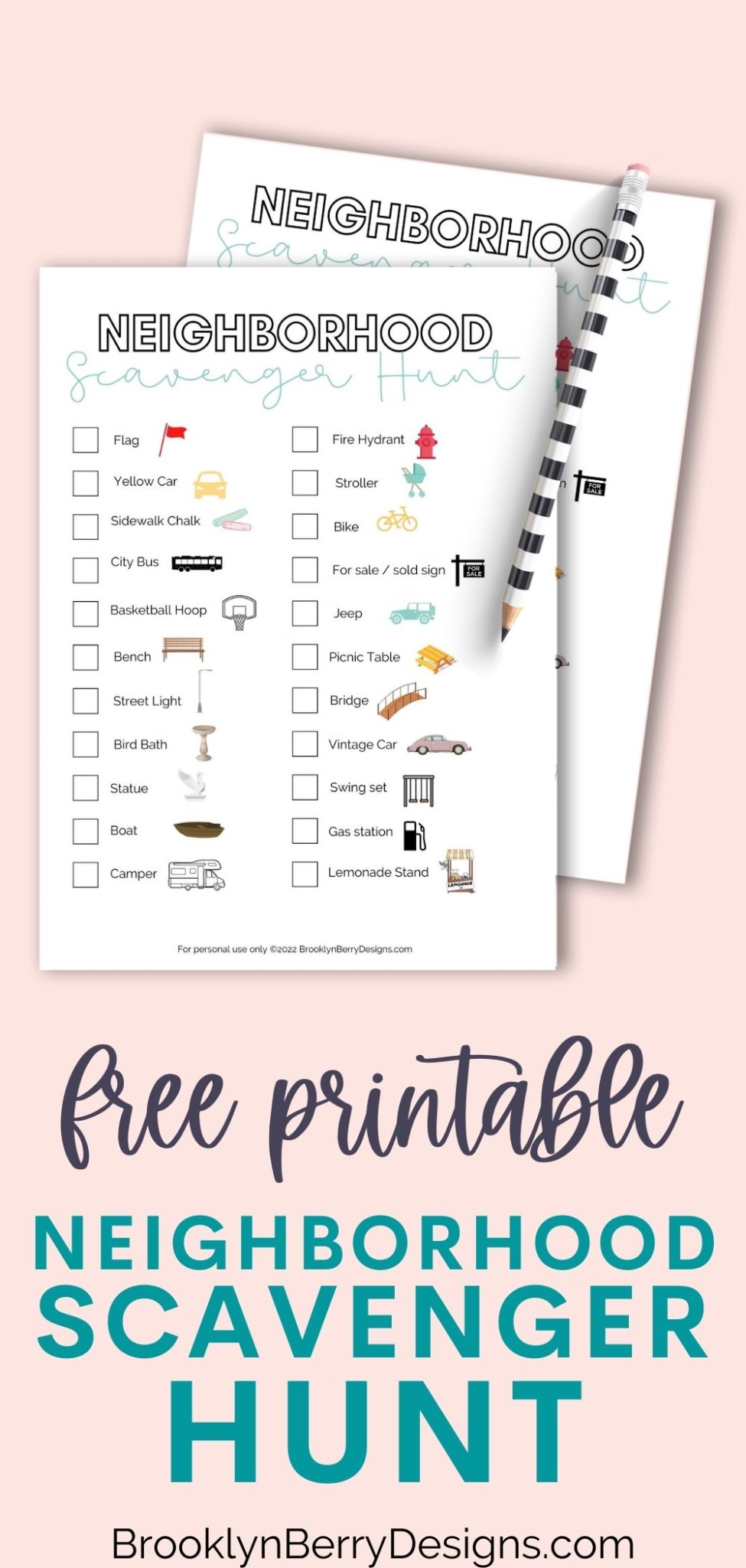 To get the free printable enter your name and email address in the form below and click the GET IT NOW button. I'll send the printable file straight to your inbox.
Terms and Conditions:
By downloading this free printable you are signing up for my e-newsletter and you'll be notified when I release new free printable files.
This printable is for personal use or classroom use only.
This file can be used in part or in whole for your personal projects.
Digital reselling, sharing, and redistributing of the files is NOT allowed. If you would like to share, please direct friends to the original blog post where you found this.