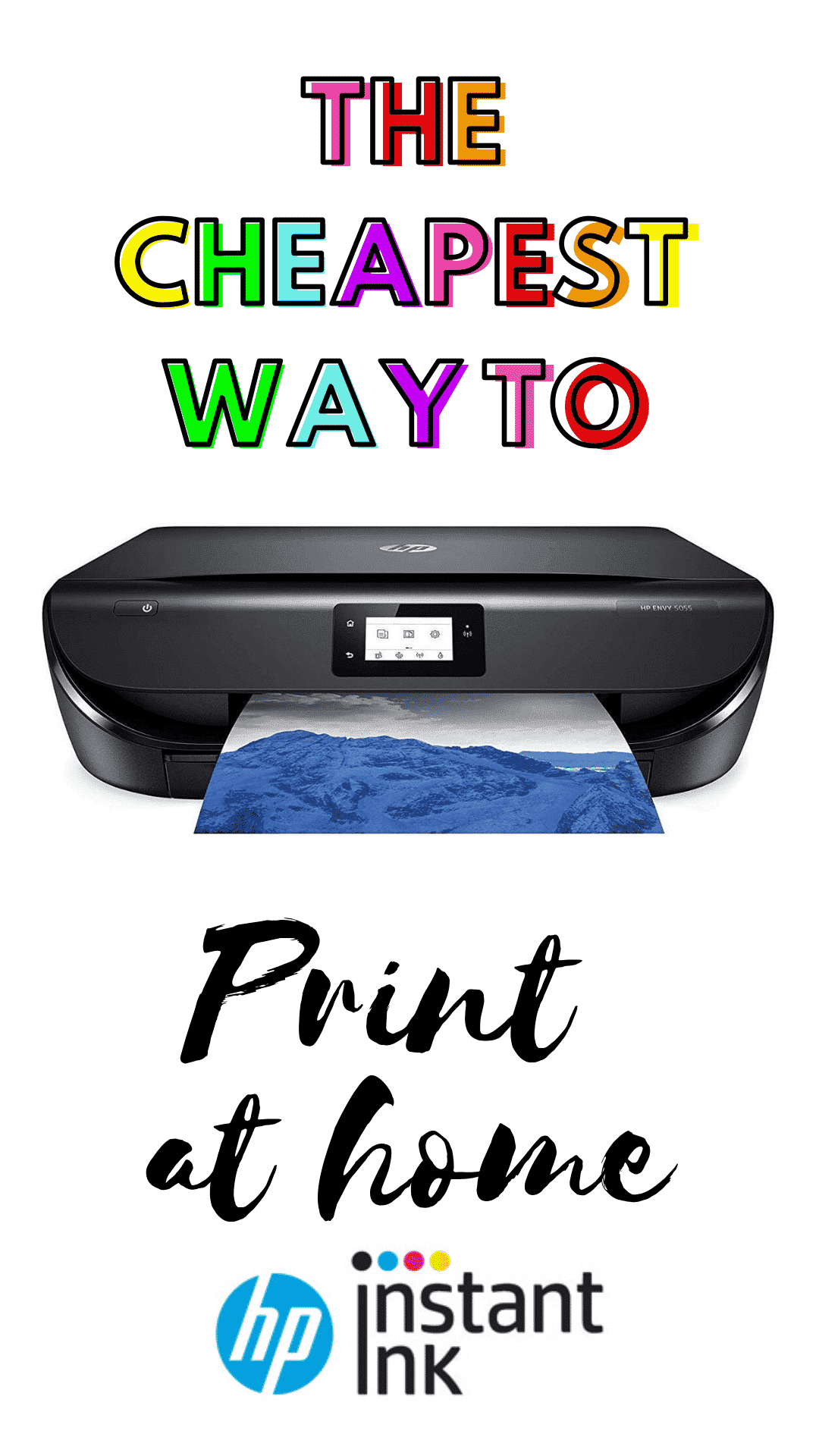 Are you looking for a way to print stickers and printables at home without it being really expensive? Are you frustrated with the ink being so expensive and dries up? Today I am sharing with you my tips for the cheapest way to print at home.
Note: this is not sponsored in anyway. Nothing was gifted. I just found this so helpful I had to share with the world.
There are so many beautiful printables out there but printing at home can get expensive quickly. Personally I found that it is cheaper to buy a new printer than it is to get new ink. Seriously. – and that just seems so wasteful. How does anyone get things printed affordably? Well, I asked my friends and family on facebook (I like the wide range of answers I get there). From blog friends, cousins, the neighbor, and another school mom the most common answer was HP Instant Ink. I decided to give it a try with this printer off amazon and so far I am LOVING it.

How HP Instant Ink works
Chose a printing plan based on the number of pages you will need to print in a month – ignore cartridges. This plan will include your cartridges, delivery, and recycling. All prints are the same – so print in all the colors that you want! Any unused printed pages will roll over to the next month. If you need a few more pages, you can purchase more at a VERY affordable rate.

**Canadians I found this super affordable printer on HP Canada and it will ship direct to your house**
When you buy your printer it comes with ink. When you sign up for HP Instant ink they will send you ink. Whenever your printer runs low you will be sent more ink! No more late night dashes to the store to print that last minute project or gift.
Hot Tip: Sign up for the highest plan during your free trial. Even if you don't print that much, you will get a large chunk of free pages to print that will roll over. Perfect for those months you just need a couple more prints.HP Instant Ink Promo Codes and Free Months
Conclusion
I found the cheapest way to print at home was with the HP Instant ink program. If I chose the $2.99 a month plan I would pay less in a year than I would for a new cartridge of ink. Saving money without ever running out of ink, and not having to run to a store. This sounds amazing so far.
Do you love printable activities? You will love these posts:
HP Instant Ink Promo Code
Use my referral link to get a free trial month (I will get a free month too). If you sign up, you will get your own code to share with your friends. That means you can get even more free months just for sharing!
Now try to score even more, by trying out these additional promo codes for you to try
FREEINK
HPINSTAINK4U
SAVE50PERCENT
SAVE50NOW
I hope this helps you with all your printing needs. Let me know if you have tried it and what your thoughts are!