Are you looking for the perfect gift for a crafter in your life? Are you striving to be Husband Of The Year in the gift giving department? This Ultimate Cricut Gift Guide will help you with some gift suggestions that your wife / daughter / sister / grandma / friend in your life would love to open. Whether they already have a Cricut machine or have always wanted one, there are always some nice to have items that will make her smile when she opens her gift on Christmas morning.
These gift ideas start at $10 and lots of the items are under $25 so they will work for gifts on any budget and skill range.
This is a sponsored conversation written by me on behalf of Cricut. The opinions and text are all mine.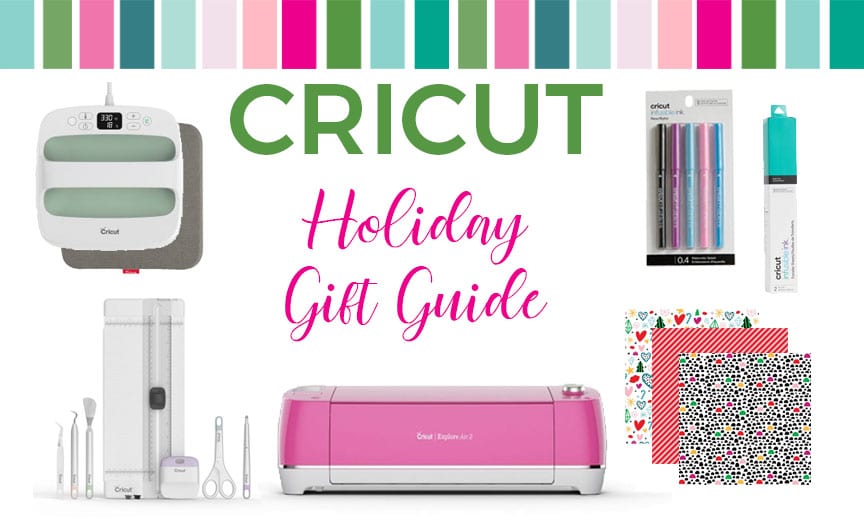 Ladies – feel free to send the link to this post to anyone who is looking for gift ideas for you. I promise you won' be disappointed.
Cricut Gift Idea 1: Cricut Explore Air 2 or Cricut Maker
I may have assumed the crafter in your life already has a Cricut (because she should) but if she doesn't have one yet, she needs one. Which machine is the right choice? Check out the differences between the two machines, and how to decide which one is the ideal choice HERE. You can get the Cricut Maker and Cricut Explore Air 2 here.
Cricut Gift Idea 2: Cricut Access
Cricut Access is like netflix for crafting. For a monthly (or yearly) fee you can access an large library of images from Cricut. Its nice to spend more time crafting than searching for designs to use. As a nice bonus – access members get a 10% discount on materials, mats, blades, and all sorts of things on the Cricut site. They also get free shipping on orders over $50. Check out the details and pricing options here.

Cricut Gift Idea 3: Tool Set
There have been a few times when I have helped someone with a large project for a group (women's craft nights or girls camp shirts for our church) when my fellow experienced crafters don't have the basic weeding tools. They are always so impressed with how much they help that they end up getting their own afterwards. Thats because they are not an absolute necessity but once you see how much easier they make things, you want one. Which is why they are the perfect gift! Its something they might not pick up themselves but will love you for the the thoughtful items!
There are a few tool sets on the site, but I personally love the set with a weeding tool, scissors, scraper, and paper slicer like THIS one.
Cricut Gift Idea 4: Easy Press & Mat
For the crafter who likes to use iron-on vinyl, an Easy Press will be a lifesaver (check out my reviews here and here). The Easy Press makes the cut out designs adhere better and last longer. Get the mat to go with it (or grab them together in the bundle) for even better results. There are a few sizes, and all are good for different projects. If you aren't sure which size, I recommend the medium 9″ x 9″ size. It will work for most of the project sizes and is easy to carry around and store. Pick up the EasyPress, EasyPress Mats, or the bundles including the storage tote and tool set!
Cricut Gift Idea 5: Infusible Ink Products
Infusible Ink is one of the newest products from Cricut. You can read my post about the details HERE. Infusible Ink products can be used with either of the cutting machines or even no machine at all! You just need some transfer sheets, Infusible Ink markers, the EasyPress and some blank items.
This would be a great gift for someone who likes to try something new, or for someone who sells items they make.
Cricut Gift Idea 6: Vinyl
Every crafter can always use more materials and they would be a great item to add to any of the other items listed above. For someone just starting out I would get both vinyl and iron on vinyl, in black, white, and gold as they are the most versatile. However, there are so many cute seasonal and decorative patterns out there to choose from. You can't really go wrong with vinyl!
I hope this helps you with your gift shopping this year and helps you be "Husband Of The Year" in gift giving. Trust me, if you stick to this list her friends will be asking if you have a brother. Seriously. I have seen it many times.
Happy crafting and shopping!