Free Printable Christmas Scattergories Game
Looking for fun Holiday party games to play in the classroom or at a Christmas Party? You will love Christmas Scattergories – it's great for small or large groups. All you need is paper, pens and a home printer!
Spending time with younger children at Christmas parties doesn't haven't to be stressful. Game night with family members and friends is basically one of my all-time favorite Christmas time activities. Both over the Christmas season, into the new year, or really any time!
I have a theory that life is about MAKING memories, not just talking about the good old days. Games are the best way to and create new memories with people. This printable version of a popular game is the perfect addition to your family tradition.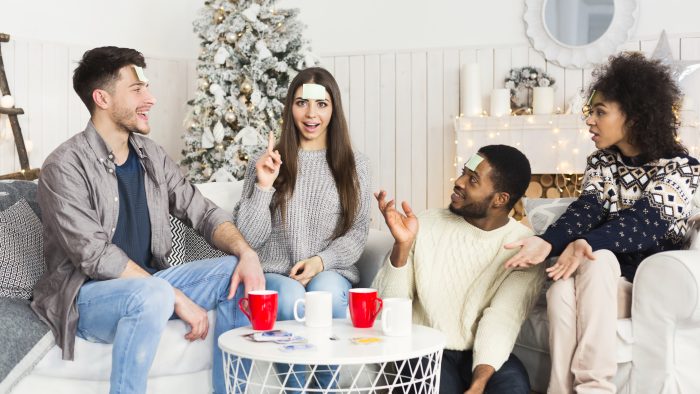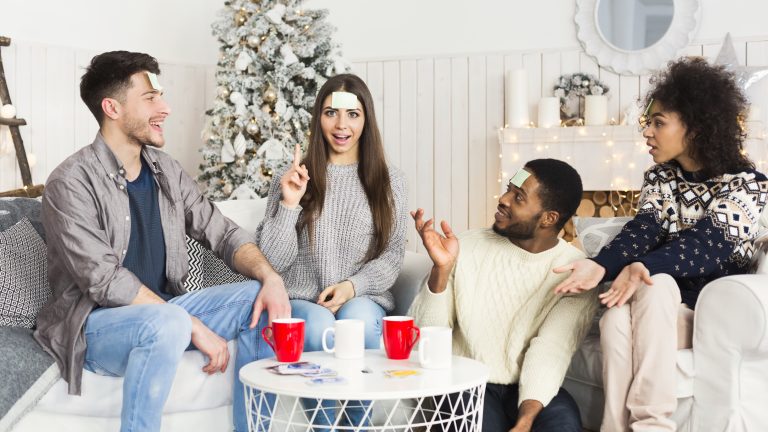 Looking for more fun printable Christmas activities? Get over 50 Printable Christmas Activities to get you through the holidays.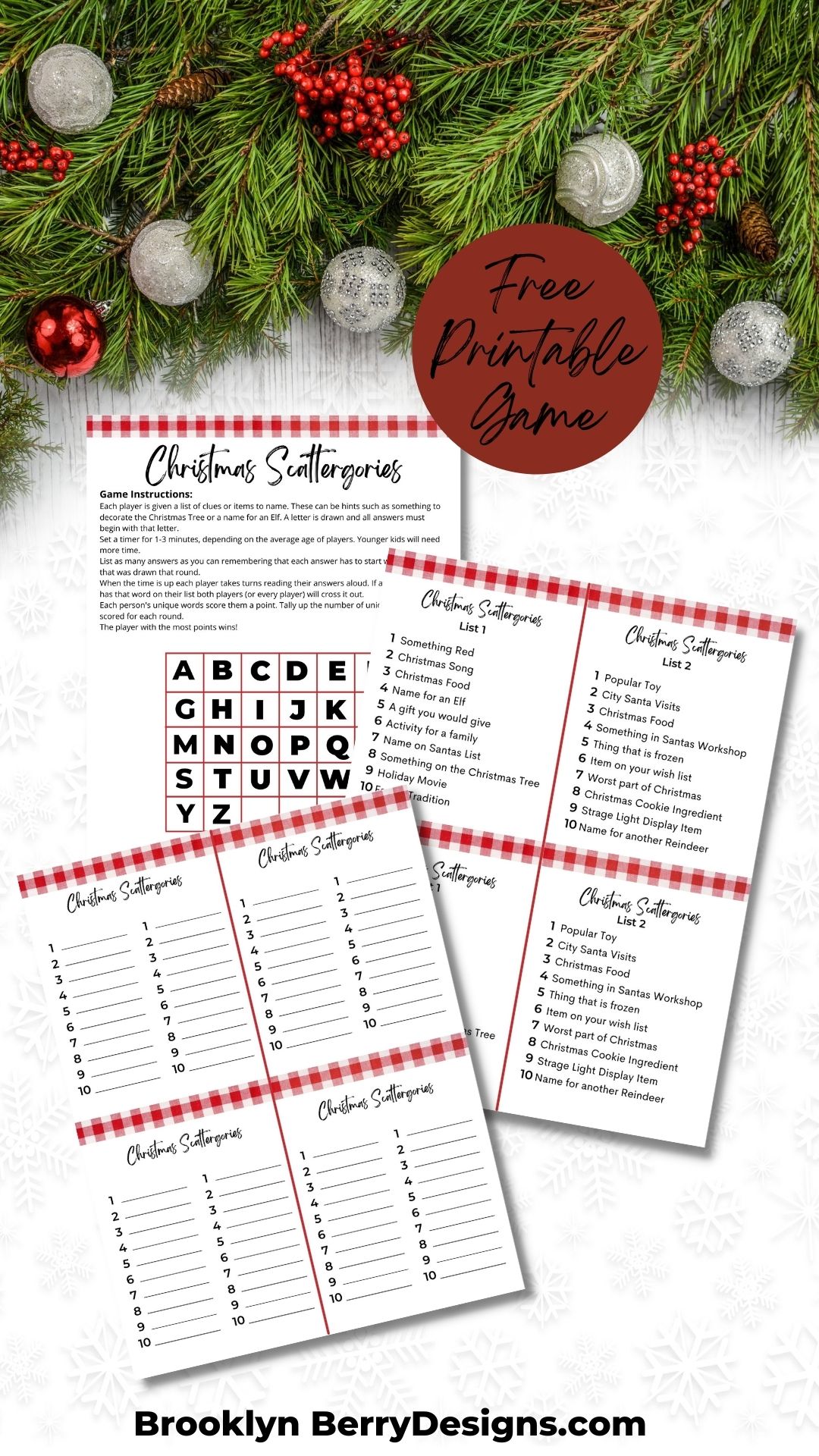 Free printable Christmas Scattergories Game
Christmas Scattergories is a Christmas-themed version of the popular scattergories game you already know and love. To make it more festive for the holidays all the categories are based on people, places, things, and activities that you do around the Christmas and winter holiday season and the answers are Christmas Words.
Supplies needed to play Christmas Scattergories Game:
Printable game pages (enter your email at the end of this post)
Pencils or pens
Clipboards (optional if you like to play sitting on couches and the floor like I do)
Alphabet die or random letter generator (optional if not using the printable)
Timer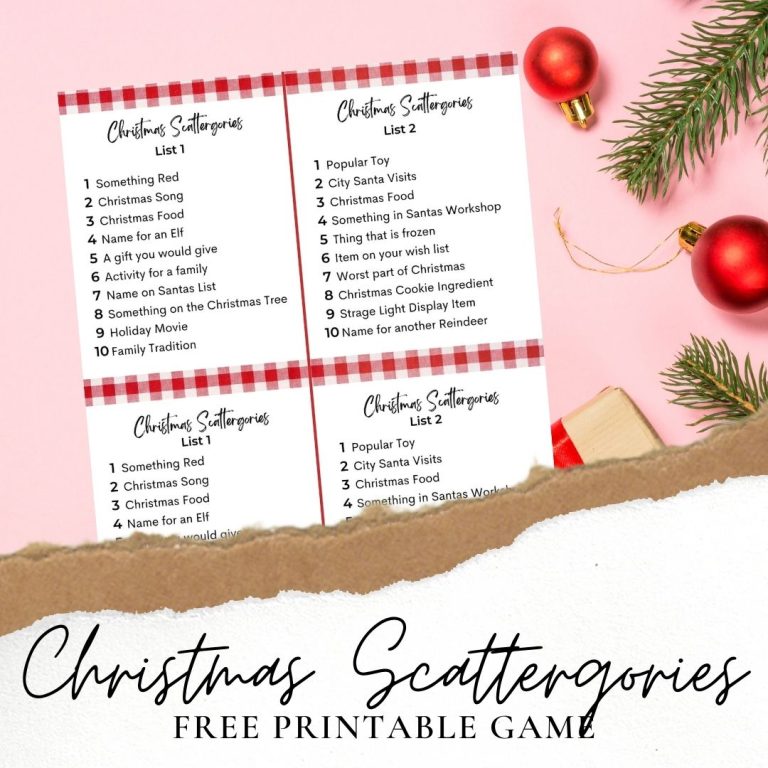 How to play Scattergories
Preparation:
First, prepare by downloading and printing the game pages. You will see three pages – one with instructions and the letters to cut out you will just need one copy. The other two pages are the Christmas scattergories lists and answer sheets.
Cut the letters out (this paper trimmer makes it fast) and place them into a small bowl. Cut apart the category lists and answer sheets, making sure you have them for each player.
Game Instructions:
Each player is given a list of clues or items to name. These can be hints such as something to decorate the Christmas Tree or a name for an Elf. A letter is drawn and all answers must begin with that letter.
Set a timer for 1-3 minutes, depending on the average age of players. Younger kids will need more time.
List as many answers as you can remembering that each answer has to start with the letter that was drawn that round.
When the time is up each player takes turns reading their answers aloud. If another player has that word on their list both players (or every player) will cross it out.
Each person's unique words score them a point. Tally up the number of unique words you scored for each round.
The player with the most points wins!
Common Disputes:
Doesn't every great game end up in disputes? Here are some common concerns that you can think over to determine your own house rules.
No answers – do you lose points for no answers? This answer will depend on how competitive you want your game to be.
Multiple Points – Are there bonus points awarded for answers using alliteration? Such as Santa's Sleigh would be 2 points for a double S.
Does "The" Count – technically no. The Hat would not count for a T answer. It would for an H thought!
Make sure to explain any rules before the game starts to avoid hurt feelings. Everyone can recall a time that a game ended badly – we are trying to avoid that. If competition is needed, offer a prize!
Instant Download:
Please enter your name and email in the box below. Don't worry if you are already on my email list, it won't sign you up twice! But please resubmit your info so it will send you THIS printable Christmas party game.
This game is for personal use only. Please pin it to save it for later or send it to friends. They can download it themselves for free too!